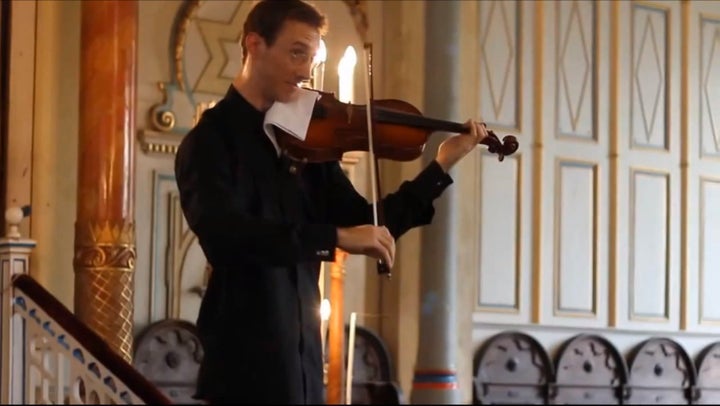 For nearly all of the 1970s, I served as the #2 editor at the legendary "rock culture" magazine Crawdaddy in New York City. I interviewed dozens of rock stars, from Frank Zappa to Patti Smith, attended hundreds of concerts, received thousands of records in the mail. Most notably, I helped create the first major piece about Bruce Springsteen at the end of 1972, before release of his first record, and remained pals with him for many years. Even after Crawdaddy folded, I remained a rocker at heart.
My exposure to classical -- the other longhair music -- was limited, by choice, and Beethoven was little more than a key "droogie" in A Clockwork Orange. But then, as I approached my 60th birthday, something happened. My life has gone from "Roll Over, Beethoven," to just... Beethoven. Perhaps it's mainly a search for "gravitas," so often missing in today's world, as Jesse Kornbluth observed in The New York Times yesterday in trying to explain why Leonard Cohen's new album went #1 for awhile last week.
This month I launched a new blog titled, Roll Over, Beethoven, and a book and e-book I co-wrote with film director Kerry Candaele, Journeys With Beethoven, has just been published. Today I will begin here to excerpt from that part of the book that describes how I made that transition from Chuck Berry and Springsteen to Ludwig Van, and why many others in my generation, and those younger, may follow.
*
What was I doing, at eleven in the morning of my 60th birthday, at Avery Fisher Hall in New York for the first time since a Springsteen concert more than thirty years earlier, waiting for a French pianist and Swiss conductor to play a piece of music that recently meant nothing to me at all? Why was I suddenly breaking out in tears on the subway listening to some haunting instrumental music not even on my radar or iPod a few days before? Why was I now practicing my Italian (cavatina, adagio, fortissimo) when I had refused to do that even before visiting Venice? How is it that in a space of a few weeks the rock 'n roll I had loved, and written about, for decades -- from The Kinks to Arcade Fire -- was supplanted in my iTunes library by a long-dead composer, as this evolved from a new passion to a mighty obsession?

Why was I now debating, with myself, the relative merits of pianists Gould, Brendel and Pollini (as I had once weighed the merits of Clapton, Hendrix and Harrison)? What was I doing standing outside Carnegie Hall on a bitterly cold afternoon scalping tickets for the hottest classical concert of the season, starring a diminutive visitor from another planet named Dudamel, when I had refused to do that for rock 'n roll shows, even for a Dylan? Or attending a recital on a steamy August afternoon on a barge under the Brooklyn Bridge?
When Alex Ross of The New Yorker, author of a surprise bestseller on classical music, appeared on TV with Stephen Colbert, one blogger declared, "Classical music nerds around the world are now officially 8.4% cooler." Had I become one of those nerds? And was I now cooler or much less cool than when I was hanging out with Springsteen in New Jersey?
To be sure, I had listened to Beethoven, to a limited extent, before that. One could hardly grow up in the 1950s and early 1960s without some exposure to Leonard Bernstein and his Young People's Concerts, Van Cliburn on Ed Sullivan or Glenn Gould on Omnibus. Nearly anyone could identify the author of the first eight notes of the Fifth Symphony, but I never knew the source of the almost equally familiar opening to NBC's Huntley-Brinkley report (from the Ninth Symphony) or the most fanciful segment of Disney's Fantasia (from the Sixth Symphony). As a child, I did not play a musical instrument, and my awareness of classical music in general did not go much beyond Peter and the Wolf in the classroom and the Nutcracker on television, with the "William Tell" overture in the opening of The Lone Ranger a highlight.
Yet, from the age of four, music was my greatest love, even beyond baseball. I asked my parents to buy for me new singles by Tony Bennett and Eddie Fisher, and I entertained visitors by taking requests and spinning the 78s on my record player. Then rock 'n roll arrived, and like millions of other kids I became devoted to American Bandstand and Ricky Nelson playing his hits at the end of Ozzie & Harriet.
When Roy Orbison and then the Beatles and Bob Dylan emerged, followed by all the other great, late-'60s music, it ruled out any serious probing of that other "longhair" music. In his very electric "Tombstone Blues," Dylan claimed that "Ma Rainey and Beethoven once unwrapped their bed roll," but even this sexual imagery did not turn me on to Ludwig. Few of my peers showed any interest in classical music, beyond (for some) the Moody Blues' Days of Future Past recorded with the Royal Philharmonic or the hit single "Classical Gas." The Beatles were hailed by some classical composers for their use of strings on "Eleanor Rigby" but that sweetening left me cold. So did much of the first "rock opera," Tommy -- it was overblown, like real opera.
In my first review for Rolling Stone in 1970, I complained about the orchestration on Simon & Garfunkel's Bridge Over Troubled Water, and received a lot of hate mail for my troubles. The Strauss waltzes featured in 2001: A Space Odyssey just bored me. So did the "Switched-On Bach" craze, led by Walter -- before he became Wendy -- Carlos, and I doubt it would have made any difference if it had been "Switched-on Beethoven."

Music was obviously still in my blood, however, and I threw away a promising career in mainstream journalism to serve as senior editor at the legendary rock magazine, Crawdaddy for nearly all of the 1970s. In those years, I had so much rock 'n roll to absorb (largely for free) there was no time for, or any interest in, pursuing other forms. Reggae was exotic enough, thank you, and I was too busy interviewing Ray Davies, Patti Smith and Frank Zappa and writing articles and reviews that would help make my new pal Bruce Springsteen a star -- receiving a gold record from The Boss for Born to Run in appreciation.
Walter Carlos had returned to provide much of the soundtrack (including Beethoven snippets) for A Clockwork Orange, not my favorite Kubrick film but certainly popular among the Crawdaddy audience. You'll remember that the anti-hero of the film, Alex, liked to listen to a little "Ludwig van" before going out for some "ultra-violence" with his "droogies." A classical mini-boom followed, as record companies attempted to cash in on Kubrick by issuing samplers of great composers' work, with a nod to the drug culture: One series carried the titles Mozart's Head, Prokofiev's Head, and so forth, with trippy images on the album covers. Crawdaddy even unveiled a regular column "Going for Baroque," but it lasted only a year. "Symphonic rock" had gone spandex, but I despised groups like Yes and Emerson, Lake and Palmer -- even the more rocking Electric Light Orchestra, who had a hit with Chuck Berry's "Roll Over Beethoven." Walter Murphy's disco hit "A Fifth of Beethoven" might have turned me off to Ludwig forever.
In any event, that was about it, for me and classical music, until the mid-1980s. In general, I hoped I died before I got that old. Perhaps I had been exposed to Queen's "Bohemian Rhapsody" too many times. Out of Crawdaddy for a few years -- and with no more free records or concert tickets coming my way -- I was more open to classical music, and started purchasing the very occasional Mozart, Vivaldi or Bach recording. (Still, I remained oddly distant from the more scary Beethoven.) This dabbling, and no more, continued for two decades. Vivaldi in a church in Venice or Mozart in Paris were swell, but they didn't follow me home for long.
So, as the summer of my 60th birthday neared, I had never attended a classical performance in a large concert hall, still loathed opera (while remaining truly ignorant of it) and could not identify or even imagine the dozens of Beethoven masterpieces beyond the Fifth and Ninth symphonies, although surely I was exposed to the Moonlight sonata and snatches of other pieces in movie soundtracks and as Muzak at the supermarket. I had missed Gary Oldman's star turn as Beethoven in Immortal Beloved, not to mention the five Beethoven (the dog) movies.
As editor of Editor & Publisher, a magazine known as the "bible of the newspaper industry," I had no professional contact with classical music, although we occasionally did raise the question, "How old is too old when it comes to rock critics?" At least I had escaped the rock 'n roll racket when I was still young.
(Next: How two films changed my life in music, seemingly forever. .)
Greg Mitchell, a longtime Huff Post blogger, now writes a daily blog at The Nation. He has written more than a dozen books, most recently Journeys With Beethoven, and before that Atomic Cover-Up, The Age of WikiLeaks and Bradley Manning.


REAL LIFE. REAL NEWS. REAL VOICES.
Help us tell more of the stories that matter from voices that too often remain unheard.