WASHINGTON -- The national tracking polls released on Thursday had a rare moment of apparent convergence, with most showing Republican nominee Mitt Romney leading President Barack Obama by small single-digit margins. That uptick was not large enough, for the moment, to undo Obama's edge in the battleground states.
Much of this day-to-day fluctuation in the daily tracking polls is random noise, but for one day, at least, the pattern tipped slightly in Romney's favor. Three of the six daily national tracking polls released on Thursday ticked in Romney's direction, while one moved a point toward Obama and two were unchanged.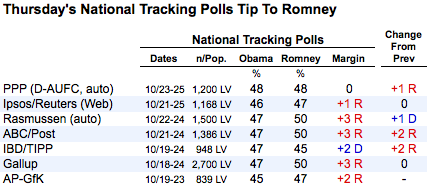 Whatever the reason, the shifts helped produce something of a consensus. Five of the seven new polls gave Romney an edge of between 1 and 3 percentage points, and three of the best-known brand names -- Gallup, ABC/Washington Post and Rasmussen Reports -- all converged on a 3-point Romney lead. Since the seven surveys reported margins of sampling error ranging from +/- 2 to +/- 4 on the estimate of each candidate's support, none of Romney's nominal leads could be considered statistically significant.
The HuffPost Pollster tracking model, which combines both national and statewide polls, gives Romney a slight edge in the estimated national popular vote (47.3 percent to 46.9 percent) as of this writing (the estimates update each day as new polls become available). That's a slightly smaller advantage than the RealClearPolitics simple average of recent national polls or the classic Pollster trend chart have estimated (based on national polls alone), because the Pollster tracking model incorporates state-level data and also corrects for pollsters' "house effects" (consistent differences in the results for individual pollsters). That said, the differences between the different aggregation methods is slight. As of this writing, the RealClearPolitics average of Romney's margin is just 0.5 percentage points higher than the Pollster estimate.
Thursday also brought a batch of new polls in the battleground states, including a half-dozen sponsored by interest groups supportive of the Obama campaign, such as Project New America and Health Care for America Now. The tracking model includes this data (as well as a set of state polls released last week by the conservative group Let Freedom Ring), but discounts for the house effects associated with each.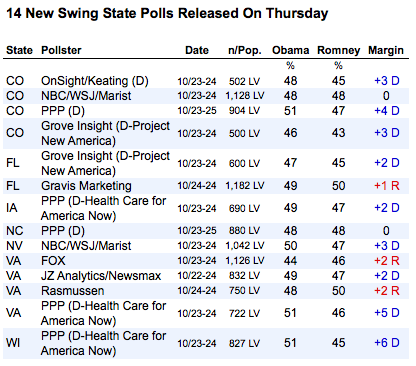 The models indicate, for example, that Project New America pollster Grove Insight demonstrates a statistical bias of roughly 1 percentage point (0.96) in Obama's favor. So it interprets their new poll in Colorado, which gives Obama a 3-point advantage (46 percent to 43 percent) as if it had shown just a 1-point Obama edge (45 percent to 44 percent).
Another Marist/NBC/Wall Street Journal poll in Nevada gives Obama a 3 percentage point advantage (50 percent to 47 percent), just slightly lower than the tracking model's current estimate of a 3.3 percent lead (49.6 percent to 46.3 percent), as of this writing.
In Virginia, four new polls were released on Thursday with results that ranged from a 2-point Romney lead reported in both a live interviewer poll from Fox News and an automated telephone poll from Rasmussen Reports, to a 5-point Obama advantage on an automated Public Policy Polling (PPP) survey sponsored by Health Care for America. The model's current estimate based on all of the recent Virginia polls gives Obama a 1-point edge (48.0 percent to 47.0 percent) as of this writing.
Across all of the battleground states, the polls combine to show the same narrow Obama advantages that have held for the last two weeks in key battleground states like Wisconsin, Nevada, Iowa and Ohio. If these leads hold, they would collectively give Obama the 277 electoral votes needed to win, when combined with other states in which he leads by larger margins.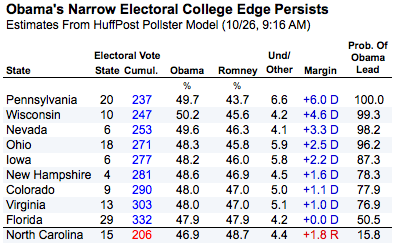 The state estimates produced by the HuffPost Pollster tracking model do take the national polls into account, and for the moment, at least, yesterday's collective uptick for Romney in the national tracking polls has not put a dent in Obama's edge in battleground states. But if that upward trend continues, the margins in these states will narrow and could open up a path to a Romney electoral vote majority.
CORRECTION: A previous version of this article incorrectly stated that "six of eight new polls gave Romney an edge of between 1 and 3 percentage points." There were seven polls conducted, five of which showed Romney with a lead. Information about the sampling error in those polls has also been added.
*************************
What's happening in your district? The Huffington Post wants to know about all the campaign ads, mailers, robocalls, candidate appearances and other interesting campaign news happening by you. Email any tips, videos, audio files or photos to openreporting@huffingtonpost.com.