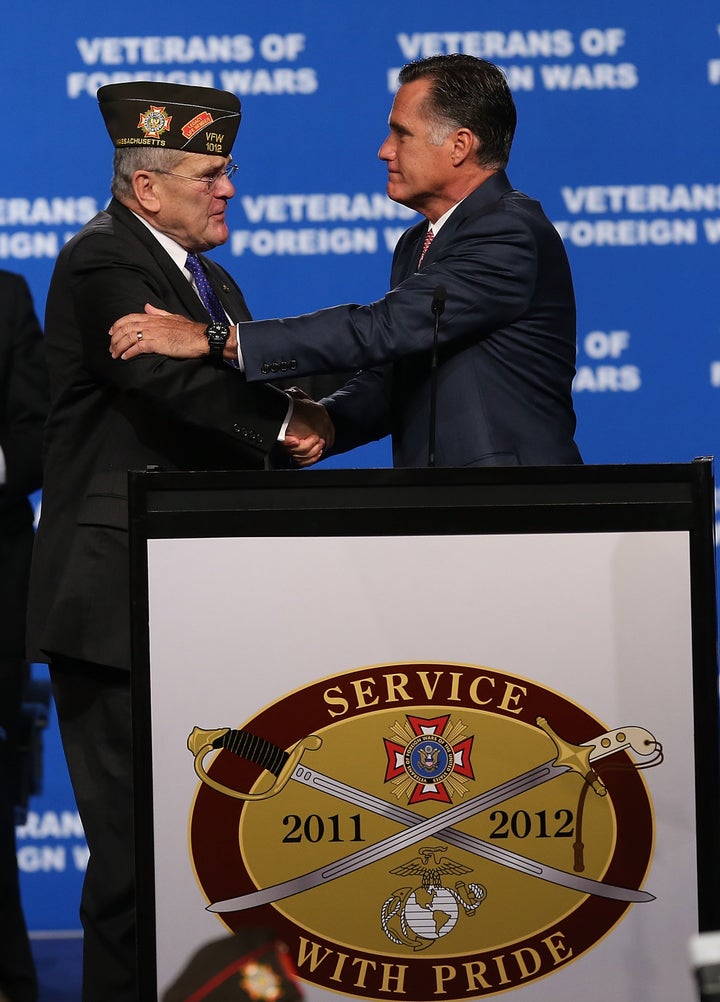 One of Mitt Romney's top surrogates in national defense on Tuesday urged President Barack Obama to "step up and provide some leadership" on how to avert the so-called "fiscal cliff," indicating that the Romney team is far from finished with linking the commander-in-chief to massive spending cuts slated for early January.
"[Obama] has not shown any leadership," Rep. Buck McKeon (R-Calif.) told veterans at a Romney campaign-hosted town hall meeting in Arlington, Va. "He just says, 'The Congress should fix this. If you pass something I don't like, I'm going to veto it.' That doesn't do us a lot of good."
McKeon's criticism picks up where the presumptive GOP presidential nominee left off before embarking on a three-country swing that wrapped up Tuesday in Poland.
"Don't bother trying to find a serious military rationale behind any of this, unless that rationale is wishful thinking," Romney told the Veterans of Foreign Wars Convention in Reno, Nev., on July 24. "Strategy is not driving President Obama's massive defense cuts. In fact, his own secretary of defense warned that these reductions could be devastating. And he is right."
The attack line ties Obama to more than $1.2 trillion in automatic cuts to the Pentagon budget and domestic programs as a result of the failure of the supercommittee last fall. That bipartisan panel was tasked with targeting a similar amount to shave off the federal deficit.
Romney spokeswoman Amanda Henneberg said Tuesday evening that the campaign has no intention of taking the spotlight off how Obama will deal with the looming cuts, which have been called a "meat ax approach" by Secretary of Defense Leon Panetta.
"This is an important issue that doesn't go away until the devastating across-the-board cuts are addressed," Henneberg said.
The Romney campaign's emphasis on sequestration comes amid a legislative push for Obama to step in. Both the House and Senate have passed the Sequestration Transparency Act, which effectively asks the president for a detailed outline of how he plans to implement the automatic cuts.
REAL LIFE. REAL NEWS. REAL VOICES.
Help us tell more of the stories that matter from voices that too often remain unheard.