In recent years, savvy destination marketers have noticed the growing trend of roots travel -- that is, travel built around or at least including some aspect of genealogy. It may be for family reunions, to walk in ancestors' footsteps, or to explore abandoned cemeteries that might hold clues to the past (those of us in the field know that the measure of a true genealogist is how excited one gets when the subject of cemeteries comes up).
A good example of this is Ireland which recently made the country's 1901 and 1911 census records available online for free searching. While we of Irish heritage are notorious for harboring an attachment to the "auld sod" even if our families have resided in other countries for multiple generations, we tend to be reluctant to travel there until we know exactly where in Ireland our ancestors once lived - and that can be surprisingly difficult to discover. That's why it's no accident that it was the Irish Department of Culture, Tourism and Sport that provided funding for this initiative, just as they did for posting millions of pre-1900 church records on the Irish Genealogy website. Smart (hint, hint, other countries!).
Being of half-Irish heritage, I am one of many who made Ireland my vacation destination this year, and like so many, I decided to weave some genealogy into the journey. All that sets me apart, I suppose, is that my trip mostly focused on others' family histories.
To begin with, I did something I've never done before - rented a private castle. I'm not kidding. You can actually rent your own castle. In our case, the half dozen of us traveling together selected Turin Castle, which can sleep 10-12 (to get a taste of the experience, click on the image below to take you to a gallery of additional photos). Owners Brendan and Marnie Farrell have done a remarkable job of retaining authenticity while providing the comforts we've come to expect (after all, would you really want to replicate every aspect of life some 750 years ago?). I've been asked repeatedly whether there were any ghosts, and for better or worse, there weren't (frankly, I prefer my castles ghostless), but you can't help but contemplate the lives of those who were climbing the same steps three, four or five hundred years ago.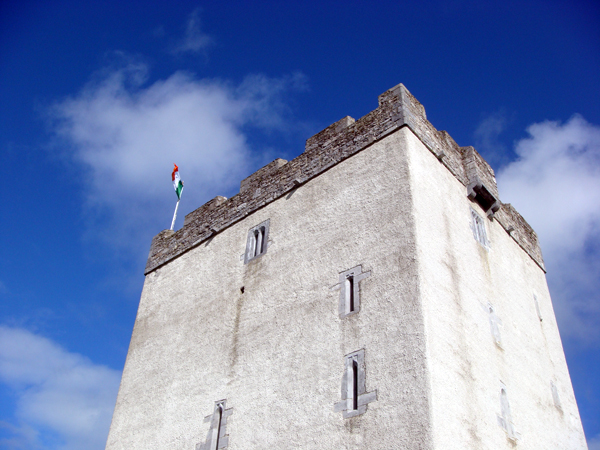 As far as I know, my Irish ancestors didn't live in castles, but they're so plentiful in the landscape of Ireland that some undoubtedly lived in the shadow of one, and I appreciated the opportunity to explore every corner (even the oubliette - look it up or check out of the photos) of one at my leisure.
From time to time, though, I ventured out from the castle. On one occasion, we went to the nearby town of Tuam as I had coincidentally been involved in the case of a WWI soldier buried at Arlington Cemetery just weeks before -- and he had been a native of Tuam. A visit to the local library turned up no fresh clues to his past, but I was glad to have made the effort.
Next on my agenda was a trip to Moneygall, the town I had traced Barack Obama's Irish ancestors to back in 2007 during the last election. This was an opportunity to see firsthand where his Kearney forebears had lived before crossing the pond to America between 1849 and 1851. Ollie Hayes, whose pub contains what could almost be described as an Obama shrine, opened early to let us in. Rumors abound that President Obama will visit, and I hope he does. When he does, we'll probably all be bombarded with images of Moneygall, but in the interim, I invite you to click on the photo below to get a preview of what we can all expect.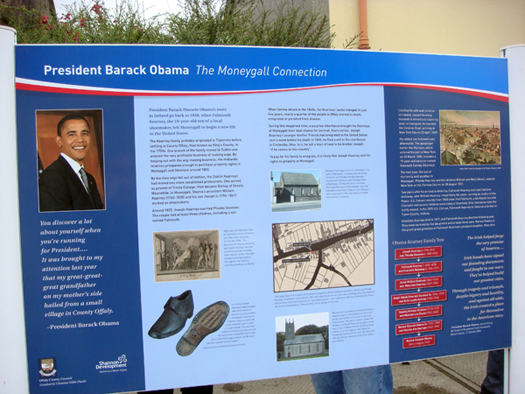 The next stop on my roots-infused vacation was a day trip to Cork, where I was greeted with a reception hosted by none other than the Lord Mayor of the city -- this due to my research on Annie Moore, the first immigrant to arrive at Ellis Island. Annie was originally from Cork, and I was delighted to have the chance not only visit the place of her birth, but even to have tea in the last home she lived in before departing for America. Photos from this memorable day can be seen by clicking on the image below.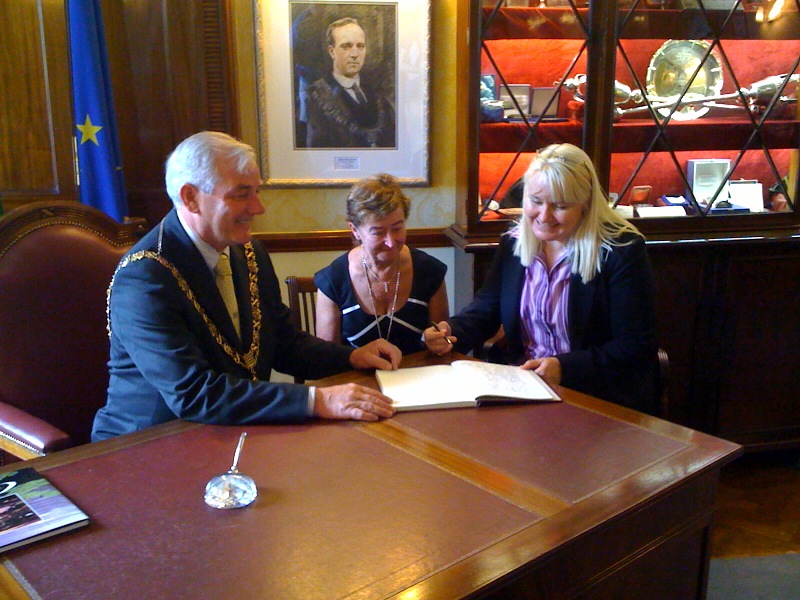 I rounded out the visit with a few radio interviews about President Obama, Annie Moore, and Who Do You Think You Are?, my latest book (companion to the NBC series of the same name). As to my own roots, I even managed to squeeze in a visit with a possible cousin who's happily agreed to DNA testing to help us solve a mutual history mystery. So now the only question is where my next genealogical adventure will take me -- though I could be persuaded to return to the castle!
Related