 Conservative talk radio personality Rush Limbaugh has some thoughts about Academy Award Best Picture winner "12 Years A Slave":
"If it was the only thing that movie won, it was gonna win Best Picture. There was no way. It didn't matter if it was good or bad. I haven't seen it. It was going to win. It had the magic word in the title, 'slave.'"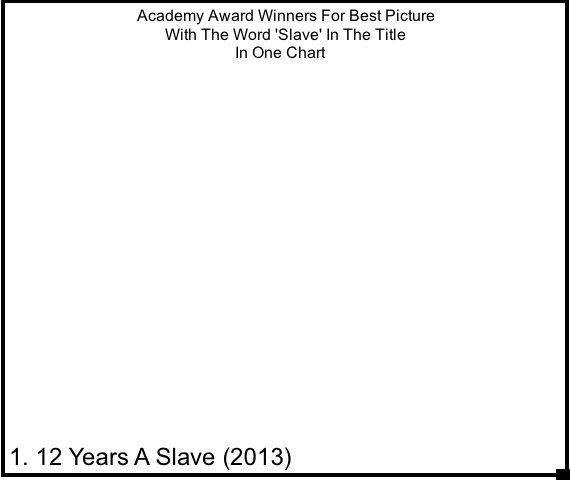 [Source: AMPAS]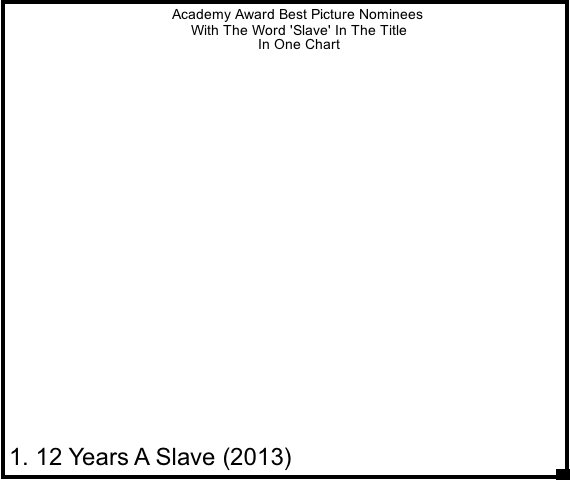 [Source: AMPAS]
And a selected list of movies with "Slave" in the title that went unrecognized by the Academy of Motion Picture Arts and Sciences in one chart:
Slaves Of Desire (1923), A Slave Of Fashion (1925), The White Slave (1927), White Slave Traffic (1929), Slave Ship (1937), Slaves In Bondage (1937), White Slaves (1937), Boy Slaves (1939), Slave Girl (1947), Tarzan And The Slave Girl (1950), Slaves Of Babylon (1953), The Slave (1953), Captain Kidd And The Slave Girl (1954), Theodora, Slave Empress (1954), Love Slaves Of The Amazons (1957), The Warrior And The Slave Girl (1958), The Pirate And The Slave Girl (1959), Slave Of Rome (1961), White Slave Ship (1961), The Slave (1962), Goliath And The Rebel Slave (1963), Samson And The Slave Queen (1963), Slave Queen Of Babylon (1963), There Are Still Slaves In The World (1964), White Slaves Of Chinatown (1964), Aido: Slave Of Love (1969), Slaves (1969), Slaves Of Love (1969), Slave Wife (1976), White Slave (1985), Slave Girls From Beyond Infinity (1987), Slave Of Crime (1987), Slaves Of New York (1989), Latex Slaves (1992), Blood Slaves Of The Vampire Wolf (1996), Slaves To The Underground (1997), Slaves Of Hollywood (1999), Chained Fury: Lesbian Slave Desires (2003), Slave (2003), Slaves Of The Realm (2003), 3 Dancing Slaves (2004), Busty Bondage Slaves (2006), Prince Among Slaves (2007), Slave (2009), I Am Slave (2010), Slaves Of The Saints (2011), Runaway Slave (2012), Slave (2012), I, A Slave (2013), Rather Die Free Than Live A Slave (2013), Slave Queen (2013)
In short, putting the word "Slave" in the title of a movie seems to have no statistical relationship to Academy Award Best Picture-winning.
REAL LIFE. REAL NEWS. REAL VOICES.
Help us tell more of the stories that matter from voices that too often remain unheard.
BEFORE YOU GO
PHOTO GALLERY
Rush Limbaugh