 Ryan Eggold really doesn't want to spoil "The Blacklist" for you.
On "The Blacklist," Eggold plays Tom, the nice-but-maybe-kind-of-murdery husband to main character Liz (Megan Boone). It's one of the biggest hits of the year and shows no sign of slowing down. While Season 2 has yet to get the green light, Eggold seems to know exactly where "The Blacklist" is heading. The actor stopped by The Huffington Post office to talk about playing a lurky maybe-killer, Tom's sex life and some major spoilers regarding the upcoming Nov. 25 episode.
NOTE: Do not read if you are not caught up on "The Blacklist" Season 1.
I'm all caught up and let's be real: Everything's crazy.
Yeah. It's getting crazy. The week before last that was when Liz's dad died, right?
Yes, and your first scene with James Spader.
That was awesome. Working with him was fantastic. He's supremely professional and amazingly gifted, obviously. He's just a very supportive actor. He knows what he wants to happen and he likes to have a dialogue with you. He gives a lot and is very generous. Not a lot of number ones are like that. Then, I enjoyed seeing the scene because it was an interesting experience to play a number of possibilities in that scene.
I was under the impression before the scene that you would completely know who he was just on sight.
Because of Liz?
Yes. Maybe she showed him pictures or something, but you had no idea.
Liz doesn't share her work with me at all and I think Red's one of those behind-the-scenes figures. So, Tom as a school teacher has no idea who he is. But if there is some other person lurking inside that's a whole other story.
I assume you know.
I just got the goods. When we shot that scene I truly didn't know where they were going to go with Tom, but I just got a great scoop from the writers and they told me some ideas and they're awesome. They're very long term and they're very ever-changing.
What can you tell us about Monday's (Nov. 25) episode?
Monday is [executive producer] Joe Carnahan's episode, I believe.
The promos are very dramatic. Every commercial says this episode is the one we've been waiting for.
The Blacklister is amazing, but more so what's important about this episode is the relationship between Red and Ressler [Diego Klattenhoff] because they go through a crazy experience.
That's good because I think Ressler's been needing more ground to stand on.
Totally. This episode will definitely change Diego's character permanently, which is awesome. [Ed note: At this time in the interview, we watched the above trailer for next week's episode] "The episode that will change your life forever! You'll never be the same. You'll never love again!" Joe Carnahan directed our pilot and he directed this one and he wrote it. Joe Carnahan is just a phenomenal beast of a talent and when I read the episode I literally freaked out and then I was like, "Oh, this episode is going to be amazing." They shot it and it's awesome. Tom is unfortunately doing a bit of his background Tom thing like, "Hey babe, you alright?"
Like, "Where's our baby?"
Yeah, like, [Eggold makes baby noises], "Wanna have a baby? I'll just be in here drinking coffee." Poor Tom. Locked in the kitchen with coffee. But it's all about the FBI center and what happens and it's sort of a close call for a lot of them in terms of you know, losing a lot.
Thinking long term about "The Blacklist," earlier you said Season 2 starts shooting next July.
Which is not official by the way.
Is that off the record?
Well, eh … I don't want to be presumptuous but I don't know. Yeah, I guess whatever. There's going to be a Season 2.
So thinking long-term people have been really hyping this show as the No. 1 fall show. How has that affected you?
When I walk down the street, people shout at me, "Hey man, are you bad?!" I'm like, "It's cool, man." It's really fun. People like the show. It's fun to be a part of a show that people have passionate opinions about. Some people think Tom's this, some people think Tom's that.
It's also interesting because you have had this background role, but you're the big mystery.
He's sort of the link between everything. I think he's an important character, too. What's interesting about our show is that it does a very good job of balancing the procedural element that's self-contained in an episode and the long form story element that you might get on "Homeland," which kicks ass, so I think Tom in that sense is part of our longer story.
Do you think Tom has other lovers like Gina?
Obviously I can't say, but I know … I wonder if I can say this. I think I can say this. Please print that I'm not sure if I can say this! There is a new girl coming on the show who's not Gina. But I've heard that Gina might come back, on a side note. But there's a new girl coming on the show that I'm going to interact with -- this is so delicate! -- that will lead to some answers about who Tom is.
That is vague enough.
So vague! It's so hard doing interviews because I'm like, "He's a guy in the world. He has legs?" Once some cats are out of some bags, maybe. But the catch of our show is that there's always mystery. Even when we answer these questions, the next episode takes a turn, which is fun.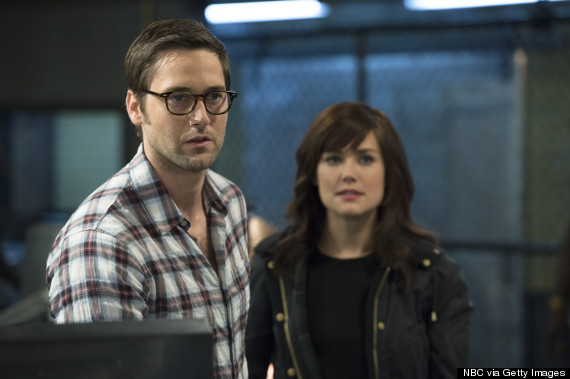 I'm fascinated by the relationship between Liz and Red. I think he's her father, but I know other people don't.
People argue over it. But I think a lot of people think that.
Especially after last episode.
I think you can expect the answer to be more complicated than him being just her father.
Are you saying that's true?
No. No, I'm not.
I was also a huge fan of "90210."
Nice. "90210" was three years of goodness.
You had this good guy-gone bad thing that seems to be happening on "The Blacklist" also.
I never thought of that. Maybe I'm just good and bad. Maybe every role I get cast in is like a sweet, nice role and then I just fight to make it horribly dark. I think that come Season 2 of "The Blacklist" as it starts to progress, there's going to be room for more depth because the beginning has to be about those questions. When we start answering those, things start happening like what happens to Diego's character on Monday. There will be things that we can't come back from, things that we can't change. As we go further we can continue to dig deeper under the surface of things and that's what I think is fun about it.
Catch "The Blacklist" on Mondays at 10 pm EST on NBC.
Calling all HuffPost superfans!
Sign up for membership to become a founding member and help shape HuffPost's next chapter
BEFORE YOU GO
PHOTO GALLERY
NBC's New Shows 2013-2014