I've had the chance to chat with him a few times now and every opportunity trumps the next. Yes, he's an A-list actor whose good looks and charm won over Blake Lively's heart. (All of our hearts, for that matter.) But aside from that, he's a respectable and generous man, and those enviable sides of him are truly pushed to the forefront with his passion to restore and protect our forests.
Reynolds has teamed up with Eddie Bauer and American Forests to promote The One Tree Initiative, which currently launched the #Hug2Give campaign. American Forests, the oldest national nonprofit conservation organization in the country, advocates for the protection of forests and encourages us to understand the health benefits they provide for the entire planet. By planting trees and rebuilding destroyed ecosystems from scratch, the organization is expanding our quality of life. Eddie Bauer will donate $50 to American Forests for every photo posted of yourself or your loved one hugging a tree ― simply tag #hug2give and #onetree. You'll be helping to save your environment and, not to mention, to impress Mr. Reynolds.
The Huffington Post was in attendance for the launch of the #Hug2Give campaign at DVF Deck On The High Line in New York City Tuesday night, and chatted with Reynolds about his tree-hugging alter ego. Oh, and "Deadpool."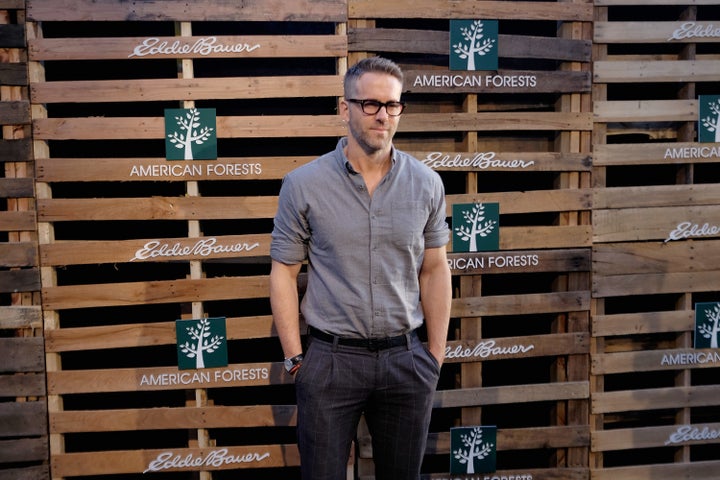 "American Forests is an amazing organization that speaks right to my heart," he told HuffPost. "I wanted to be an actor and I wanted to be an environmentalist, those were the two things that I wanted to do. And this partnership has just kind of been a match made in heaven."
The 39-year-old says he's been fortunate to be able to do what he loves, and "live the adventure" of his dreams.
"The last couple of years, thankfully, I've had a lot of pinch-me moments. I've always had them, even in the depths of depravity, I've had them as well, where you're like, 'I'm really living right now, because I feel like I'm dying.' But the last couple of years have been great," the soon-to-be father of two said. "My entire adult life I've wanted to play Deadpool, so to see that come to fruition in the right way [was a lifelong dream]."
Speaking of the red-masked antihero, we'll see him again in "Deadpool 2." But, sorry, no news yet on any of the action we can expect.
"It's going to be even more Deadpooly than the last one. That much I know. Otherwise, I can't give away any spoilers yet," Reynolds said.
Well, for now, we'll just have to be our own heroes and save some trees.
Watch The Huffington Post's interview with Ryan Reynolds in the video above.
Through Sep. 15, customers can join The One Tree Initiative by adding a dollar at checkout on eddiebauer.com or at any U.S. or Canadian retail location. You can also help by joining the #Hug2Give campaign on social media.
Before You Go
2015's Most Charitable Celebrities
Popular in the Community