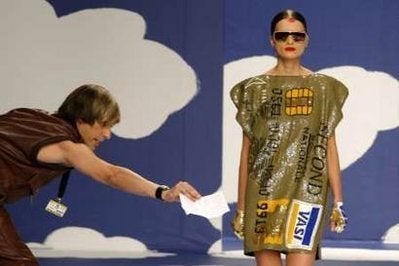 British Vogue reports Sacha Baron Cohen's Bruno crashed Stella McCartney's fashion show in Paris on Thursday for his upcoming film - while sucking on a tampon:
Sacha Baron Cohen's alter ego Bruno is at it again in Paris - this morning making a very conspicuous appearance on the second row of the Stella McCartney show.

With his red thong clearly visible above his jeans, the comedian - who was virtually unrecognisable in a flamboyant leather gilet, with his slicked-down hair dyed blonde and brown - sucked Tampax, clapped along to the music and generally disgruntled the front row by continually pushing aside those sitting in front of him for a better look at the models.

While Baron Cohen did his best to steal the limelight, however, McCartney's girls (in delicious roomy knits with a touch of the Eighties about them) held their own - and won a lone standing ovation from their most eccentric, and possibly biggest, new fan.
On Friday he was photographed being escorted out of Jean-Charles de Castelbajac's show after getting up on the runway.
He is filming his new movie "Bruno: Delicious Journeys Through America for the Purpose of Making Heterosexual Male."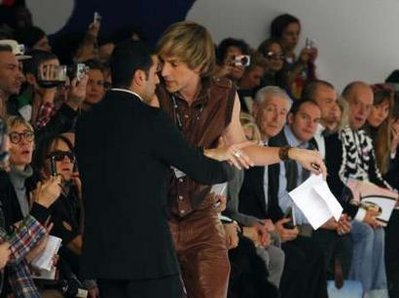 Support HuffPost
The Stakes Have Never Been Higher
Popular in the Community