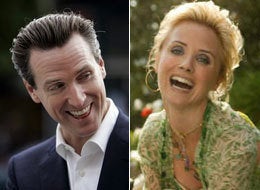 According to the AP, San Francisco Mayor Gavin Newson is engaged to actress Jennifer Siebel.
Mayor Gavin Newsom, 40, proposed to his girlfriend, actress Jennifer Siebel, 33, while they vacationed over the weekend in Hawaii, and she accepted, said Stanlee Gatti, a friend of the couple who spoke with the mayor after he proposed.

A date has not been set, Gatti said.

It would be the first marriage for Siebel, 33, and the second for Newsom, whose four-year marriage to Kimberly Guilfoyle ended in divorce in March 2006.

The two were introduced by mutual friends in October 2006. Siebel, who lives in Los Angeles, stood by Newsom after he publicly admitted in February that he had a drinking problem and had had an affair with a former staff member's wife.
Siebel, who has a "recurring guest spot" on "Life" also has a very informative personal website. She has a long bio page on which she describes going to Stanford and wide-ranging activities.
I spent a summer advising indigenous communities in La Amistad Biosphere Reserve, Costa Rica, on various environmentally sustainable micro-credit opportunities available to them, I studied wildlife management and the culling of big game on a nature reserve outside of Nairobi, Kenya, and I worked with women in the San Bushmen communities of Botswana...
So why move to Hollywood and be an actress?
Arts, politics, humanitarianism, the environment, poverty alleviation, global peace, homelessness, education, etc...they are all intertwined. Hollywood has a voice. It has a very powerful voice.
Popular in the Community