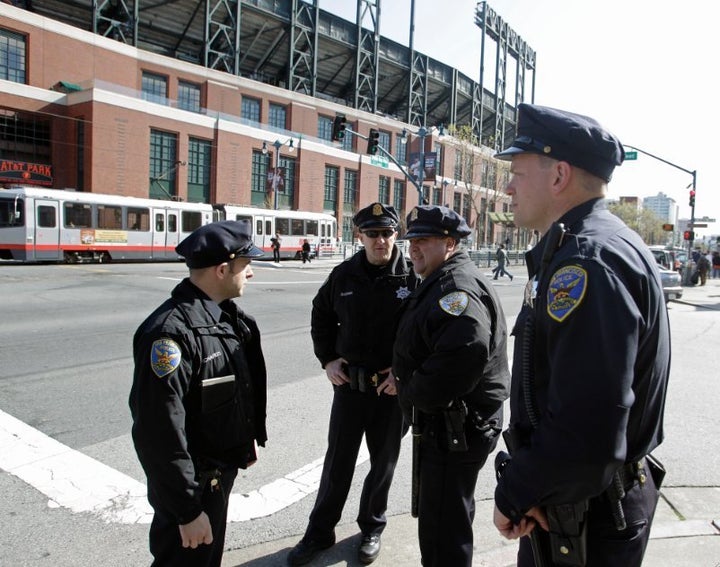 A San Francisco politician wants tougher oversight of local police and the role they play in terrorism investigations following complaints from residents that they were unnecessarily targeted for questioning and surveillance by Joint Terrorism Task Forces.
Dozens of new task forces led by the FBI were created after the Sept. 11, 2001, attacks so local, state and federal law enforcement could work together to smoke out terrorism plots. But at times, they've been accused of too zealously collecting intelligence on people who have done little or nothing wrong.
San Francisco City and County Supervisor Jane Kim wants the police department to fall in line with state and local privacy rules that restrict what information police can amass, and she wants investigators to refrain from gathering intelligence on people unless there is reasonable suspicion that the person has engaged in criminal conduct.
Controversy around law enforcement spying led to new general orders adopted during the 1990s that, among other things, required senior approval for San Francisco Police Department investigations of a person or group involved in First Amendment activities, such as political demonstrations. The rules also directed that the independent San Francisco Police Commission periodically review the investigations for compliance.
But civil liberties groups say police in San Francisco quietly signed a 2007 memorandum with the FBI in which they agreed to follow less-restrictive federal guidelines on intelligence gathering.
Last week, the police department issued a statement saying that the agreement no longer applied and that Chief Greg Suhr, who was appointed by Mayor Ed Lee last year, had since issued an order declaring that all personnel participating in a terrorism task force still operate under the San Francisco department's chain of command and must comply with California law.
"Meaning no disrespect to the authors and supporters of the proposed ordinance, the chief believes that their concerns are already addressed," the statement says.
The San Francisco Human Rights Commission heard testimony on the issue of police surveillance during a 2010 public meeting in which one civil rights attorney claimed that the FBI had attempted to entice his clients into becoming informants with the promise of citizenship and legal status.
The American Civil Liberties Union in December accused the FBI of using "community outreach" in California as a ruse to racially profile and gather intelligence on Muslims. Heavily redacted documents the group obtained through the Freedom of Information Act showed agents had compiled personal information like Social Security numbers and searched state vehicle registration records for the names of people they'd come into contact with at community events.
"The FBI should be honest with community organizations about what information is being collected during meetings and purge any improperly collected information," Michael German, an FBI agent-turned-ACLU senior policy counsel, said at the time.
While the advocacy group says it considered the bureau's conduct illegal, FBI officials have argued that they're simply trying to ease relations with the Muslim community and see to it that the civil rights of people who might be perceived as potential terrorists are protected.
Supervisor Kim is taking cues in part from rules recently instituted in Portland, Ore., long the only city nationally to eschew an intimate partnership with the FBI on matters related to terrorism. Local officials there revisited the decision after the FBI announced charges against a teenager named Mohamed Mohamud in 2010 for allegedly attempting to bomb a Christmas tree lighting ceremony.
Mohamud and several other terror suspects since Sept. 11 have claimed they were entrapped by FBI informants who coaxed them into attempted attacks and gave them bogus detonating devices that agents knew all along would cause no harm.
After months of wrangling, Portland eventually decided to rejoin the task force, but only after establishing a set of rules similar to what San Francisco is considering now, such as requiring that terrorism investigations have a "criminal nexus" before Portland officers proceed.
The public learned only after the alleged Christmas tree plot that the city's mayor had not known the FBI investigation was occurring, nor reportedly did the local FBI special agent in charge know that a previous agreement called on him to brief the mayor about such probes.
Kim in San Francisco said she was motivated by complaints from Muslim and Arabic small-business owners in her district who claimed they were questioned by law enforcement without clear justification.
"We obviously can't have an impact in terms of what the FBI does," Kim said in an interview. "But we can certainly have oversight with the SFPD. ... We would at least require that there be reasonable suspicion before they launch an investigation and start questioning and detaining members of our community."
G.W. Schulz is an investigative reporter for California Watch, a project of the non-profit Center for Investigative Reporting. Find more California Watch stories here.
Related
Popular in the Community