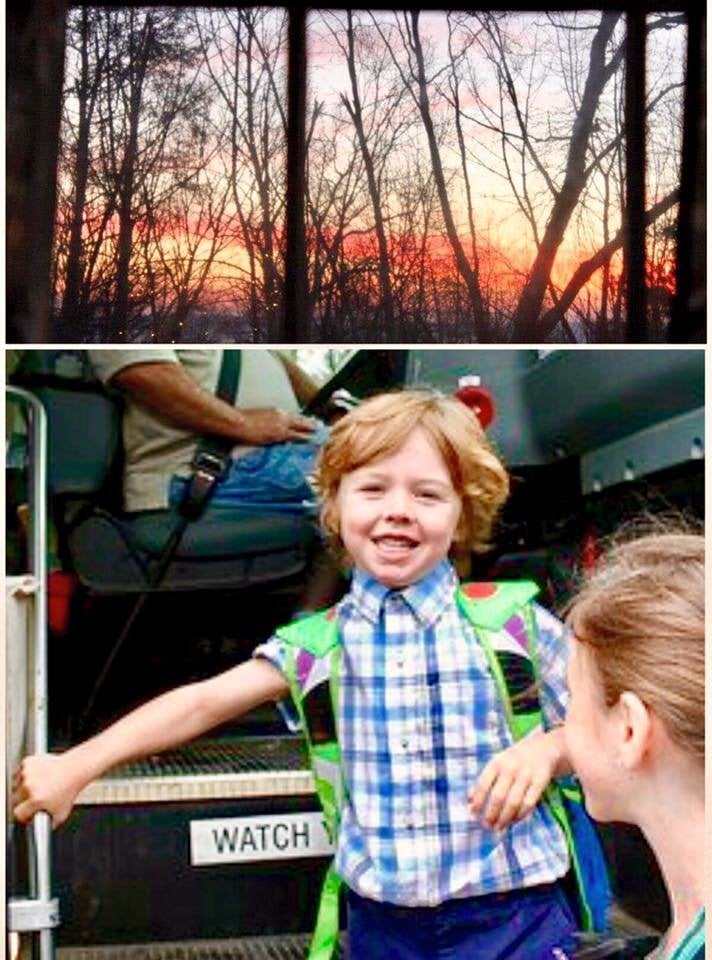 On the morning of December 14th, 2012, I was walking James down the driveway. It was still dark at 6:20, and we hear little footprints behind us on the driveway. Daniel had gotten up and realized that the house was dark and empty and that we were on our way to the bus, and he ran down the driveway with his pajamas and with his little flip-flops on so he could hug and kiss his brother goodbye.
That is the only time that ever happened.
He and I came back into the house, and I said, "Look, the sun's not even up. You can go back to bed and sleep some more if you want." And he said, "No, Daddy, now we have more time for cuddling." So that's what we did.
We got on the couch and we cuddled, goofed around, and played. He noticed out that window that the sky was starting to become all red and orange, and the Christmas tree was in the room, and he said, "Look, Daddy, you can see the reflection of the Christmas tree lights in the window with the [sunrise] behind it. Isn't that beautiful?"
It was beautiful, and so I went and got the camera and took a picture of it. So we have this picture with that window with that December 14th sunrise and just a few little lights of a twinkling Christmas tree.
Daniel was big into foosball, so we had some time for some foosball. And then he had to kiss his sister Natalie goodbye, too. He made a point to give her a hug and a kiss goodbye and see her off on her bus.
After breakfast we sat down at the piano and I taught him how to play "Jingle Bells," which he did perfectly. I just remember looking at his little hands and just thought his little hands were so cute and so beautiful.
When his Mom was leaving for work, Daniel ran down the stairs with a toothbrush in his mouth to give her a hug and kiss. Jackie and I reminded him not to run down the stairs with objects in his mouth, but we looked at one another and smiled at his eagerness to show his love and affection.
Some mornings Jackie was gone before he woke, so we all relished this moment that morning.
Then it was time to walk Daniel to the bus. Almost every morning, we had to play tag on the way to the bus. And it was all this running around, all the way up and running through the lawns, and I asked him, I said: "Do we have to play tag today? Do we have to play tag every day? Can we just hold hands today?"
So we did. We just held hands ...
Daniel Barden was one of 26 innocent lives taken on December 14, 2012 at Sandy Hook Elementary in Newtown, CT. He was just 7 years old. Please help us honor Daniel's memory by living life the way Daniel did: by reaching out to those who appear lonely, performing acts of kindness, having compassion, and by living each day to the fullest. Learn more about Daniel and our efforts at sandyhookpromise.org and whatwoulddanieldo.com. and at bardenmudfest.org. Thank you all for your continued support.