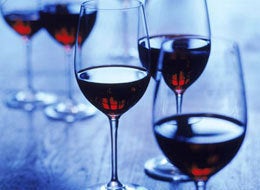 April 1, 2012, Pinot Paradise tasting in Campbell, California
Planting vines in the cool, high altitude Santa Cruz Mountains is a quixotic endeavor. Trying to grow and make great wine out of notoriously fickle Pinot Noir in these climes is particularly challenging.
Nonetheless, a few driven producers over the years have made some brilliant, minerally, complex, cool climate Pinot in these parts.
Santa Cruz Mountains was recognized as an American Viticultural Area in 1982. It stretches from Half Moon Bay south to Mount Madonna. It was the nation's first AVA to be defined by a mountain range, and its rules require a minimum vineyard elevation on the ocean side of 400 feet, with a minimum of 800 feet on the inland side.
Vineyards are planted as high as 3200 feet, but the amount of land actually containing vines in this vast area is quite small -- only about 1,500 acres. Of that amount, about 25 percent, or roughly 375 acres, is planted to Pinot Noir. An equivalent amount of acreage is devoted to Chardonnay and Cabernet Sauvignon, with the rest being planted to an array of other grapes.
The Santa Cruz Mountains Winegrowers Association sponsors an annual event, Pinot Paradise, spotlighting the variety that represents about a quarter of the AVA's production. I've attended four of these events over the years, and particularly enjoy the morning technical sessions, offered for the region's grape growers and winemakers.
My tasting through wines from over half of the AVA's more than 70 producers at this event last month reinforced a few conclusions I've reached about Pinot Noir from this region.
Unlike prime locations for Pinot Noir in California -- e.g., Santa Rita Hills and the true Sonoma Coast -- where almost all the Pinot Noirs produced are at a very strong level, Santa Cruz Mountains currently has only two exceptional producers, Mount Eden and Rhys. There are several other producers making some very good wines, in limited quantities, which I will list below. The majority of Pinots from this region, however, score from average to below average. There are also a few producers, as in most regions, for whom winemaking seems to be simply a vanity project, where the results can be described as amateurish at best.
Winegrowing in this area started in the mid-1850s, but Pinot Noir didn't arrive until nearly the end of the 19th century, when Frenchman Paul Masson imported budwood from Burgundy (reputedly from the Grand Cru Corton vineyard) for his hillside vineyard La Cresta, above the town of Saratoga.
Martin Ray purchased La Cresta in 1936. Following the advice of his mentor, Paul Masson, he subsequently sold the Masson Winery to Seagram's and planted his own eponymous vineyard further up the hill from La Cresta, using budwood from La Cresta.
When Martin Ray lost control of his winery in the early 1970s, most of the vineyard he had planted went to the successor entity, Mount Eden. A small adjacent vineyard was, however, retained by the Ray family. This is the Peter Martin Ray Vineyard.
Most of the greatest Pinot Noirs from this region I've tasted over the years have some connection to Martin Ray: Martin Ray's own Pinots from the '50s to the early '70s, the Pinots from Mount Eden; and the Pinots that Duane Cronin, now deceased, made from the Peter Martin Ray vineyard.
The other greatest Pinot Noir producer in this region is a relatively new project, Rhys, owned by Silicon Valley entrepreneur Kevin Harvey. I've written a few times here about Rhys, including this piece that describes the vineyards they've planted in the northern part of the AVA.
Two other very good producers weren't represented at this year's Pinot Paradise, McHenry and Windy Oaks. Of those that were represented, there were two newcomers that greatly impressed me -- Silvertip and Villa del Monte. There were half dozen others whose wines I was already familiar with who were responsible for one or more wines I rated 92 points or higher at this event. Those were Beauregard, Big Basin, Clos LaChance, Nicholson, Pleasant Valley and Soquel.
One of the most interesting of these producers is Clos LaChance, which has grown from a small project based on 3/4s of an acre in the backyard of proprietors Bill and Brenda (LaChance) Murphy in the early '90s, to one of the area's major producers, making 80,000 cases from 150 acres today. Only a small percent of that production is Pinot Noir, but the vineyard sources are, to me, the fascinating part of the story.
In 1996, the couple established CK Vines, a vineyard maintenance and installation company specializing in backyard vineyard development. Most of their vineyard acreage consists of backyard vineyards of various sizes for which they charge homeowners an installation fee (in 2004, that was $30,000 per acre) as well as an annual maintenance fee. The maintenance fee is more than offset by Clos LaChance's per acre purchase price for the resulting grapes. Another large source of their grapes is a residential development in San Martin with 36 three-acre sites that was designed with these vineyards as part of the plan. There Clos LaChance installed and maintains the vineyards, at no charge to the residents, and processes the grapes. The homeowners don't participate in any winery profits, but get to enjoy the beauty of the vineyards on their property.
For more information on the other producers listed here, and my complete tasting notes on all 71 Pinot Noirs tasted at this year's Pinot Paradise event, see my blog here.
Popular in the Community