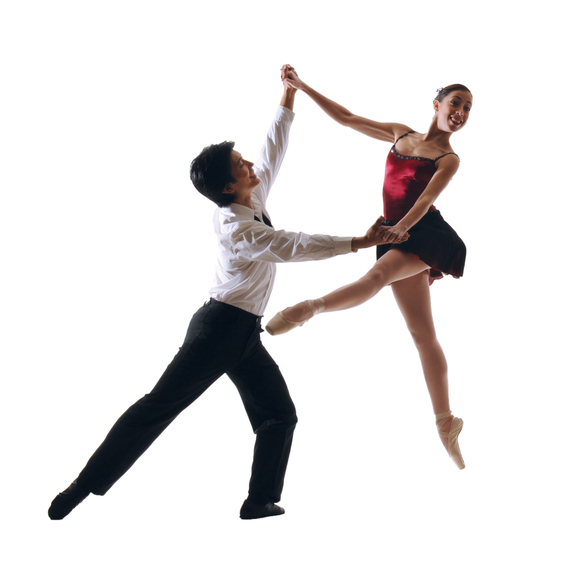 Rosselyn Ramirez and Derek Sakakura of Diablo Ballet in George Balanchine's Who Cares? (Photo: Ashraf Habibullah)
After 20 years of charming East Bay audiences, Walnut Creek-based Diablo Ballet tipped its hat to the past with an anniversary program that segued movingly from film clips of past performances to live performance of the same pieces, but also nodded vigorously to the future with a brand new work by resident choreographer Robert Dekkers.
A retrospective program, cousin to the dreaded gala, risks emasculating great work by taking excerpts out of context, or by senseless juxtapositions. But longtime Artistic Director Lauren Jonas keeps a firm hand on the rudder through turbulent seas of taste. And unlike many regional dance companies who have sacrificed live music in these hard economic times, Jonas and her board have their priorities right, continuing to serve up live accompaniment for three of the works on this fine program.
Augmenting Diablo's current crop of nine admirable dancers were a handful of alumni who opened the program with a simple and charming waltz, set to an original piece played live by pianist-composer Justin Levitt.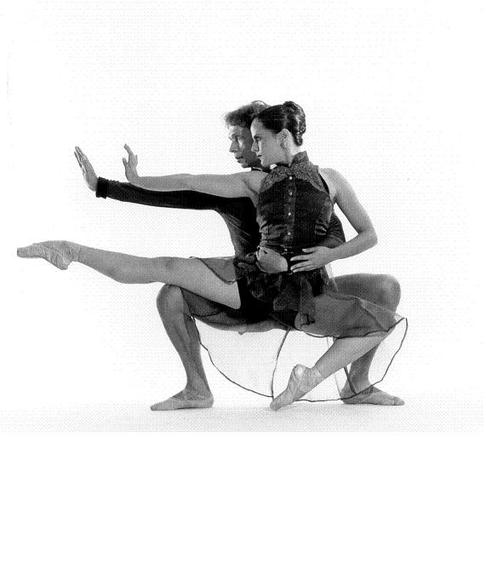 Diablo Ballet alumni Corinne Jonas and Viktor Kabaniaev in KT Nelson's Walk before Talk. (Photo: Ashraf Habibullah)
Diablo alumna Tina Kay Bohnstedt was luscious in the film clip of the bedroom pas de deux from Val Caniparoli's Lady of the Camellias, and still marvelously expressive as she stepped out from under the film screen to reprise the role of 19th century Parisian courtesan Marguerite Gauthier. (The character was modeled on Alexandre Dumas fils' mistress, who died of tuberculosis just before La Dame aux Camélias became a blockbuster novel, play and opera.)
The way Bohnstedt slipped off her robe and tossed her head back in anticipation of the delights of her impending assignation with the elegant David Fonnegra, the exultation with which she stepped onto her strongly arched pointes, and folded and unfolded in big, sweeping supported promenades and lifts - to the strains of the introspective, heartbreaking slow movement of Chopin's Piano Concerto No. 1 in E Minor - conveyed volumes. For all Fonnegra's skill in the difficult and daring partnering, the most bewitching moment came at the end when Bohnstedt curled up, childlike, in his arms and he carried her tenderly into the shadows.
Rosselyn Ramirez and Derek Sakakura were similarly well-matched in the 'Sweetheart pas de deux' from Eugene Loring's classic Billy the Kid, a rare balletic interlude in this stark, modern opus with a highly unclassical theme: the making of a psychopathic killer. No flesh-and-blood sweetheart, Ramirez appears as if in a dream to the brash young outlaw, recently escaped from jail and hiding out in the desert. While he partners her in lifts and turns, he never looks directly at her, though at one point he nestles his head on her breast, as if momentarily recalling his mother, whose murder he'd avenged - thus sowing the seeds of his own murderous career. The score by Aaron Copland (a virtual unknown in 1938) was played live by Roy Bogas.
Diablo's tiny ensemble displayed their virtuosity in episodes from Who Cares?, George Balanchine's hedonistic revel to George Gershwin. It opened with a delightfully insouciant, Runyon-esque solo by Robert Dekkers, who tossed imaginary dice on the ground and entrechats sixes in the air, his allegro technique crisper and sharper than most soloists who interpret this role. In the witty, madcap finale to "I Got Rhythm" - played at breakneck speed by an excellent jazz trio led by Greg Sudmeier - Jennifer Dille, Rosselyn Ramirez and Tetyana Martyanova dared Dekkers, Edward Stegge and Justin Vanweest to keep up with their sassy, jazzy petit allegro.
30 years after Who Cares?, Diablo alumnus Kelly Teo employed a tightly circumscribed vocabulary, with a Fosse-flavored snap to shoulders, arms and hands in his dazzling visualization of music from jazz trumpeter Miles Davis' "electric" period. Dekkers, Stegge, Sakakura, Fonnegra, Dille and Ramirez, in elegant, streamlined black, strutted and hitch-kicked, brisé-d and entrechat quatre-d, like musical notes popping frenetically off the page. A visual and aural blast.
Dekkers collaborated on the lower-case cares you know not with a quintet of Diablo dancers, with Susan Roemer who designed costumes and the 35-foot jersey shroud that billows menacingly over the proceedings, and with Samuel Carl Adams who architected the score for eight cellos, close mic'd to capture the nuanced scrapes, whispers, and effusions often lost in the performance environment, some tuned to unconventional pitches - the resulting sound by turns wistful and electrifying - overlaid with electronically processed field recordings of ghostly noises.
The title appears to have been ripped from a children's lullaby, whose lyrics include the line "cares you know not, therefore sleep." The piece is no innocent dream however, more of a nightmare. Frequently bent over as if in severe abdominal pain, the dancers wrap and unwrap themselves in the stretchy amber shroud, occasionally piloted by two men in hoodies like the Grim Reaper. Vanweest, Sakakura, Stegge, Martyanova and Mayo Sugano, rise above the singularly unattractive costumes in dismal shades of ochre, brown and grey, the women in grey tights and athletic shorts.
The enormous ombré-d fabric hovered poetically - rather like the ghost of Martha Graham, who often swathed herself and her female dancers in modern stretch jersey, as her narratives reached back in time to Greek mythology and ceremonial tribal rituals of the Southwest. Fabric and movement also recalled John Michael MacDonald's recent Nightmare Dreamer, a disturbing piece of physical theater about a young man with a terrible gift: the ability to unburden others by dreaming their nightmares for them.
Adams' score blurs the boundary between seduction and alienation and, together with Dekkers' urgent but spare choreography, reinforces Daniel Albright's contention on music:
Music, then, is a sort of dreaming with the ear; an endless, subtly readjusting refinement of a shriek. At the beginning of any finite musical act there is pandemonium, a vast, omni-expressive noise in which are located all the sounds that the ear can hear; the musician simply selects a few possibilities out of this confusion of all frequencies and all amplitudes. What is yearning? - weakened terror. What is exhilaration? - weakened terror. What is the soft cooing of lovers? - weakened terror. A chord, a timbre, a snatch of song, is moving to the degree that it can allude to the primal scream that lurks behind it... a softening of some grand violence.
Thus Dekkers and Adams seem to have "softened some grand violence," echoes of which ring in our heads long after the curtain came down.
The program meandered back and forth across history, interspersed with lovely filmed tributes from dance luminaries including Sally Streets, KT Nelson, and Christopher Stowell, closing with the rousing Balanchine. Positioning the pieces in chronological order would have better emphasized the influence of Balanchine's groundbreaking absorption of jazz into the ballet idiom on the contemporary work of Teo and Dekkers, for example.
But even though dessert arrived before the appetizer, the tasty morsels left us hungry for more.
Calling all HuffPost superfans!
Sign up for membership to become a founding member and help shape HuffPost's next chapter