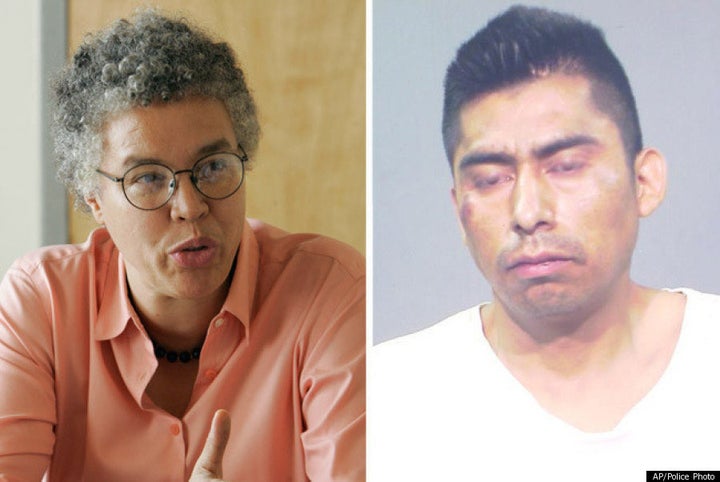 The June 2011 death of William "Denny" McCann could have been prevented by a number of checks within the legal system of Cook County, Ill. Police could have intervened earlier the night Saul Chavez sped and swerved through Logan Square in Chicago with a blood alcohol content of 0.29 -- before he struck the 66-year-old man, dragging him down Kedzie Avenue, and then fled on foot. The courts could have attached a harsher punishment to Chavez's 2009 drunk driving conviction, beyond the probation term he had just finished. Immigrations and Customs Enforcement could have placed a federal detention order on Chavez after his first DUI two years before, forcing the county to hold him until ICE authorities could come investigate his citizenship status. But at each stage of this process, the system failed.
Cook County Board President Toni Preckwinkle agrees that this case highlights a problem -- not in the city's relationship with ICE mandates, but in the bond court system, where Chavez could have been identified as a flight risk, penalized for his record and awarded a higher bond. Fixing this problem, she says, is a pressing issue that affects all Cook County residents, not just cases where immigration status is a confounding factor.
"[It] isn't fair, or effective, to use immigration status as a red herring, when this is an issue about public safety for all Cook County residents," Preckwinkle said. "Our goal is to keep our communities safe, not by targeting a sub-set of the population, but by ensuring those who should be detained are held in jail, and that our limited resources are not wasted on those charged with minor offenses or those who pose little or no flight risk."
In a press release, Preckwinkle's office blamed Chavez's evasion of prosecution not on the county's obstruction of ICE adjudication, but on "an attainable bond that didn't take into account his criminal history and flight risk."
In that vein, Preckwinkle announced plans to launch a six-month Judicial Advisory Council study of the county's bond court practices and problems to help guide meaningful reform Thursday. Officials are already aware that this branch of the county's judicial system, like many others, is crippled by its overextension; judges make release and detention decisions quickly, and often with limited information about the offender standing in front of them. The county hopes that enhancing pre-trial services and arming judges with more manpower and information will beget more just rulings on a case-by-case basis.
The Chavez case has unquestionably invited criticism for the county's defiance of ICE's mandate. Preckwinkle's office received a letter this week from ICE Director John Morton, who expressed his "serious concern" about the county's September decision and alleged that it "directly undermines public safety." Postmarked last week, it cited a recent Chicago Tribune article about this specific incident, Preckwinkle's press secretary Liane Jackson told The Huffington Post.
But ICE interventions in local criminal cases have aroused equal concerns, and not just from immigrant-rights groups. Blanket mandates that demand municipalities hold ICE detainees until the federal agency can intervene have led to civil liberty infractions, as in the case of Mario Cacho, who was held for an additional six months awaiting ICE action after already serving his sentence for disturbing the peace. A district judge released him immediately, and called the detainer a "blatant disregard of his rights."
One of the most vocal opponents of the Cook County policy change on defying the ICE mandate has been Commissioner Timothy Schneider, who called the Chavez incident "our Willie Horton moment" in October. Schneider was referring to the convict who committed rape while on a weekend furlough from prison, an incident which became a lynchpin issue in the 1988 presidential election.
Yet the amendment Schneider submitted for the county board's consideration Thursday looks like an endorsement of Cook County's steadfastness in the face of ICE pressure.
Schneider's amendment expressly grants permission for county employees to share information with ICE. Jackson, Preckwinkle's press secretary, says that this communication permission was implied in the language of the September ordinance defying the federal mandate, and that Preckwinkle, the board president, is behind it. But beyond that, the amendment upholds the preeminence of the county's law enforcement agendas over ICE requests -- unless the immigration agency produces a criminal warrant.
It's unlikely that Chavez will ever be tried for McCann's death, which Preckwinkle calls "a tragedy." But if the findings of the Judicial Advisory Council review can strengthen pretrial services and produce more informed bond decisions, Cook County will likely be better equipped to exact justice for residents on every side of this issue -- including those being tried. Preckwinkle says that's the point of this reform.
"Public safety is the primary goal," she said, "irrespective of color, gender, or immigration status."
See footage from Preckwinkle's press conference below: