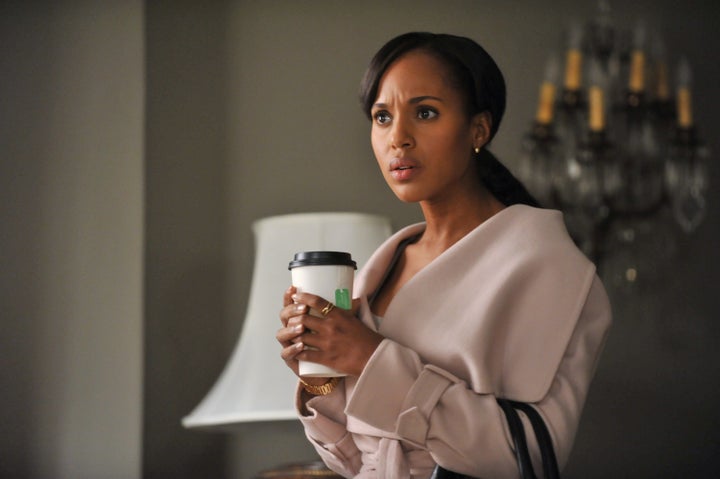 Is Olivia Pope's gut broken? Just three episodes into this season of "Scandal," the gang at Pope & Associates is really starting to wonder, and this week's government conspiracy case puts their skills to the test.
The case isn't the only thing that'll make jaws drop -- there's a steamy scene between Olivia and Fitz (dubbed Treegate by fans) and an even steamier surprise ending to the episode.
HuffPost TV got a special sneak peek of this week's third episode of Season 2, "Hunting Season" (Thurs., Oct. 18 at 10 p.m. ET on ABC), and while I won't spoil anything specific, here are a few good teases of what to expect, and some scoop from the cast below:
Patrick Fischler -- who you might remember as Jimmy Barrett on "Mad Men" -- turns in an amazing guest performance
A royal gift arrives
There's a moment that'll make you question decaf coffee
Ann Cusack is another familiar face, and it's unlike any role she's ever played
We get insight into a very scary government conspiracy
There's possibly the most tense moment we've seen between Fitz and Olivia
And yes, there's a pretty steamy scene between them, with Secret Service agents as an audience ... but more on that, dubbed Treegate, below
Is SARS still a thing? There's a joke in here that made me wonder
A government employee propositions one of the gang
There's a possible new love interest for Abby -- and it's someone we already know
And after all that, HuffPost TV got to chat with the cast for a bit -- keep reading for a few more teases of Episode 3, "Hunting Season" from Kerry Washington (Olivia Pope), Katie Lowes (Quinn Perkins/Lindsay Dwyer), Columbus Short (Harrison Wright), Darby Stanchfield (Abby Whelan), Guillermo Diaz (Huck), Jeff Perry (Cyrus Beene), Bellamy Young (First Lady Mellie Grant) and Josh Malina (David Rosen).
Treegate!
Washington: "The fans are calling it Treegate online and on Twitter. [Laughs.] In the promo at the Emmys, our commercial had a lot of those images from the moment at the tree ... Treegate!"
The First Couple
Young: "There's a bit of an ultimatum happening [with them]. [Episode] 202 was so moving, but 203 is so gripping -- by the end, my jaw was on the floor."
And Their Right-Hand Man
Perry: "Cyrus gets his hand caught in a very large and dangerous political cookie jar with Fitz."
Out For Revenge
Malina: "[Olivia Pope] just completely has his number. And he loses his job -- temporarily or permanently -- and that's clearly traceable to her, too. So I think he's singularly focused on figuring out how she's done it."
And the "Scandal" doled out some more scoop about what's happening and what else is to come, all right here.
"Scandal" airs Thursdays at 10 p.m. ET on ABC.
REAL LIFE. REAL NEWS. REAL VOICES.
Help us tell more of the stories that matter from voices that too often remain unheard.
BEFORE YOU GO