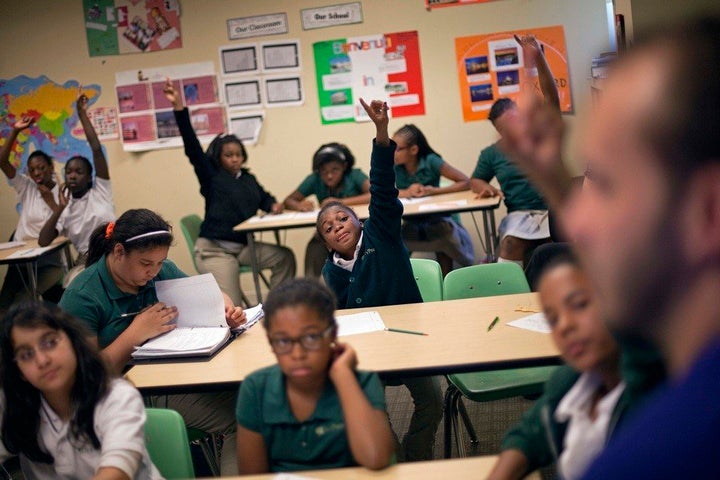 The debate over segregation continues at one of the nation's top schools after the principal received the following message: integrate or lose funding.
Founder and principal Dr. Steve Perry, a regular contributor to CNN on the topic of education and a strong voice in the field of education innovation, initially reacted with disbelief.
"My first reaction was no, no, no, they weren't gonna close us. Then... I got a letter from the commissioner saying that I had been recalcitrant to bring white students in."
According to CNN, state law mandates that urban magnet schools are at least 25 percent white, a result of a 1996 state supreme court ruling to desegregate schools.
While the law is meant to create a diverse environment that brings students from suburban areas into Hartford classrooms, its implementation also means more children who have limited options for good public education will now be wait-listed or rejected.
More, the threat to cut additional funds from an institution that has consistently sent 100 percent of its students on to four year colleges could mean trouble for schools across the nation who equally lack in student diversity.
WATCH
:
Katrina Bulkley, a New Jersey-based professor of educational leadership, reflects on the fact that there are approximately 5,000 charter schools nationally, and they are mostly in "relatively low-income, primarily non-white communities," reports North Jersey.
In fact, in an area where 41.4 percent of residents are Latino, 35.8 percent are black and 29 percent of families live below the poverty line, Dr. Perry said it was so hard to find white students that he had to hire a recruiter to do the job, reported BET.
According to Sen. David Simmons, Maitland, Fla. Republican and charter school supporter, this is no coincidence, reports The Orlando Sentinel:
"What the charter schools are doing is addressing a need. Just as a matter of fact, right now those needs are reflected with the makeup of those schools."
Marcia Aaron, Executive Director of the Knowledge Is Power Program Los Angeles (KIPP LA), said anything that reduces the number of potential seats from those communities communicates that we aren't providing high quality options for our neediest children; Aaron said across five of their Los Angeles schools, 100 percent are children of color who are all chosen through a community lottery.
What's more, Aaaron said in terms of resources, the figures simply don't match up: "We're top five in terms of costs of operations. Bottom 48 in terms of funding."
Lawmakers, educators and parents around the United States are at odds over whether or not re-positioning students to different neighborhoods is an appropriate and effective method for achieving academic excellence. While some argue schools like Connecticut's Capital Preparatory Magnet School were originally created to give students living in high poverty areas the chance to receive exceptional education in areas where it's most needed, others argue segregation has no place in today's education system, period.
Interestingly, in Minneapolis, legislators in the House and Senate recently reached a preliminary deal that is almost a complete reversal from the situation at Dr. Perry's school. According to the Star Tribune, the new K-12 education bill would repeal the state's desegregation rule and cut funding that flows from it; Republican leaders argued that state aid of $64 million this year didn't produce adequate results.
George Mason University Prof. David Armor said there's no evidence for a clear relationship between desegregation and academic success. In fact, Armor says studies show integrated schools post modest test score gains for low-income students, but losses for kids from the upper class, reports the Star Tribune.
Conversely, Thomas E. Perez, Assistant Attorney General for the Civil Rights Division, goes as far as saying the current racial divide in public schools resembles the Jim Crow era, reports AP:
"It is intolerable for school districts to continue operating schools that retain their racial identity from the Jim Crow era. If school districts are not willing to work collaboratively to eradicate the vestiges of de jure segregated schools, we will ask the courts to take the steps necessary to ensure that students of all racial backgrounds have the opportunity to attend diverse, inclusive schools."
Related
Popular in the Community