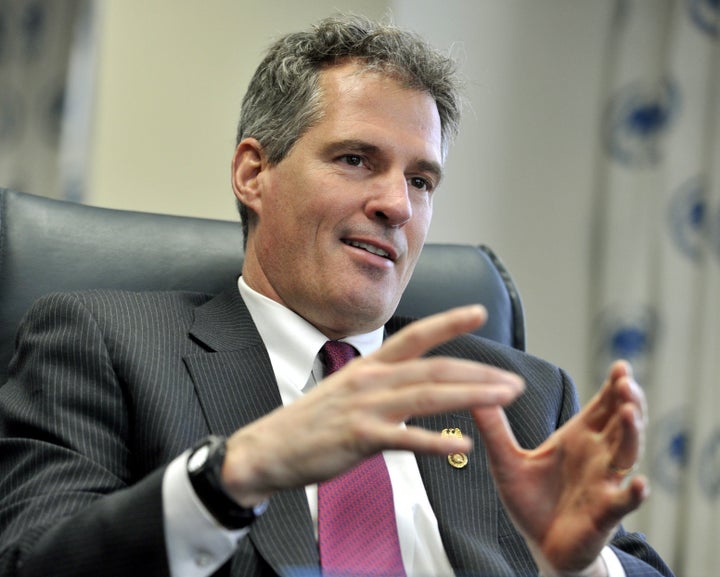 WASHINGTON -- Sen. Scott Brown (R-Mass.) is hoping to use an upcoming book tour as, ostensibly, an alternative vehicle for advancing, publicizing, and even funding his 2012 Senate campaign.
Daniel Winslow, a lawyer for the governor of Massachusetts, wrote the Federal Election Commission on Tuesday morning requesting rulings on a whole host of book-tour related activities that potentially blur legal lines.
First and foremost, Brown is proposing to "use campaign funds to purchase up to several thousand copies of the book to be used solely in campaign related activities." Those books would serve as gifts for financial contributors and other "political supporters."
Winslow also asks for a ruling as to whether Brown's campaign committee could put ads for the book on its website as well as "other social media sites such as Twitter and Facebook." He follows that by requesting that the committee be able to use "its email and mailing lists to promote Senator Brown's book" in certain instances and that it be able to "collect email addresses from people who attend the book signing events, for purposes of future solicitation."
If the relationship between book tour and political campaign weren't blurry enough, Winslow finally requests an FEC ruling as to whether Brown can fund-raise at stops he's making promoting his work: "Against All Odds."
"[A] fundraiser would merely be ancillary to his presence in that area," writes Winslow, noting that the senator would cover all his expenses beyond those already covered by the publisher.
Combined, this is, as POLITICO's Ben Smith notes, a noteworthy frontier in the book publishing business. And it would be curious to see how the FEC rules on each of these matters (some having more logical explanations than others).
In his letter, Winslow said that Brown would not use the money generated from the additional book sales to pad his own pockets. The publisher wouldn't pay him royalties for books sold at campaign-related events. And if he were paid, he could simply donate that money to a charity.
And yet, money isn't the only benefit that Brown could gain from synthesizing his 2012 run and his book tour. The bulk sale of "Against All Odds" will, undoubtedly, help the book's rankings on best-seller lists. That, in turn, could give Brown a bit more cache and news coverage than were his work to be simply discarded alongside most other candidate-authored political fodder.

Popular in the Community