MADISON, Wis. -- Like clockwork at noon, a trio of activists stepped into the center of the state Capitol rotunda, on the ground floor, and began to sing upward, toward the balcony just above them, and into the nooks, crannies and corners of the exalted structure.
They started with "We Shall Overcome." Then, slowly over the next few minutes, they were joined by a handful of others, who formed a circle, coming together in a way that brought to mind the residents of Dr. Seuss' Whoville joining in song despite their loss.
"Walker won't be gooovernor, Walker won't be gooovernor, Walker won't be governor some daaaay," they sang. "Deep in my heart, I do believe, Walker won't be governor some day."
After a while, they were two-dozen strong. It wasn't much, compared with the thousands who gathered here in 2011 and the hundreds who were here many days last summer. And it was peaceful, unlike those earlier, chaotic protests, in which activists clashed with the police. The singing had an uplifting, spiritual quality, but felt weighted down by sadness as well.
"You go through your ups and downs. We don't ever let it get us down too far," said one of the singers, Michael Dickman, a 53-year-old home health care worker, courier and the son of two public school teachers from Stoughton who wore a khaki fedora, jean shorts and a black T-shirt with cutoff sleeves that said "PokerStars.com."
They were mostly retired, aging hippies. They have been coming to the Capitol to sing every day for an hour since 2011, when Gov. Scott Walker (R) caused an uproar by signing controversial anti-union legislation, Act 10, into law. The law took collective bargaining rights away from government workers, required concessions on wages, benefits and pensions, and defanged state worker unions by ending automatic withdrawal of dues from public employee paychecks.
Three years later, a once-proud progressive and organized labor community in this state that roared to life in response to Act 10 has been punched in the mouth so many times it has lost count. The original protests birthed the effort to oust Walker from office, but Walker won the 2012 recall election decisively. And just this week, the state Supreme Court upheld the anti-union law. The legislature is controlled by the GOP, and looks likely to stay that way. National progressive groups, which poured millions of dollars into the failed recall effort, are hesitant to spend more in Wisconsin now.
There was talk during the protests of a new generation of progressive and union activists. But now, Act 10 is generally viewed as a success. Charles Franklin, the state's top public pollster, at Marquette University, described Walker's labor reforms as "a grand slam" because of the way the public embraced them. The scope and finality of Walker's victory over labor and the left has been breathtaking.
"It's hard to fathom," said Joe Kiriaki, the executive director at the Kenosha Education Association, the third-largest teachers union in the state and the biggest to have its certification stripped in the wake of Act 10. "Folks are pretty disheartened by it all."
It's a gloomy time for Wisconsin Democrats. And Walker, one would think, would be poised for a convincing win this fall that would launch him with a head of steam into the 2016 presidential election process next year.
In fact, last fall, the talk here in the capital city among Walker supporters and supposedly some aides was about whether they could bury his rival in the gubernatorial race by a percentage in the high-single digits. As recently as late winter and early spring, the Democratic Governors Association was muted in its assessment of the race. One Wisconsin Democrat at a gathering of big-money progressive donors couldn't get anyone to pay attention to him.
Walker's Democratic challenger, Mary Burke, had been down by several points in most of the Marquette University polls -- the one Wisconsin politicos pay the most attention to. But in May, she drew even. The July survey validated that she was indeed neck and neck with Walker. That was despite $1 million the Republican Governors Association spent on TV ads attacking Burke in the spring.
Suddenly, Burke, the daughter of Trek Bicycle Corp. founder Richard Burke and a former executive at the company, is "the belle of the ball" for the liberal money crowd, one Democrat said. If that's true, it would help. Burke has raised $6 million since entering the race last fall, but Walker has had more time to raise funds for his re-election, and has hauled in $18.7 million since winning the recall in June 2012.
If things continue to slip for Walker, he will face the unhappy prospect of having counted his chicks too soon. The recall win in 2012 made him a stronger candidate by giving him a national fundraising network, and it helped put the Republican Party and conservative grassroots on an equal footing with Democrats in terms of organizing, get-out-the-vote operations and voter data. Wisconsin may be the only state in the country where that's the case.
But the recall may have also made Walker overconfident. Some who are fairly close to Walker believe that it did. The recall election in 2012 was only the third gubernatorial recall in U.S. history, and many voters -- even if they didn't exactly support Walker -- felt it was too drastic and unwarranted.
But now, it's Walker himself who is on the hot seat.
Last weekend, a well placed source said Rep. Jim Sensenbrenner, the Wisconsin Republican who has served in the House for more than three decades, was scheduled to call Walker to discuss concerns about the governor's campaign. Sensenbrenner denied through a spokesman that he and Walker spoke, and Walker himself said in an interview that no one has expressed concerns to him privately. Regardless, multiple sources said that those in the Wisconsin congressional delegation, including Rep. Paul Ryan (R-Wis.), have felt that Walker's appeal to voters has been too backward-looking.
Others in Wisconsin have noticed this as well. "I don't hear much of an agenda. That's a surprising weakness right now," said Franklin, the pollster.
When John Dickerson of CBS News and Slate asked Walker on Tuesday what his second-term agenda is, Walker pointed to a few standard pocketbook issues -- keep property taxes low, maintain a tuition freeze at the University of Wisconsin, continue adding jobs -- that were not insubstantial, but which are not going to blow any voter away. One aide to Walker said the governor would balance the budget and "hold the line" on property taxes and income taxes.
"I don't think there's a big magic initiative coming," said a senior adviser to Walker. "Things really are different than four years ago, and people feel that."
There are, in fact, more Wisconsinites who say the state is on the right track than who feel it's heading in the wrong direction, but Walker's personal approval rating is underwater.
Even in lieu of jaw-dropping agenda items, every politician needs to be able to cast a vision and tell a story that helps voters make sense of things. In this case, it appeared the "vision thing" was being thrown together on the run in response to pressure from others.
On Sunday morning, the same day that Sensenbrenner was reportedly scheduled to call him, Walker tweeted a message that, if you closed your eyes, you could imagine him typing while stamping his right foot in exasperation.
He later blamed the media for twisting his message to make it seem like he was attacking Burke for being wealthy, even though his own campaign has referred to her as "Millionaire Mary."
Two days after the indignant tweet, Walker, 46, was enjoying himself a bit more. He was on a stage at the state fair, selling meat.
"It's a great time to get into the bidding!" Walker said, striding across the stage at the 23rd annual governor's meat auction with a wireless mic, a few feet above the sawdust-covered floor inside an agricultural arena in the Milwaukee suburbs. As the auctioneer tumbled his way through the escalating bids, Walker chitchatted with the friendly crowd and at times engaged in a bit of salesmanship. Together, they sold the Reserve Grand Champion Bacon -- two inch-thick slabs of pepper-covered meat -- for $4,041. When the Grand Champion Flavored Sausage appeared on the block, Walker helped the auctioneer get it over the $6,000 mark. "$6000, what's that?" Walker cajoled one of the bidders. "You're already in."
Advance aides to Walker, wearing straw cowboy hats and clear plastic ear pieces, stood watching offstage, along with a robust crew of plainclothes state troopers in the governor's protective detail, which doubled in size in 2011 after protests began at the Capitol. Uniformed police stood at each entrance to the open-air arena, and were supplemented by a significant number of security workers for the fair. All of it was a reminder of the vitriolic response to Walker's governorship from those who didn't like the labor reforms.
Yet the warmth with which the crowd applauded Walker as he came on stage was a sign of the support from many others in the state for what he's done in Wisconsin. The enthusiasm for Walker -- from voters and also from Republican mega-donors who helped Walker in the recall and are helping him again this year -- is not because he is a fantastic speaker or charismatic powerhouse. It's because he did something fairly daring and very difficult, and he survived.
And he is still in a fairly strong position.
"An incumbent governor running for what is essentially a second re-election, with more money than God, has to be the odds-on favorite," Franklin said. Walker's money edge is significant. He has $7.1 million in his war chest, compared with Burke's $1.7 million.
The formula for Walker has always been simple: Solidify his base, depress Burke's, and win over enough of the small sliver of Independents who are truly in the middle to get more than 50 percent of the vote. But in a troubling sign for Walker, he was above 50 percent in polling last year, and then early this year dropped below the magic number.
Walker is well known, and not many people are going to change their minds about him. So instead of trying to win over a small number of undecided voters during the spring and summer, the campaign and the Republican Governors Association decided that a better use of their money was to define Burke before she could do so herself.
Burke, 55, had served as Wisconsin's commerce secretary under the previous governor, Democrat Jim Doyle. Nevertheless, she was unknown to 70 percent of the electorate last fall, when she entered the governor's race, and remains unfamiliar to about half of Wisconsin voters.
So in mid-July, Walker went after Burke with brass knuckles, accusing her of sending jobs overseas when she worked as an executive at Trek, the Wisconsin bike company her father founded in 1976. The state GOP had been calling Burke "Millionaire Mary" for months. But when Walker himself went populist, after protecting Mitt Romney in 2012 from attacks for outsourcing jobs -- even criticizing Obama for the tactic -- it drew rebukes from The Wall Street Journal and from Walker's own political ally, Sen. Ron Johnson (R-Wis.).
The Walker campaign's overwrought use of the term "Millionaire Mary" and its shortsighted decision to level the outsourcing attacks itself rather than leave them to a super PAC had all the marks of a campaign surprised to see the numbers closing that jumped into attack mode without thinking through the angles.
The outsourcing attack is not irrelevant. Burke's company did manufacture products overseas. A Trek spokesman said in 2011 that of the 1.5 million bikes sold around the world each year, about 10,000 were made in the U.S. Most of the bikes Trek manufactures overseas are made in China, Taiwan and Germany, the company said.
Walker simply used a sharp knife rather clumsily.
Even the free-market think-tankers in Wisconsin have asked Walker to stop using the term "outsourcing" altogether. "The word has become so amorphous as to be meaningless," wrote Mike Nichols of the conservative Wisconsin Public Research Institute. Conservative Wisconsin blogger Collin Roth suggested that Walker needed to focus on reminding voters that Burke's call for a hike in the minimum wage is the very kind of policy that drives more jobs to cheaper labor markets.
This is probably too high-minded, as is Burke's counterpoint that the U.S. must be tougher in trade and economic negotiations. All that is fine for the white-paper crowd. But in the trenches of modern political discourse, shaped by the mind-shredding power of television, single words and easily digested phrases are the most lethal weapons of choice.
So Walker faces a choice. His most effective method for tamping down enthusiasm for Burke among liberal Democrats is now choked with thorns. He can charge through, but he'll get plenty scratched up. He backed away from it this week, but it's hard to see him abandoning it all together.
It's not clear yet how much impact the outsourcing ads will have on Burke's polling numbers. The next Marquette survey will be out at the end of August.
"They've been on the attack for six months," Burke said. "I like where I'm at."
In the meantime, Burke has gone after Walker with an ad quoting him promising to add 250,000 jobs in his first term. Wisconsin has added about 100,000 jobs, falling well short of the goal.
In response, Walker has pointed to jobs lost under the Doyle administration, when Burke was commerce secretary, versus jobs gained during his time in office.
"It's a shift from losing 133,000 jobs over four years to us gaining more than 100,000 jobs. So you see a shift of about 230-some-thousand jobs," Walker said. It was a verbal sleight of hand, shifting numbers around to allow himself to use a figure close to 250,000, even if it was a different metric. It's something Walker is known for.
The problem for Burke is that the outsourcing attacks are a major vulnerability, given her fragile relationship with Wisconsin Democrats.
Burke is "not necessarily seen as all that progressive by some people," said Bill Dunn, a 64-year old retired copy editor who stood with the other anti-Walker progressive singers inside the state Capitol, wearing a T-shirt that said "Praise Bacon" above a cartoon drawing of two pieces of cured pork.
"But," Dunn said, and then paused for several seconds, "too much has been said about that."
Burke herself admitted it. "I am not the traditional Democratic candidate," she said in an interview. She is part of the 1 percent. She earned an estimated $6.8 million from 2008 to 2012, even though she has been retired from business since 2004. For a worker at the county public works department or a school custodian, her bio doesn't exactly scream, "I'm on your side."
Burke insisted, however, that she knows what it's like to struggle. She told the story of seeing her father's mortgage statement as an eighth-grader and thinking, "Oh my gosh, we're much worse off than I thought."
"My dad didn't start Trek until I was 17 years old. I'm the type of person, I was brought up, you know what, I reuse plastic baggies and tin foil. I mean, I'm really pretty frugal. I just don't believe in spending money that doesn't need to be spent," Burke said. She then switched gears, realizing perhaps that she did not want to sound as if she were doing her own version of Hillary Clinton's "dead broke" comment.
"But I'm not going to kid and not say I -- you know what, people do live really tough lives, much tougher lives than I have ever had to live," she said.
Her wealth was an attraction to the state Democratic Party. Better to throw a candidate who can self-fund against Walker than someone who would suck up resources from national donors at a time when Democrats are trying to protect their Senate majority. Burke spent $430,000 of her own money to jump-start her candidacy last fall, but has not put any more in. Now, she and national labor and progressive groups are in a bit of a staring match. If the polls stay close, the national money will come. But the groups would like to see her put in more of her own funds as well.
"I will put into this what I can, but it's a fraction of what will be needed," Burke said.
Debates will loom large this fall, if the race is still close. A Walker aide said the campaign expected to do two. Burke has a rugged air to her, but not without a touch of grace. She said she has been surprised at how little the Walker attacks have bothered her.
"It doesn't affect me at all," Burke said. "I guess I didn't know I had such a tough skin. But I do. I'm confident enough to know that I'm running the type of campaign that I can be proud of, that I'm doing the hard work, and that I believe I'll be a great governor.
"And I also realize that if I let it get to me, I'm letting them win, and I'm just too competitive for that," she said. For a brief second, her eyes flashed with fierceness.
But there is more to come. The senior Walker adviser foreshadowed another line of attack on Burke's business credentials, focused on her sabbatical from Trek in 1993, after three years at the company, which Politico reported was to go snowboarding in Argentina and Colorado.
"She's got a few years at her family's company and then lots of little hops and skips punctuated by extended vacations and retirements. It's hard to build a record of accomplishments with that kind of background," the Walker adviser said.
Burke spokesman Joe Zepecki said that "between her time as director of European [operations] for Trek and becoming director of strategic planning she took about six months off to recharge." In 2004 she retired from Trek to focus on philanthropy.
Finally, Burke is in something of a bind on Act 10, supporting some parts of it while opposing others. She is in favor of making public employees contribute more to their pensions and health care benefits, but said in an interview she would "work to restore collective bargaining." Right now, public sector unions in Wisconsin can only bargain on wages, and cannot ask for pay raises above the rate of inflation. The Walker adviser said that Burke's promise to achieve some of the same savings Walker has, while giving unions more bargaining power, was "absurdly pandering or absurdly ignorant, and I'm not sure which."
Burke also would like to see public employee unions go back to collecting dues from workers automatically, rather than making it optional.
Of course, it would take a long time to reverse the changes Walker has ushered in, since the GOP controls the legislature and the reforms have drawn significant public support. But a Walker loss would be a huge symbolic win.
The question is, can the left get off the mat in Wisconsin and summon the energy it needs to start over?
"That is a good question. I don't know anybody's got an answer yet," said Kiriaki, from the Kenosha Education Association.
At the capitol, the small band of singers kept singing. They unfurled two long, thin red banners from the second floor balcony, and draped them over the railing so that they hung a few feet off the ground-level floor. The first read in white letters, "Solidarity." The second, "Singalong."
They launched into another old folk song that was a favorite during the civil rights era. "Keep your eyes on the prize, hold on, hold on," they sang, their voices swinging up and then down as they sang about holding on.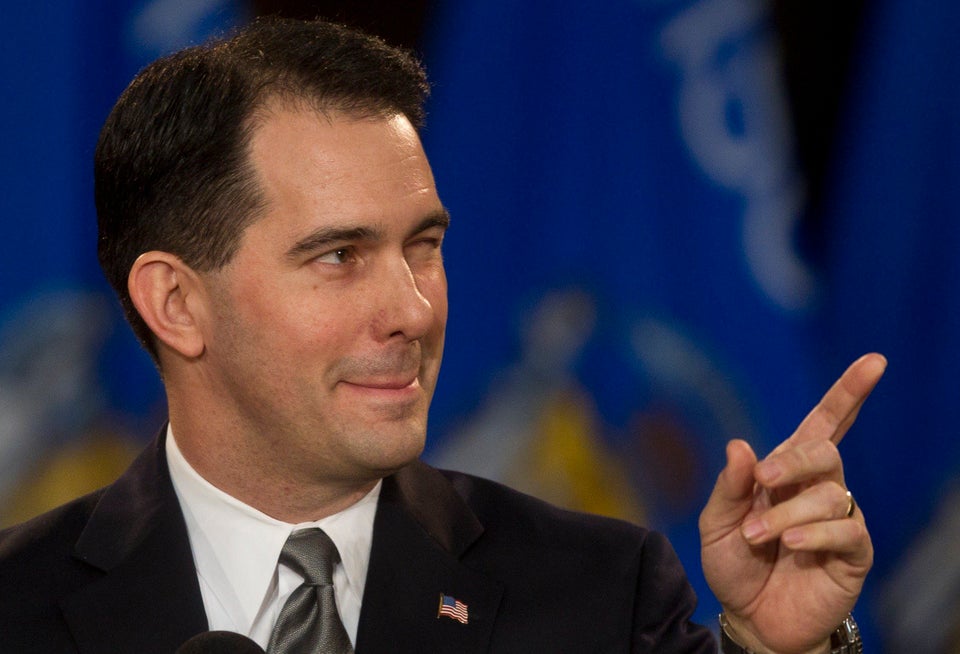 Scott Walker Pointing Fingers