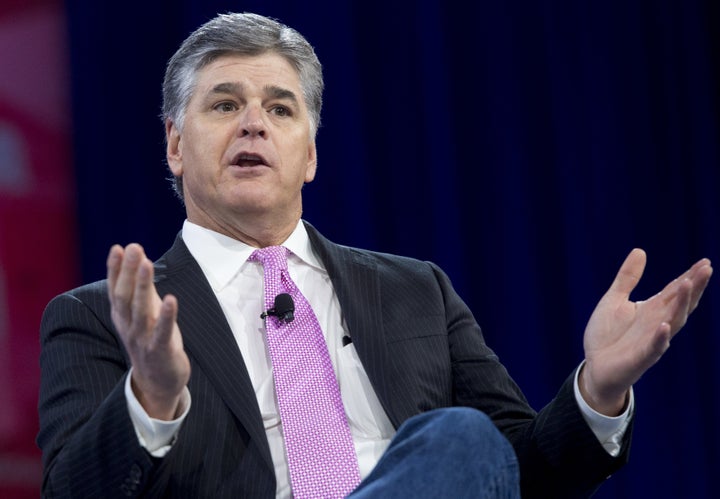 Fox News host Sean Hannity responded on Wednesday to accusations that he has gone too easy on Donald Trump and other Republican presidential contenders with a revealing degree of candor.
"If I'm interviewing Hillary Clinton, it's gonna be a hundred times harder than any Republican, because I believe the Republicans represent, and have, a far better vision, one that I agree with," Hannity said on his radio program, "The Sean Hannity Show." "I just have less disagreement with 'em."
"I'm not a journalist, I'm a talk show host," he went on.
Hannity, one of the most influential conservative media personalities in the country, makes no secret of his viewpoint. But it is somewhat unusual to hear him admit that he does not even consider himself a journalist.
He was responding to criticism set off by a ThinkProgress report on Monday, stating the host has interviewed Donald Trump 41 times since the real estate mogul announced his presidential candidacy. The report argues that coverage like Hannity's has helped Trump succeed in the primaries despite an Associated Press poll showing that 70 percent of the public view him negatively.
The liberal news outlet claims Hannity "never once made news" with his numerous Trump interviews and highlighted some of the TV host's most obsequious exchanges with Trump. Notably, the piece has gained traction among Trump's conservative critics. The conservative news site Red State pointed to ThinkProgress' findings as evidence that Hannity "has become, for all intents and purposes, part of Trump's campaign apparatus."
Hannity's defense of his interview style accompanied a blog post by Lynda McLaughlin, the executive producer of Hannity's radio show, documenting the number of times he has interviewed the various Republican candidates on his radio show through the month of March.
According to McLaughlin, Hannity's interviews with Trump took up less time on the air than his interviews with Sen. Ted Cruz (R-Texas) or Sen. Marco Rubio (R-Fla.). Hannity has also given Trump two fewer interviews than Cruz, Mclaughlin wrote.
Of course, conservative media outlets are not the only ones under scrutiny for treating Trump with kid gloves. Joe Scarborough and Mika Brzezinski, co-hosts of MSNBC's "Morning Joe," drew criticism in February after a recording of a conversation with Trump appeared to show them agreeing not to ask him tough questions in an interview.
Numerous TV news channels have also allowed Trump to be interviewed via telephone, a courtesy they typically do not extend to any other guests.
In fact, in September, Fox News' Chris Wallace became one of the first TV reporters -- if not the first -- to refuse to interview Trump by phone.
CORRECTION: This article has been updated with the correct spelling of Mika Brzezinski's name. A past version misspelled it as Mike.
Related
Popular in the Community