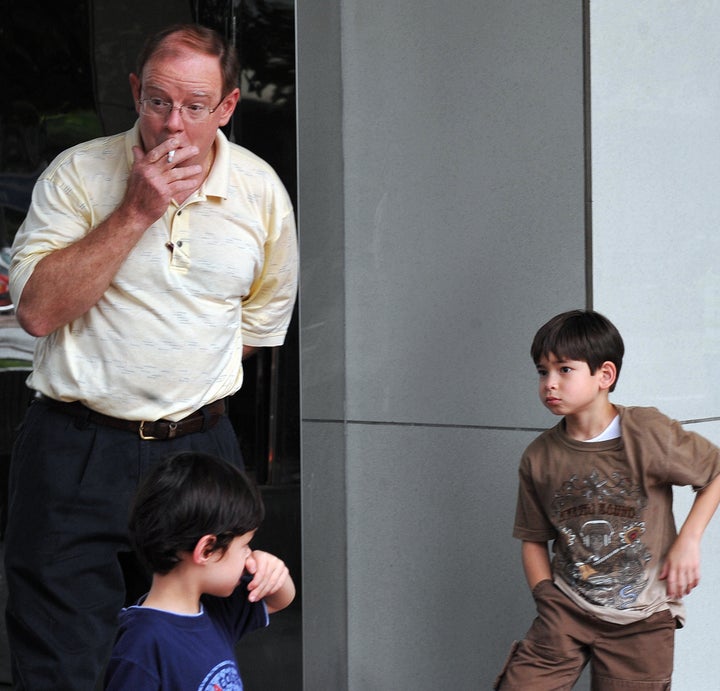 Estimates suggest that anywhere between 4.8 and 5.5 million children in the U.S. live in households where they are exposed to secondhand smoke, putting them at greater risk for multiple health problems. Now, new research suggests that secondhand smoke exposure can increase the odds of developing certain mental and behavioral disorders by 50 percent.
Researchers from the Harvard School of Public Health looked at the data generated by a 2007 national health survey, analyzing the responses of the parents of guardians of more than 55,000 children ages 11 and younger from throughout the U.S. They found that children who were exposed to secondhand smoke were twice as likely to develop so-called neurobehavioral disorders -- including learning disabilities, ADD or ADHD, and conduct or behavior disorders -- than were children who lived in smoke-free homes.
"We estimate that 274,000 cases of the most common neurobehavioral disorders could have been prevented with smoke-free homes," said Hillel Alpert, ScM, a senior research associate at Harvard and one of the study's authors.
Alpert added that the study, which was published Monday in the journal Pediatrics, did not find that secondhand smoke directly caused any of these mental health issues. However, he argued that the "strong evidence of association" between secondhand smoke exposure and the incidence of certain disorders might underline a causal relationship that could be discovered with future longterm investigations.
Indeed, a growing body of research is focused on the link between secondhand smoke and mental health problems.
An August 2010 study in the Archives of General Psychiatry, which analyzed results from the Scottish Health Survey, found that people exposed to secondhand smoke were more likely to suffer from psychological distress, while a study published this April found that children and teens exposed to secondhand smoke may suffer from major depressive disorder, generalized anxiety disorder and ADHD. A 2008 study in rats that found that nicotine exposure during adolescence led to a "depression-like state" and increased sensitivity to stress and anxiety in those animals.
Joanna Cohen, director of the Institute for Global Tobacco Control at the Johns Hopkins Bloomberg School of Public Health, said that while she thought the Harvard study was interesting and helpful, more work needs to be done in order to fully comprehend the risks of secondhand smoke.
"This current research isn't the end-all be-all in studies," said Cohen, who was not associated with the study. "We need more of a body of literature to understand the neurotoxic effects [of smoke]."
The U.S. Surgeon General's office has stated that there is "no safe amount of secondhand smoke," explaining that children who are exposed to it are more likely to develop lung problems, ear infections and severe asthma. It can also result in low birth weight in babies and is a known cause of sudden infant death syndrome, or SIDs.
And another new study, also published Monday in Pediatrics, suggests that children who are exposed to secondhand smoke are more likely to become smokers themselves.
Looking at a small pool of 201 preteens who lived in a house with at least one smoker, researchers found that those who said they found secondhand smoke "unpleasant or gross" were less likely to smoke in the future. The authors say their results suggest that this subjective reaction could be used to develop targeted smoking prevention efforts in the future.
"Sensitivity to secondhand smoke exposure among never-smoking preteens could serve as an additional behavioral marker -- in conjunction with many other family, social, and cultural factors -- that helps distinguish kids at higher versus lower risk for future smoking," co-author Christina N. Lessov-Schlaggar Ph.D., of the Washington University School of Medicine, told HuffPost.
"We may not be able to change sensitivity to secondhand smoke exposure per se," she added, "but knowing that it is related to future smoking behavior, we can try to eliminate appropriate triggers, which in this case is the exposure to secondhand smoke itself."
Popular in the Community