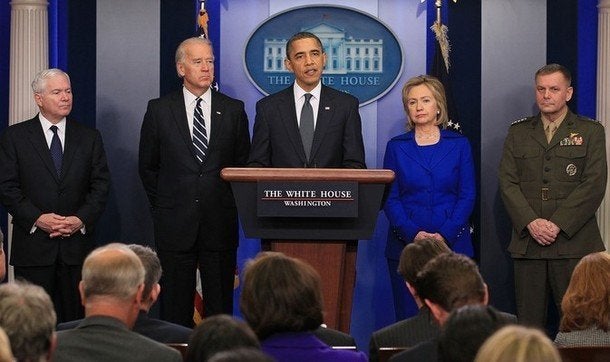 WASHINGTON -- With public support for the war in Afghanistan at a new low, top Obama administration officials on Thursday defended the United States' commitment to the conflict, arguing that national-security interests trump the will of the majority.
A record 60 percent of Americans now say the war in Afghanistan is not worth fighting, according to a new ABC News-Washington Post poll. The poll shows public disapproval of the war in the same range as the peak recorded opposition to the war in Iraq, which stood at 66 percent in April 2007.
Secretary of State Hillary Clinton said that while she understands the concerns of the public, government officials cannot make decisions based on polling data:
I'm well aware of the popular concern, and I understand it. But I don't think leaders -- and certainly this president will not -- make decisions that are matters of life and death and the future security of our nation based on polling. That would not be something that you will see him, or any of us, deciding. We are trying to do the very best we can with the leadership that we've all been entrusted with, to avoid making the mistakes that were made in previous years, where we did not develop the kind of relationship and understanding and coordination with either Afghanistan or Pakistan that would enable us to have a better way of interacting with them and perhaps preventing some of what came to pass. And frankly, walking away at critical moments in critical moments in the last 25 to 30 years, that created conditions that we had a hand in unfortunately contributing to. [...]

I think it's understandable, and I'm very respectful of the feelings of the American people, but the question I would ask is, how do you feel about a continuing American commitment that is aimed at protecting you and your family now and into the future? Because that's the question we've asked, and this is how we've answered it.
"I think if you look at polling in almost all of our 49 coalition partners' countries, public opinion is in doubt," added Defense Secretary Robert Gates. "Public opinion would be majority, in terms of majority, against their participation. I would just say it's obviously the responsibility of leaders to pay attention to public opinion, but at the end of the day, their responsibility is to look out for the public interest and look to the long term."
The issue of continuing a war in the face of strong public dissatisfaction has long been a tough subject for government officials. In March 2008, when ABC News' Martha Raddatz pointed out to Dick Cheney that two-thirds of the American public believed the Iraq war was not worth fighting, the vice president famously replied, "So?" "So?" Raddatz asked. "You don't care what the American people think?" Cheney said: "No. I think you cannot be blown off course by the fluctuations in the public opinion polls."
The Obama administration's response Thursday was a far cry from that exchange, but it's also unlikely to mollify a growing number of skeptics of the war. Shortly before the press briefing with Obama, Clinton, Gates and White House Press Secretary Robert Gibbs, a couple hundred anti-war activists gathered in front of the White House for a rally and demonstration meant to provoke arrests.
More than once during the briefing with reporters, Clinton stressed that the Obama administration did not begin the mess in Afghanistan, likely an attempt to beat back calls for the conflict to be branded "Obama's war."
"Having inherited what we did and having spent an intensive period of time in 2009 reviewing every possible approach, and, frankly, listening to quite contrasting points of view about the way forward, the president and we agreed this was a commitment that we had not only to continue, but we had to adopt a new strategy, we had to resource it more and we had to pursue it," said Clinton. "And the diagnostic review that we have just undertaken, that we described to you, has concluded that we are making gains on that strategy."
Popular in the Community