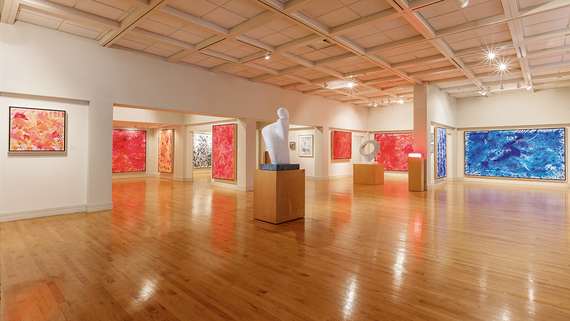 "J. Steven Manolis: A Survey of Works," Coral Springs Museum of Art, Installation view. Photograph by Sargent Architectural Photography.
The massive and brightly-hued survey exhibition of J. Steven Manolis' work currently on view at the Coral Springs Museum of Art, now in its second month of attracting record crowds of art lovers, has a show attendance and quality standard that's hard to equal. This unusual museum survey simply is spectacular in every important aspect, from presenting daring color combinations of deep red to inventive, transparent blue splashes to formidable black and white compositions.
Having followed this South Florida cultural landmark for over a decade, I don't recall another show there, other than the striking Hunt Slonem retrospective that was mounted there in 2010, which possessed the same kind of dazzling overall saturation of color and movement albeit in a narrative context. There are few exhibits at the Coral Springs Museum in recent memory that seem to take your breath away as you enter the main gallery, which now is flooded with light from the inside out to illuminate the more than sixty works solidly based in the principles of abstract expressionism, which often are adapted by Manolis from past pioneers of this genre. Don't get me wrong. These works are not appropriations of any particular artist's images, but are a respectful and engaging interpretation of a historic style made new. The word is out that this is an extraordinarily surprising gem of a show that is not to be missed.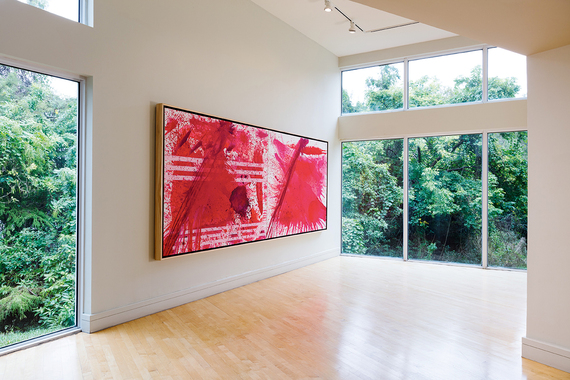 "J. Steven Manolis: A Survey of Works," Coral Springs Museum of Art, Installation view. Photograph by Sargent Architectural Photography.
The unique exposition also has attracted the attention of notable writers such as the celebrated British critic, Anthony Haden-Guest, who penned a major review on Manolis for the well-regarded London publication Spear's. Also in the mix is a rare observation by senior critic and art historian Donald Kuspit, who is known widely as the foremost practitioner of psychoanalytic art criticism (and the author of Britannica's article on the history of art criticism), as well as being an expert on contemporary painting. His quote in the impressive catalog that accompanies the exhibition, which calls Manolis a "modern master," has sent out smoke signals for this red-hot show to South Florida residents, from West Palm Beach in the north, where he is concurrently displaying work at the Center for Creative Education, to Greater Miami in the south, where the artist operates an immense 5,000 sq. ft. studio off Brickell Avenue in the emerging artists' neighborhood nicknamed Lemon City.
When I first met J. Steven Manolis, I immediately was struck by the serious, professional attitude he had about his career as an obviously multi-talented artist, and his personal commitment to creating adventuresome, action-packed paintings that retained a remarkable freshness even while attached at the hip of abstract expressionist theory and history and seemed to vibrate off the gallery walls.
I later learned that Manolis had been interested in becoming an artist at an early age, but not surprisingly, like so many other artists and musicians (he is both), had not received the enthusiastic support of his parents, who naturally were concerned about him securing an education that eventually would guarantee regular employment. Manolis followed his parents' "guidance" and pursued a business degree, which led to a successful career as the youngest partner in the Salomon Brothers' investment firm. He did, however, promise himself that he would continue his interest in art, and participated in private art lessons over a thirty-year period with the renowned colorist painter Wolf Kahn, who in turn studied with Hans Hofmann, the eminent abstract expressionist artist and teacher. Since the early 1980s, Manolis has been enthusiastically painting privately and extensively, ultimately developing a recognizable iconic style where color synchronization and poetic movement in the first dimension become engagingly beautiful and harmonious.
Manolis was with Salomon Brothers until 1992, leaving to found his own successful investment and real estate firm, Manolis & Company. When he decided to exit his business career entirely just over two years ago, he immediately switched gears and began painting full time with a personal goal of achieving a high level of polished professionalism, which should be obvious to viewers of the Coral Springs Museum of Art (CSMoA) survey exhibition, ranging from the artist's small and intimate Key West watercolor studies to his massive canvases that wholly embrace abstract expressionism.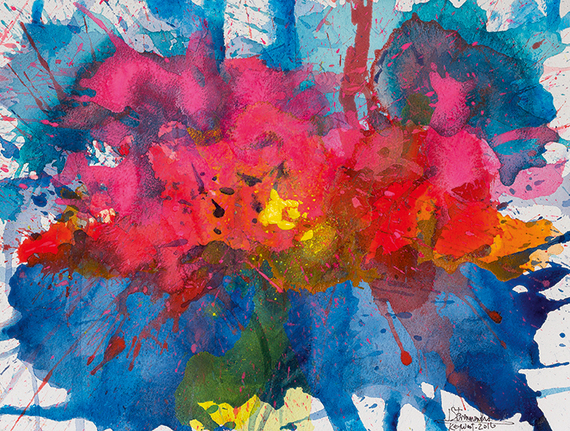 Key West--Splash--Sunset, 2016, Watercolor, gouache and acrylic on Arches paper, 12 x 16 in. Courtesy Coral Springs Museum of Art.
Great artists that I know personally also are influenced by the music of their time, but many of those working in an abstract expressionist mode clearly preferred listening to American jazz, a kind of abstracted improvisational arrangement of musical notes, while they painted. It should be pointed out that many successful artists are musicians also. Larry Rivers had a band, and some members of the Rolling Stones and the Beatles were painters before rockers. Manolis has been playing in a band most of his life and recently performed on stage. With a necessary rhythmic equation deeply embedded into a standard recipe for cooking up abstract expressionism, there is little doubt Manolis' rhythm guitar has subconsciously influenced the movement felt in his painting. Jazz and abstract expressionism still are considered the most important purely American cultural inventions in history, and it's not surprising that we are experiencing a new renaissance and growing curiosity about second generation abstract expressionist painters like J. Steven Manolis. This classic and uniquely American style of painting is celebrated in Manolis' exceptional and commanding survey exhibition, which itself may be a pivotal event in his fast-moving, distinguished career. No doubt about it, this is a milestone in the fresh approach to superb picture-making, whose historic foundation and risk-taking has made it possible to continue with a great and proud American painterly tradition.
Particularly powerful in Manolis' repertoire in this show is his series of challenging and dramatic canvases that are limited specifically to black and white pigment, which are like Franz Kline's glorious experiments without a hint of color, which still are considered his best works and continue to supersede in value any other variety of Kline's work at auction, even today.
For historical context, it needs to be pointed out that the exhibition at CSMoA is a pretty remarkable achievement for a painter who had kept his studio activities essentially private for most of his life. Another informative testament on Manolis' artwork, related to my own observations as an art critic, is from Michael Monas, President, Coral Springs Museum of Art, who observed, "This is by far the most exciting and powerful exhibition at CSMoA in the last twenty-three years [that] we have ever had."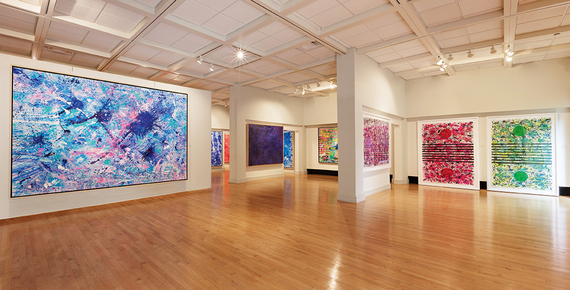 "J. Steven Manolis: A Survey of Works," Coral Springs Museum of Art, Installation view. Photograph by Sargent Architectural Photography.
I once asked Robert Rauschenberg what was the secret of his success as an artist? He replied that there was no secret. An artist must have a deep inherent natural talent and work like crazy seven days a week. Manolis works eight. The proof is in the pudding, as evidenced in this delicious show.
A beautiful 125-page hardcover book (printed by die Keure in Belgium) includes critical essays and eighty color plates.
Popular in the Community