There are numerous spectacular bookstores throughout the world, and labeling one "the finest on earth" is subjective at best. But Boekhandel Selexyz Dominicanen, a 700-year-old former Catholic church in the Netherlands city of Maastricht, is certainly one of the grandest.
The building has seen various uses since it was closed (reportedly by Napoleon Bonparte) in 1794, from a warehouse and archive to arguably the world's most ornate bicycle shed.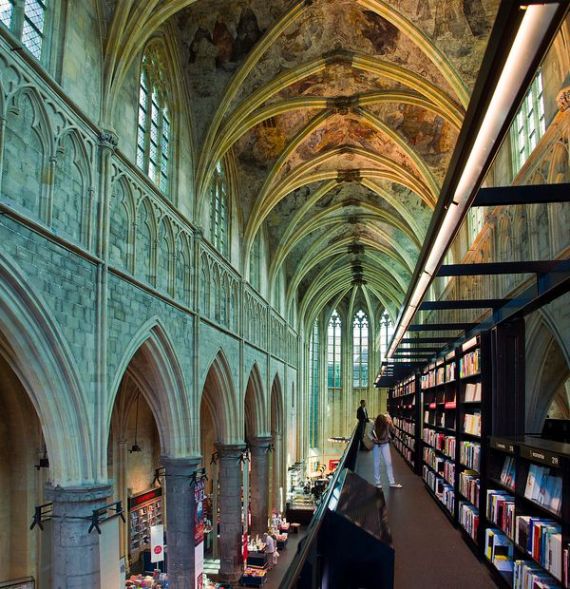 Badly neglected for much of the past 200 years, the 13th century church was transformed into a bookstore by Amsterdam-based architects Merkx+Girod, who won the Lensvelt de Architect Interior Prize for their efforts in 2007.
Christened Boekhandel Selexyz Dominicanen, the building, which dates from 1294, now houses a three storey bookshelf complete with staircases, elevators and walkways. Glancing up, restored frescoes adorn the vaulted ceilings while a cross-shaped table forms a less-than-subtle centrepiece in the choir cafe.
Repurposing redundant churches is challenging, the sheer scale of some such buildings making their maintenance and upkeep astronomically expensive. By maximizing on the interior space of Boekhandel Selexyz Dominicanen, designers have secured the future of this historic building while creating an inviting destination for those with a love of books and architecture.
Related