The new strategy for repealing the Affordable Care Act seems to involve asking Republican senators to pass a relatively narrow piece of legislation that would leave 15 million people uninsured and cause premiums to rise 20 percent ― all in the hopes that House and Senate leaders can later come up with a different bill that would pass muster in both chambers.
The repeal effort passed a key milestone on Tuesday, when the Senate agreed to begin formal, time-limited debate on health care legislation. But after weeks of unsuccessfully trying to rally support for various versions of a repeal, Senate leaders are floating the idea of passing a "skinny bill," according to multiple media accounts, as well as GOP sources who have spoken to HuffPost.
As with every other proposal that has emerged in this rushed, mostly private effort to craft legislation, the precise details of the skinny bill and strategy for passing it remain unclear and in flux. But the basic idea would be to pass a bill dealing with just a few key elements of the Affordable Care Act, thereby postponing resolution of the biggest, most controversial issues that have divided the Republican caucus so far. House and Senate leaders would then try to negotiate a new, mutually acceptable version of legislation that they could bring back to each chamber.
The House passed its version of legislation, the American Health Care Act, in May. Senate Republicans promptly made clear that they intended to write their own version of the bill, apparently hoping they could force the House to pass it, then got stuck while determining exactly what they wanted in the measure.
The main focus of the skinny bill would be on the Affordable Care Act's mandates ― in particular, the individual mandate that penalizes people who have access to insurance but decline to buy it. That provision is among the law's least popular features. Ending it has been a rallying cry for conservatives since former President Barack Obama signed the health care law in 2010.
The skinny bill would also end a requirement that employers provide coverage for employees, as well as a tax on the medical device industry. But it's the repeal of the individual mandate that would be most consequential, as policy as well as politics.
The Affordable Care Act created the mandate as a way to make possible reforms of the private insurance, especially the guarantee of coverage for people with pre-existing conditions. Without some kind of incentive to make sure healthy people get insurance, many would hold off buying coverage ― at least until they got sick.
Insurers would be stuck with groups of beneficiaries in unusually poor health, forcing them to raise premiums in ways that would scare off yet more healthy people, creating what insurance industry experts call a death spiral.
Taking away the mandate while leaving the rest of the Affordable Care Act's regulations in place would likely create such a dynamic. Two years ago, the Congressional Budget Office examined a proposal similar to the one Senate leaders currently seem to have in mind. Without a penalty for people who don't get coverage, and with insurers raising premiums because of their changing risk pools, the CBO predicted that the number of people without insurance would rise by between 14 and 15 million people and that premiums would increase by 20 percent.
Many conservatives have suggested the CBO overestimates the effect of the mandate. But while all projections carry uncertainty, the CBO's models are based on real-world experience. The recent behavior of insurers ― they're raising rates for next year out of fear the Trump administration will not enforce the existing mandate ― would seem to provide yet more proof that the mandate has a big impact, even if its exact magnitude is uncertain.
"The individual mandate is an integral part of the law, particularly because of the provisions that prohibit insurers from denying coverage or charging higher premiums based on pre-existing health conditions," Cori Uccello, senior health fellow at the American Academy of Actuaries, told HuffPost. "Eliminating the mandate would lead to lower enrollment, a deterioration of the risk pool, and higher premiums."
A skinny repeal bill would not touch the Medicaid program, which both the House bill and full repeal proposals from the Senate would cut significantly. Those cuts have been a major point of controversy in the Senate, particularly among more moderate Republicans whose states expanded the program and where millions are now getting insurance through it.
That is one reason why it's impossible to know how passing such a skinny bill would play out afterward ― whether House and Senate negotiators would be able to come up with a new compromise, what such an accord would look like, and then whether it could get majorities in the two chambers.
One possibility is that a House-Senate negotiation would produce a more conservative, more sweeping bill ― something moderate Republicans have refused to accept so far, but might find politically difficult to turn down if it were a take-it-or-leave-it proposition. Senate Minority Leader Chuck Schumer (D-N.Y.) warned of precisely that possibility in a floor speech on Tuesday.
The idea of dropping full repeal in order to pass a skinny bill and get to some kind of House-Senate negotiation is the latest crazy twist in what can only be described as a crazy legislative process. It has defied conventions of how bills are supposed to be written, and now envisions the Senate voting on a measure affecting one-sixth of the economy with mere days (or maybe mere hours) of notice on what the legislation would say.
This article has been updated with Senate passage of motion to proceed on debate of a health care bill.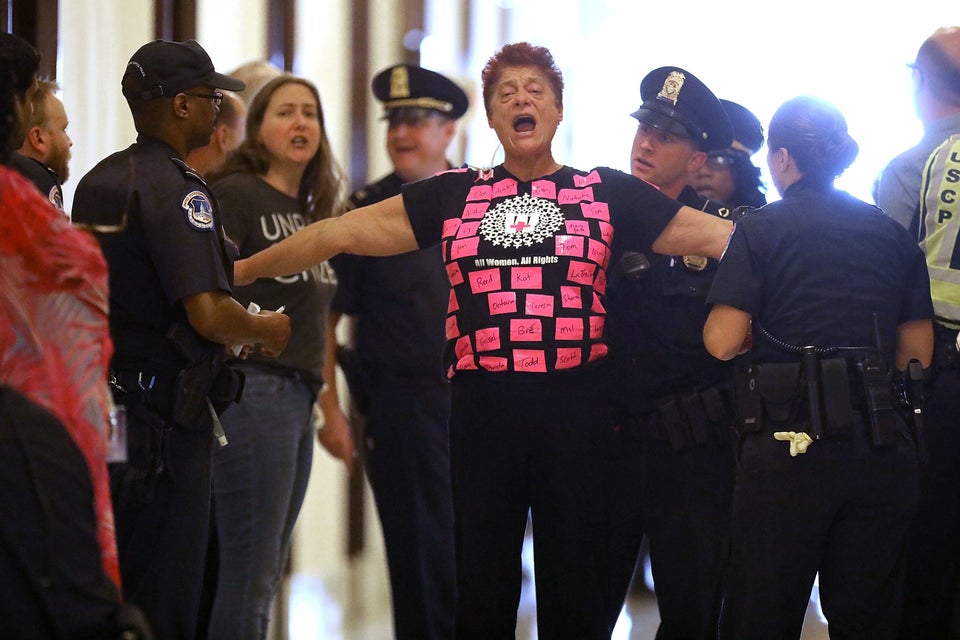 Health Care Protests At U.S. Capitol
Popular in the Community