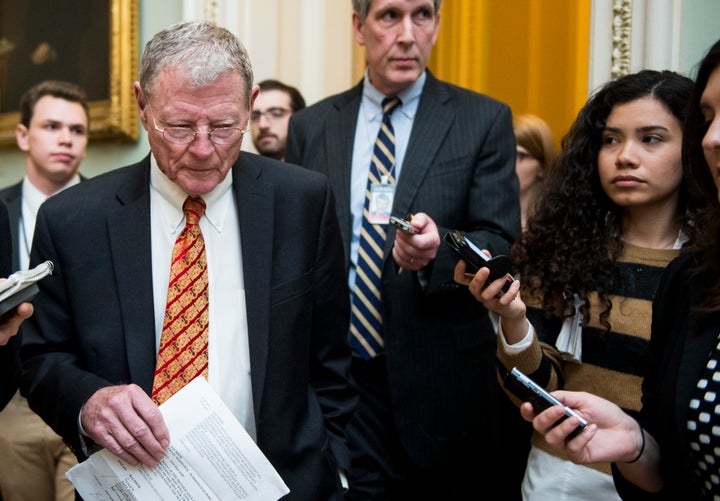 The measure was fast-tracked on Wednesday, setting up a possible vote as early as next week to redirect $250 million from the Energy Department's Advanced Vehicle Technology Fund. While it doesn't send money directly to Flint, the city will be able to apply for a loan to receive a chunk of the money. 
"This does what we need," Stabenow said, adding that the language of the agreement is still being sent back and forth for potential final tweaks. 
Inhofe said the measure would be voted on as a standalone bill. 
Stabenow and Peters confirmed they supported the offset, despite having opposed it just weeks earlier. 
"That's the important aspect of it is that other communities all around the country will be able to access resources that are part of this -- dealing with not just lead but other toxic contaminants as well," Peters said.
Asked what changed their mind, Stabenow said the structuring was "responsible and positive."
Inhofe said "time" and urgency brought the two Michigan Democrats around. 
All expected the agreement to get broad bipartisan support from both parties.
The deal unlocks a hold on the broad energy bill, which was derailed this month over the Flint negotiations. 
If the proposed procedure is agreed on, the bill will move forward as a standalone and then be tethered to House-passed legislation that clarifies the Environmental Protection Agency's requirements for when it must notify the public of high concentrations of lead in drinking water.
Sens. Barbara Boxer (D-Calif.), Rob Portman (R-Ohio), Sherrod Brown (D-Ohio), Dick Durbin (D-Ill.), Mark Kirk (R-Ill.), Jack Reed (D-R.I.) and Richard Burr (R-N.C.) signed onto the deal.
Flint Mayor Karen Weaver (D) and Michigan Gov. Rick Snyder (R) have been moving forward with plans of their own to assess and replace the city's water infrastructure. They have said it could cost as much as $1.5 billion to replace the pipes.
The Michigan government exposed potentially thousands of Flint children to high levels of lead, a deadly neurotoxin, after they switched the city's water source in 2014 and failed to prevent it from corroding Flint's aging lead pipes.
Here's a breakdown of the funds: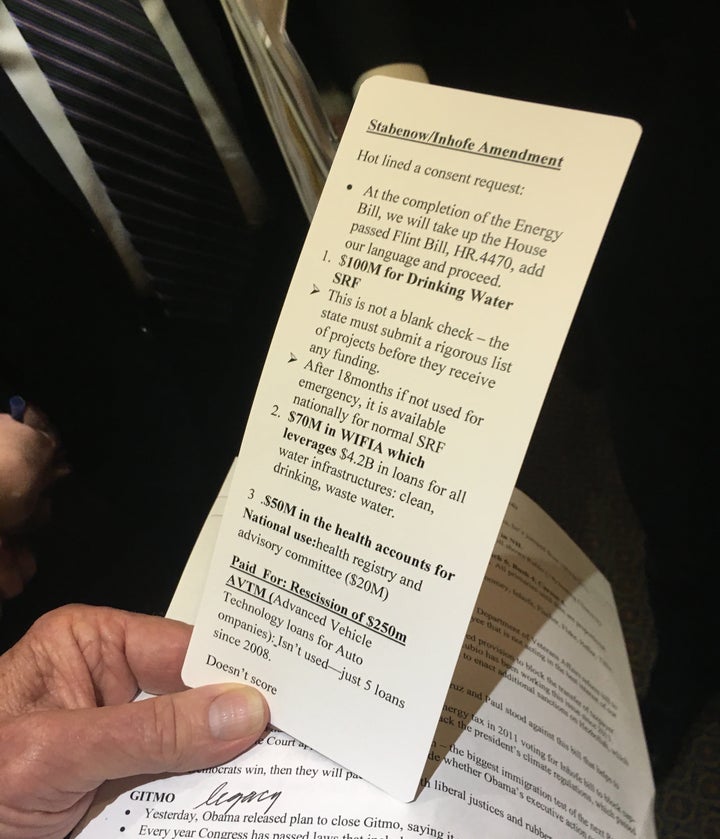 Arthur Delaney contributed to this report.
This post has been updated with the senators who have signed onto the deal as well as details on how it will proceed. 
Calling all HuffPost superfans!
Sign up for membership to become a founding member and help shape HuffPost's next chapter