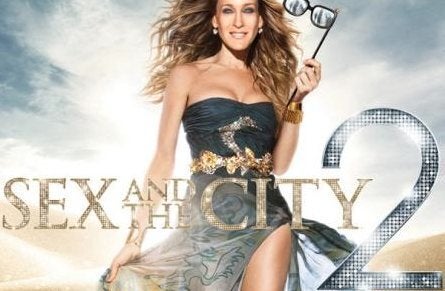 Hollywood Reporter writer Stephen Farber thinks "Sex and the City 2" is going to be a "smash" hit. He also thinks the film is "anti-Muslim."
In a review that's generated headlines around the web, Farber writes that "'SATC 2' is at once proudly feminist and blatantly anti-Muslim, which means that it might confound liberal viewers."
"The rather scathing portrayal of Muslim society no doubt will stir controversy, especially in a frothy summer entertainment, but there's something bracing about the film's saucy political incorrectness. Or is it politically correct?" Farber writes.
In the highly anticipated sequel to the 2008 film, Carrie Bradshaw (played by Sarah Jessica Parker) and her friends travel to Abu Dhabi on an all-expenses-paid luxury vacation. However, SATC2, as it's known, was actually shot on location in Morocco, after Abu Dhabi denied the movie permission to film there. Abu Dhabi is even considering banning the film, the Telegraph reported recently.
Farber is not alone in calling attention to the film's treatment of Muslims. As Brian Lowry wrote in Variety: "There's also some not-very-convincing rumination on the treatment of Muslim women -- even in what's supposed to be a relatively progressive Arab country -- that seems more condescending than stirring."
Hadley Freeman of the Daily Mail also slammed the film's treatment of race. "Not since 1942's Arabian Nights has orientalism been portrayed so unironically. All Middle Eastern men are shot in a sparkly light with jingly jangly music just in case you didn't get that these dusky people are exotic and different," Freeman wrote.
Sky News points out a few of the scenes that may cause offense:
One scene even features the four main characters being rescued by Muslim women who strip off their burkhas to reveal the stylish Western outfits they are concealing beneath their black robes.

While in another scene, the ladies perform a karaoke version of Helen Reddy's I Am Woman in an Abu Dhabi nightclub, as man-eater Samantha shocks the locals with her sexual escapades.
Tell us: Does the film's treatment of Muslims seem insensitive?
Popular in the Community