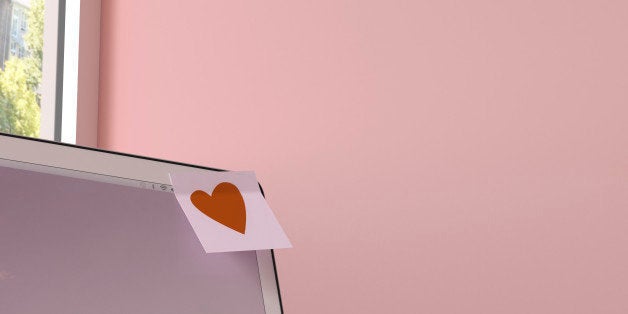 Most of us gals in our 30s remember the show Sex and the City (1998 - 2004), about a tight-knit group of four New York women chasing their dreams, love, and sexual fulfillment. Whether you see yourself as: Samantha, self-assured, self-proclaimed "slut" who can never get enough and has absolutely no interest in commitment; sweet, romantic Charlotte who just wanted to meet her perfect gentleman and settle down; Miranda, the tough cynical realist who finally gave into her softer side once she met the right man; or Carrie, the emotionally insecure, adventurous, smart woman who couldn't wait to be swept off her feet by something BIG, chances are, if you're a woman and you've seen this show, you can relate. We are, all of us, to some degree victims of the "true love" tropes of modern, everyday media, targeting women.
But how well do these tropes translate to women with disabilities -- women who rarely, if ever, see themselves reflected and portrayed in modern-day love stories?
As a woman with Spinal Muscular Atrophy -- a big, scary name for a congenital disability that limits my physical mobility, requiring me to use a wheelchair and schedule caregivers to assist me 'round the clock -- I'm far less likely to meet a hot fling (let alone my one true love) gallivanting about the city in my most hip-hugging skirt; at a bar, an art opening, or even online. The reality is that for most men, I'm not even dateable. The truth is, as a woman with a very visible disability, society at large puts me in one of these boxes: 1) asexual; 2) infantile; 3) dependent and needy; 4) desperate.
My only real desperation stems from knowing that just about every eligible man I interact with, in person or online, is going to automatically shove me into one of these categories and, ultimately, dismiss me as a prospective lover, date, or girlfriend.
While online dating has managed to make it easier for some people with disabilities to socialize with potential mates, especially living in a city like Toronto where many social venues remain physically inaccessible to me, I've come to feel like I just have that many more opportunities to be shot down, condescended to, or ignored -- all by single men who claim they are looking for love and with whom I presumably share plenty of goals and interests.
I'm aware that we are now in an age of online shopping for mates, in which men are swiping right for their next Tinder hookup while still buying drinks for that first Betty whose boobs just weren't quite big enough. In this consumer climate of hookup culture and serial dating, where the next best thing is always just around the corner, how does a woman like me stack up? How do I go from being a chick in a chair to a desirable, eligible bachelorette in my 30s?
To Disclose or Not To Disclose
I've tried leaving out any trace of my disability in my dating profiles. A lot of the time, this means more initial conversations. But it's kind of hard to just ignore the elephant (chair) in the room when you show up at that chic, new (inaccessible) restaurant or are invited on an adventurous first date of rock-climbing. Eventually, the subject does come up and, in my experience, is usually met with dead silence, ghosting, or an expression of betrayal and disgust.
I no longer hide the fact that I'm a disabled woman in my dating profiles -- it is there for the world to see and read about (in a cute, self-deprecating way), but it's not a solution to my dating woes. My most well-thought-out response to a dating profile is usually met with silence or a condescending, "You sound lovely, and I'm sure you'll find someone just right for you." You'd think that the bite of rejection would get easier, but it really doesn't -- especially when it's because of something that you have absolutely no control over and that you know is vastly misunderstood, if understood at all, by your peers.
I've heard firsthand and read that women with disabilities who were seeking male partners have the greatest degree of difficulty in the romance department: we are at the bottom of the dating totem pole, right after straight men with disabilities who, incidentally, usually prefer able-bodied female partners. A lot of this has to do with persisting male perceptions of status and attaching perceived success to one's ability to find an attractive, suitable mate. Along these lines: "courtesy stigma" means that we often attribute the obvious qualities of romantic suitors to their partners.
In other words, if he chose to date someone with a physical disability, What's wrong with him? Wasn't he able to get a "normal" girl?
Of course, the situation seems to be completely different if I'm just looking for a hookup. Turns out guys will bang a chick in a chair, but they won't date one.
In case you haven't guessed it already, I relate most closely with Carrie: "I am someone who is looking for love. Real love. Ridiculous, inconvenient, consuming, can't-live-without-each-other love." But how do you find that kind of love, or any kind, for that matter, when guys won't even talk to you or look at you as anything but a fetish, friend, or an innocent?
I haven't figured it out quite yet, but I'll let you know if I do. I haven't given up on love, and if you are a woman with a disability reading this -- don't you give up on it either. Our "something big" is out there, and it will be bigger than any disability or obstacles that ableism tries to impose on us.
Calling all HuffPost superfans!
Sign up for membership to become a founding member and help shape HuffPost's next chapter