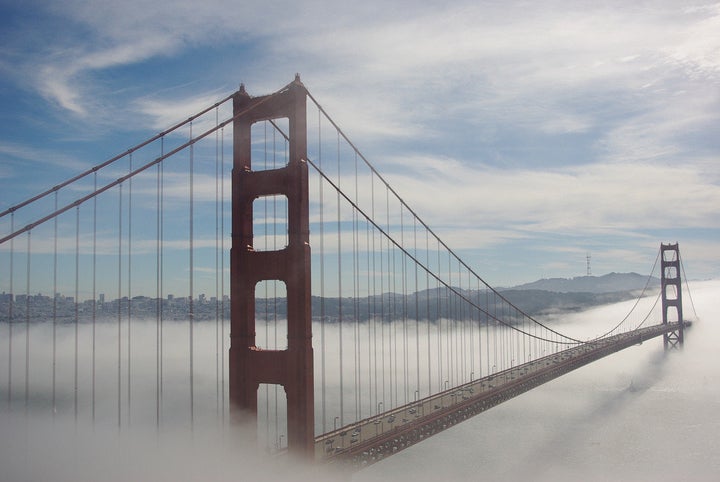 It's been said that if you don't like the weather in San Francisco, just walk ten feet.
The city is famous for its litany of microclimates, which can lead to the jean shorts that seemed like such a good idea when you donned them in the Mission turning into the bane of your existence as you cross over into the Lower Haight.
Every good local knows that preparation before leaving the house is key, but knowing precisely what to prepare for can prove a challenge. Most weather websites only give one forecast for all of San Francisco, which is essentially useless if the temperature is measured in SoMa and you're headed to the Outer Sunset.
Coming to the rescue is Baker Beach Software with their new iPhone app SF Climates. The app provides a detailed listing of the temperature, cloud cover, wind speed and chance of precipitation for 17 different San Francisco microclimates.
Developer Michelle Sintov came up with the idea during her daily bike commute from the Richmond to SoMa. "I'd hit Divisadero Street and suddenly see the sun," she told The Huffington Post with a laugh.
The app takes its data from a feed provided by Weather Underground, which incorporates real-time weather information not only from the National Weather Service's over 1,000 weather stations around the country but a network of more than 11,000 private meteorology buffs who provide the agency with a veritable flood of information.
Slate called San Francisco-based Weather Underground "America's best weather forecast."
Looking at the app right now, the biggest difference is between the Financial District's 64 degrees and Lake Merced's 55. Sintov says this arrangement is typical--the city's southwest corner generally suffers the worst weather, while the northeastern tip has the best.
She also noted that West Portal is strangely often warmer than all of the neighborhoods immediately surrounding it.
Correction: The article originally listed developer Michelle Sintov as the app's designer. The actual designer is Mike Richards.
Support HuffPost
The Stakes Have Never Been Higher
Related
Popular in the Community