When I was a kid, young boys yearning for a glimpse under women's clothes would save their pennies to buy the always-disappointing novelty item X-Ray Specs from comic-book ads. Today, all curious adolescents need to do is pick up a copy of People or US to see a red-carpet parade of female celebrities flaunting visible panty lines.
While revealing looks may be hot right now, they're not revolutionary. Valerie Steele, the director and chief curator of the Museum at the Fashion Institute of Technology, traces transparency back to the 1970s, when designer Yves Saint Laurent "showed a number of sheer tops and blouses. You could actually see the nipples through them," Steele says. "It wasn't widely adopted, but it made an impact." In the 1980s, "underwear as outerwear started coming in with punk and Vivienne Westwood." she says. Madonna popularized the look by flaunting bustiers and brassieres. Steele says, "It became accepted in the women's fashion world as a fashion statement ... though I think most men still thought, 'Woo hoo! Underwear!'"
Fashion bloggers -- always at the forefront of any trend -- are finding lots of ways to wear sheer pieces. Some of them, such as Krystin of the blog Be Loud Be You, do it celebrity-style by strutting out with bra and panties visible under a sheer dress. "I think if you're comfortable, then it's easy to be confident in anything you wear," she says. Michelle Haswell of Kingdom of Style likes the way the cut of her lace dress by Obesity & Speed belies its sheer element. She notes that the dress itself is "actually quite demure - long sleeves, modest length, unrevealing neckline." But other bloggers in the slideshow below prove that sheer pieces can accessorize a completely covered outfit, making them appropriate for women of any age, size or level of modesty. For inspiration, see Rocquelle of Consider Me Lovely, whose sheer skirt gives a hint of color to the opaque dotted skirt she's wearing underneath it. Another creative thinker is Robin of Frannie Pantz, who wore a sheer yellow top over a black turtleneck. She explains, "I just turned thirty and I am a mother and work in the legal field. I love sheer tops and I own a lot of them. Layering is great because it works well with any body type. You can wear sheer tops over a great color or print; you can also use sheer underneath to add depth."
Check out the range of sheer styles in the slideshow and decide how much you'll dare to bare.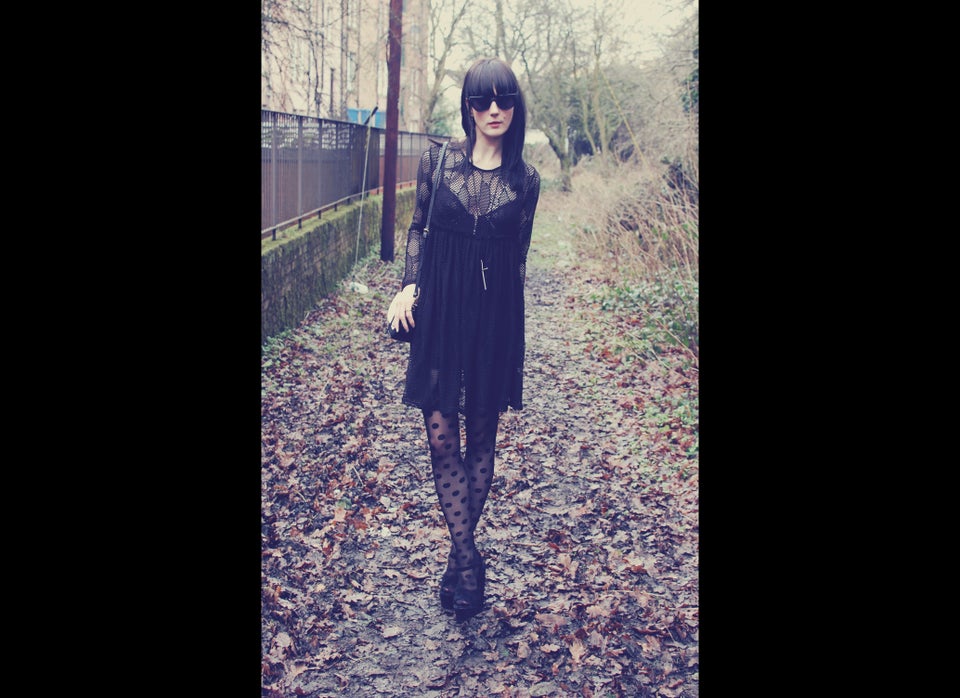 Sheer Love for Fashion Bloggers
Related