Wayne McGregor's FAR, which came to the Yerba Buena Center for the Arts in San Francisco this past weekend, was reportedly conceived in collaboration with cognitive scientists at the University of California, San Diego.
We'll take their word for it.
A more obvious collaboration would have been with the UCSD engineers who develop highly flexible metal composites, and who could well be testing them in the spines of the astonishing dancers of Wayne McGregor | Random Dance. A leading scientist at UCSD explains that these hybrid materials "provide optimal energy absorbing capability against high-velocity projectile impact, explosion-induced shock, or other dynamic events." Which pretty much sums up the evening.
It opened with a magnificent, yearning duet, lit by dancers bearing flame torches and set to Cecilia Bartoli's exquisite lament in "Sposa son Desprezzata." Louis McMiller and Daniela Neugebauer nuzzle, tango, and connect in unusual ways -- at one point, McMiller supports Neugebauer in a precarious off-balance promenade, her head gripped between his hands.
This evocation of a primal, baroque past rapidly dissolves to a futuristic scenario as the torches are extinguished, and the remainder of the 61-minute ballet unfolds against the backdrop of a gigantic pulsating circuit board composed of 3,200 LED lights. Like most of McGregor's work, the overwhelming effect is that of alienation; the dancers collide, grapple briefly, but inevitably, as Yeats intoned in the aftermath of World War I, "the centre cannot hold /... The ceremony of innocence is drowned." Dancers squabble; a women's trio, enveloped in tenderness, is broken up by three ill-humored men; the fracas leads to a full-blown rumble.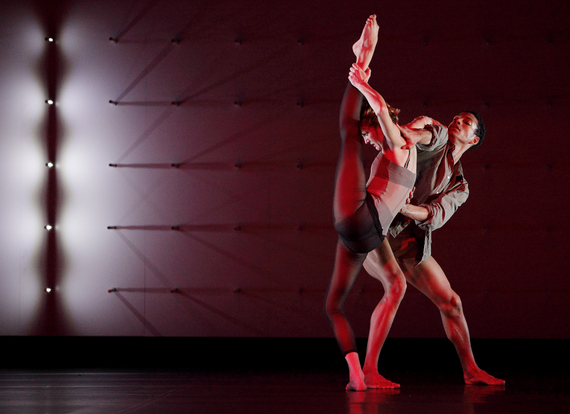 Anna Nowak and Michael-John Harper perform in Wayne McGregor | Random Dance's FAR. Photo by Ravi Deepres.
Lucy Carter's sensational lighting creates pathways and intimate spaces on stage, turning the pedestrian into poetry. When she floods the space in a harsh orange light, we sense disaster - possibly a nuclear accident. The dancers' bodies appear to glow. They abandon their petty quarrels, and instead set about to rescue one another, as the survival instinct and their fundamental humanity kick in. Numbers flash on the circuit board like a digital Geiger counter; we watch in alarm as the radiation count swiftly rises.
Whatever the disaster scenario, or the brain science underpinning the choreography, or the textual inspiration -- FAR is an acronym for Roy Porter's Flesh in the Age of Reason, a history of Enlightenment-era investigations into the mind-body connection -- this piece ultimately feels like a pure survey of the language of dance, McGregor's language, in the same way that Symphony in C, The Four Temperaments, and Concerto Barocco brilliantly survey George Balanchine's neoclassical idiom.
FAR's fascinating movement vocabulary dials down the extreme body contortions of McGregor's other work like Chroma and Borderlands, both hot properties at San Francisco Ballet, but retains their lightning fast changes of direction, off-kilter balances, jerks and twitches, movements that ripple through the body, arms that slice the air like swords. The head is often tipped at odd angles, cantilevered away from the body's centre of gravity (which must cause the dancers considerable neck strain.)
Groups of dancers magically filter on and off stage through the smoky, atmospheric lighting, rather than making clear entrances and exits from the wings. When McGregor's dancers race toward one other, as they often do, what happens on impact is not a canonic lift or embrace but a workmanlike fitting together of body parts, tinkering, problem-solving. And in the many duos, one dancer will hold a pose while the other executes a dynamic variation that moves in and out of the same pose. Asymmetry rules (in contrast to Balanchine).
And just as Balanchine often stripped his dancers down to practice clothes to illuminate their sleek lines, McGregor's dancers dance in their skivvies.
In this provocative, compelling work McGregor battles a disappointingly uneven score. Avant-garde composer Ben Frost's thundering soundscape might transport a concert audience, but dance has different needs. The more egregious elements include "field recordings" of animal sounds so distressing that PETA may want to investigate, grating vocals by singer Helgi Hrafn Jónsson in the currently fashionable but puerile faux-folk genre, and what sounds like traffic on a rural highway in India, overlaid with generous amounts of static.
In contrast, two of Frost's original pieces that made it into this score -- wittily titled Peter Venkman Parts I and II, after Bill Murray's iconic Ghostbusters character -- lend an enthralling spookiness to portions of FAR.
Calling all HuffPost superfans!
Sign up for membership to become a founding member and help shape HuffPost's next chapter