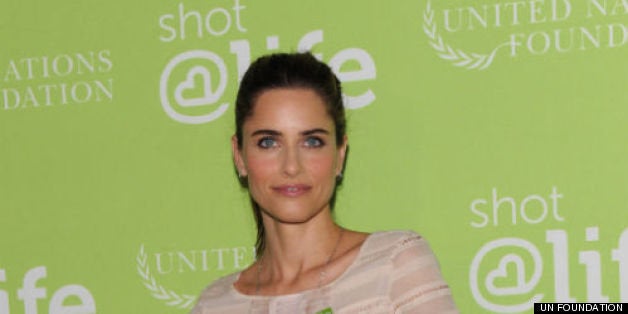 This post is part of the Global Mom Relay. Every time you share this blog, $5 will go to women and girls around the world. Scroll to the bottom to find out more.
As a mother of two young daughters in America, I recognize that I'm incredibly fortunate... I don't have to live in fear that Molly or Frankie may contract polio or another vaccine-preventable disease. Widespread access to early childhood immunizations in the United States means that parents know their children are safe from some of the world's deadliest diseases.
It's easy for our generation to take immunizations for granted -- they are simply a box to check off as a milestone in our child's development. However, many mothers in other countries don't have this luxury. Every 20 seconds, a child dies from a vaccine-preventable disease, and I've heard too many stories of mothers in other countries mourning the deaths of their children.
When it came time for me to decide whether or not to vaccinate my own children, I thought about the responsibility that comes with being a mother. For me, this responsibility of motherhood transcends borders and cultures.
The international supply of vaccines is not the problem, it's making sure moms and their children have access to them that is the major issue... it's so frustrating to know that we have the medicine, without being able to deliver it.
I'm proud to support the United Nations Foundation's Shot@Life campaign because I want people to know about the power of vaccines. As mothers, we can join together to make a better world for our children, no matter where we come from.
Every child vaccinated brings us one step closer to eradicating polio, to protecting our local communities, and to creating a healthier world. I hope that you'll join me in fighting for the right of every child to have a shot at a healthy life. Our children deserve no less.
Each time you share this Global Mom Relay piece on Facebook, Twitter, or Email, or donate $5 or more through clicking on the above graphic, a $5 donation (up to $500,000) will be donated by Johnson & Johnson and the Bill & Melinda Gates Foundation to Shot@Life. $5 protects a child from polio and measles for his/her lifetime. Funds go to WHO, UNICEF and the GAVI Alliance who distribute them to the programs and countries with the greatest need at the time. Join us by sharing it forward and unlock the potential for women and children around the globe. For more information, visit www.unfoundation.org/globalmomrelay. The United Nations Foundation, Johnson & Johnson, BabyCenter, The Huffington Post, and the Bill & Melinda Gates Foundation created the Global Mom Relay, a first-of-its-kind virtual relay with a goal of improving the lives of women and children around the globe.