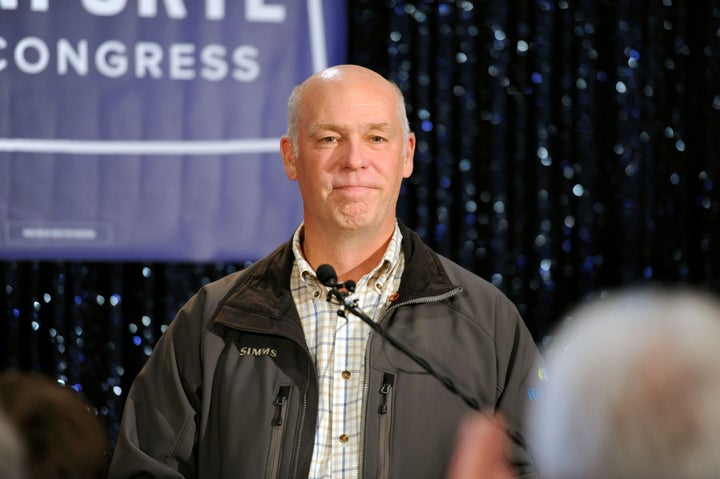 A top executive of a conservative-leaning broadcast company donated money to the campaign of Montana Rep. Greg Gianforte (R) the day after the then-candidate was charged with assaulting a reporter, federal elections records show.
Frederick G. Smith, the vice president and director of Sinclair Broadcasting Group, donated $1,000 to Gianforte's campaign the day of his May 25 election victory, according to Federal Elections Commission data first reported by Politico on Tuesday. He also donated $1,000 to Gianforte's campaign in March.
The May donation came just one day after Gianforte was accused of "body-slamming" Guardian reporter Ben Jacobs and breaking his glasses after Jacobs asked the then-candidate a question about Republican health care legislation. Jacobs captured the incident on audio.
Gianforte pleaded guilty to misdemeanor assault earlier this month and was sentenced to perform 40 hours of community service, complete 20 hours of anger management training and pay $385 in fines and fees.
Smith's donations raise serious questions over the ethics of media employees making financial connections with political candidates. While many news outlets ban editorial employees from making such donations and endorsements in order to preserve fair and balanced reporting, a Sinclair spokesperson said that "campaign contributions made by our board members are personal to them and do not reflect company policy or support."
Smith's donation to Gianforte in the wake of the attack, in particular, raises even more questions about the value Sinclair's leaders place on the role of a free press and reporter access to politicians.
While Sinclair largely flies under the radar, the company's acquisition of Tribune Media last month morphed it into an even bigger media giant. The deal will give Sinclair ownership of more than 200 TV stations, with a reach into more than 70 percent of American households. Across its stations, the conglomerate strongly tilted toward friendly coverage of then-candidate Donald Trump during the 2016 election.
"News stories and features favorable to Trump or that challenged Clinton were distributed to Sinclair stations on a 'must-run' basis — that is, the stations were required by managers in Washington to make room in their evening newscasts or morning programs for them," The Washington Post's Paul Farhi found in a December report.
Smith wasn't the only donor apparently energized by Gianforte's attack on Jacobs. The day after the incident, Gianforte collected more than more than $116,000 ― more money than the campaign had collected in the five days prior, combined.
Popular in the Community