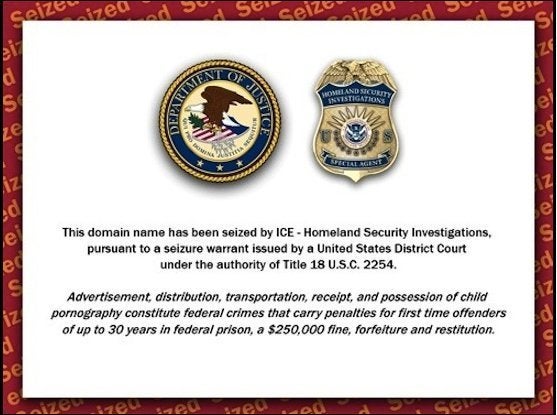 In an effort to crack down on child pornography, the Department of Homeland Security (DHS) and Department of Justice (DOJ) announced the seizure of 10 domains as a part of a new initiative called "Operation Protect Our Children" but they also shut down 84,000 seemingly innocent sites in the process.
"For all its positive impact, the Internet has also unfortunately created a new way for child predators to commit their inexcusable crimes," said Assistant Attorney General Lanny A. Breuer of the DOJ in a statement. "The production and distribution of child pornography wreak havoc on innocent lives. With these domain seizures, we are taking our fight against child pornography to websites that facilitate the exchange of these abusive images."
The press release did not contain the names of the ten domains that were seized. However, the domain mooo.com, a part of the DNS provider FreeDNS was shut down in the process, with sites using the domain to host their pages displaying a banner reading as follows:
"Advertisement, distribution, transportation, receipt, and possession of child pornography constitute federal crimes that carry penalties for first time offenders of up to 30 years in federal prison, a $250,000 fine, forfeiture and restitution."
84,000 subdomains under mooo.com were shut down, with many of the hosts blogging their surprise and dismay. Though the seizure was reverted a day and a half afterwards, it took another three days for the banners to disappear completely.
"Last night on Friday February 11th at around 9:30 PM PST mooo.com (the most popular shared domain at afraid.org) was suspended at the registrar level," the official FreeDNS statement statement read. "freedns.afraid.org has never allowed this type of abuse of its DNS service."
The DOJ and DHS have not yet made a statement about these claims, and it is unclear what exactly happened to cause them to shut the entire domain down at this time.

Related
Popular in the Community