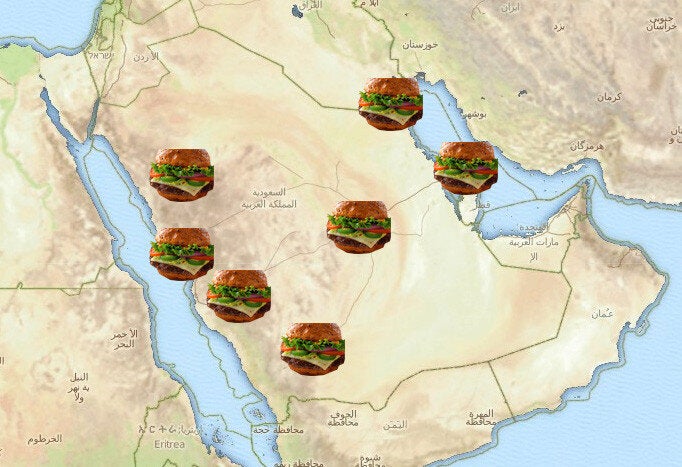 The American military may slowly be pulling out of the Middle East, but the troops are quickly being replaced by another aggressive army: the fast food industry. Smashburger, founded in Denver in just 2007, announced yesterday that it had partnered with two Middle Eastern restaurant business to bring its "better burgers" to three countries on the Persian gulf. Bahrain-based Georgetown Associates will open franchises in Kuwait and Bahrain, and Saudi company Al Musbah will open eight Smashburgers in airports around Saudi Arabia over the next eight years.
Doug Branigan, Smashburger's head of franchising, told the Huffington Post that restaurant operators had long been approaching him to partner on outposts in the Arabic-speaking world. "There's tremendous interest in American brands throughout the Middle East," he said.
Indeed, Smashburger joins several other major restaurant companies that have made inroads in the Gulf in recent years. The one closest in feel to Smashburger is probably Danny Meyer's Shake Shack, which has opened outposts in Dubai and Kuwait City and has plans for several more restaurants in the Arab world. Branigan said that he isn't daunted by the competition; instead, the success of Shake Shack's Middle Eastern restaurants gives him high hopes for sales at Smashburger, especially in Kuwait.
"We see ourselves being in much the same space as Shake Shack," he said. "We both serve great fresh-made burgers, though I think we complement them with a broader menu than they do. But no, we think Shake Shack is a great brand and we're enthusiastic about their success in the region. "
For the most part, the Smashburgers in the Middle East will be much like the 119 currently operating, all in the United States. "The menu translates extremely well," Branigan said. "Of course, we have to make a few small adjustments. There's no alcohol in any of the products. You can't have pork in any of the products." (The American Smashburger menu includes a bacon cheeseburger, but no alcohol. Shake Shack does not normally serve pork at either American or Middle Eastern restaurants, a company representative told the Huffington Post, so the only change on its menu is the elimination of beer and wine.)
The first Middle Eastern Smashburger is expected to open in Kuwait in early 2012.
Related