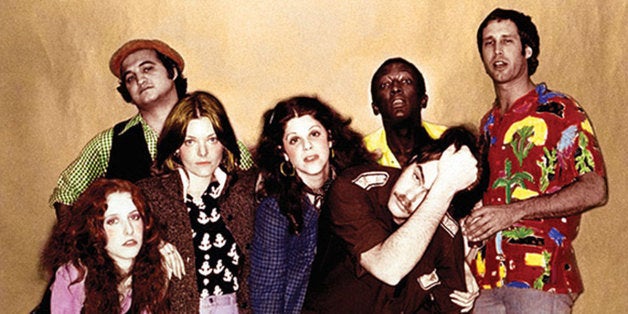 When "SNL" debuted in 1975 with its original Not Ready For Primetime lineup, its cast consisted of nine people. By that November, it was down to the seven actors most familiar to audiences. (Michael O'Donoghue was dropped from the cast but stayed on the show as head writer. George Coe was only listed as part of the cast for the debut.) Those seven -- Chevy Chase, John Belushi, Jane Curtin, Garrett Morris, Dan Aykroyd, Lorraine Newman, Gilda Radnor -- became personalities.
But one of my biggest pet peeves in life are people who point to the original five years of "SNL" as some sort of bastion of comedy that could never be replicated by the current cast (and "current cast" can refer to any combination of actors since the departure of original cast).
What people remember about that original cast are the classic sketches that have been replayed hundreds of times since they originally aired. But if you go back and watch those shows in their entirety, you'll notice a familiar pattern: Some sketches are great, some are good, some are bad. Those early seasons pretty much established the rhythm of the show that you still watch today.
What those seven original cast members had going for them is that they were such large personalities -- and that there were only seven of them. The audience got to know them. Even when a sketch failed, the audience felt more of a connection with the cast members in that failed sketch, so maybe it didn't seem quite so bad.
The current "SNL" cast has 17 cast members. And that's a problem.
Now, this gets tricky because I would never advocate that anyone on the show lose his or her job. Every single person that lands a job on "SNL" has (most likely) just achieved his or her dream. So I'm absolutely not going to sit here behind a computer screen and scold a new cast member for not having enough airtime this season. Especially because there are 17 (!) cast members. It was hard enough for new featured players to get their work on the air when the show had 12 or more cast members. Now, with 17, it seems almost futile.
But! This also means that we are sitting here in March -- 14 full episodes into the season -- and this particular cast has no real group personality. It's almost impossible to get to know these guys because we see them so sporadically. I've covered "SNL" on a weekly basis for four years and I've watched this show my entire life, and I've never felt so unfamiliar with the cast.
When Lorne Michaels was asked about the diversity problem on "SNL" in a recent interview with Lane Brown of New York magazine, he responded, "This past year, having lost Fred [Armisen], Jason Sudeikis, and Bill Hader and knowing I was losing Seth, we were focused on finding guys."
But the problem is that Lorne replaced three "guys" with five "guys," along with Noël Wells and Sasheer Zamata. And it's great that Lorne finally hired an African-American woman, but she's been thrown in with such a large cast, her presence really hasn't been felt -- nor has that of pretty much every other new cast member. Each actor's contribution has been stunted by the bottleneck in front of the camera.
The last time the cast was anywhere near this large was way back in the disastrous 1994-95 season. That cast, too, had 17 members, but never at one time. (The largest the cast got at any point was 15.) That season was crowded, bloated and filled with a strange mix of long-standing members like Mike Myers; top dogs like Adam Sandler and Chris Farley; and new cast members who were already veteran comedians, like Chris Elliot and Michael McKean.
After that season Michaels cleaned house and brought in an almost entirely new cast for the 1995-96 season. Michaels was smart enough then to keep the cast to a modest 11 cast members (later expanding to 14 toward the end). At that size, it gave the audience a chance to get to know the new cast members, and stars like Will Ferrell, Cheri Oteri, Molly Shannon and Darrell Hammond quickly emerged.
In the 2005-06 season, the cast briefly reached 16 cast members when Kristen Wiig joined mid-season, but by the next season the cast was cut down to 11 again.
I've heard rumblings that some current cast members are frustrated at their lack of airtime. And that's understandable: This might be the most difficult season in the show's history in which to make a name for yourself. Instead of going with the "let's give this cast room to breathe" strategy of '95-96, It's almost as if Michaels went with a strategy of "let's throw a bunch of them against the wall and something will stick."
The problem is the wall is too small and nothing is sticking.
The frustrations are likely not limited to the cast; the audience is also frustrated, because we like getting to know the cast members. And I don't know what the short-term solution is. It's not like there's a large swath of veteran cast members who are going to leave the show soon. This cast is filled with young talent, but not enough airtime to accommodate all of it. Sure, everyone seems to have featured in a highlight or two -- most notably Beck Bennett and Kyle Mooney -- but the show is too crowded now to gather any momentum ... and that's a shame for them and a shame for us.
Mike Ryan is senior writer for Huffington Post Entertainment. You can contact him directly on Twitter.
Related
Popular in the Community