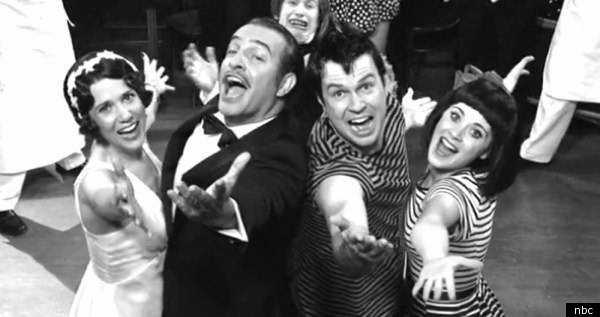 Zooey Deschanel's efforts as the host of "Saturday Night Live" were, kind of surprisingly, quite great. Though, when a news story as big as Whitney Houston's death breaks mere hours before the live show, it does put "SNL" in the weird position of being a "topical" live show, but not really. (The same thing happened last year on the day of the Gabrielle Giffords shooting in Arizona.) An image of Whitney Houston alongside Molly Shannon was appropriate (but perhaps a little too late in the show for someone who was a two-time musical guest.) Regardless, after a run of mediocre episodes, last night's "SNL" gave us the best show of 2012.
"Les Jeunes de Paris" (Taran Killam, Zooey Deschanel, Jean Dujardin, Kristen Wiig, Bobby Moynihan, Nasim Pedrad, Andy Samberg) I've been a fan of the last three incarnations of "Les Jeunes de Paris." I'm a fan of "The Artist." So, smash those two entities together and you get this little nugget of joy. First, I love any "SNL" sketch in which it's so obvious how much work went into the choreography. Second, I really hope Jean Dujardin becomes a huge star in the United States. Between this and his Funny or Die video, boy, that guy just gives it his everything. (Also, for a split second, I thought Kristen Wiig was actually Berenice Bejo.)
"Clint Eastwood Chrysler Ad" (Bill Hader) Separated into three parts throughout the show, Clint Eastwood -- with his pants getting ever higher and higher -- scolds us for misinterpreting his Super Bowl ad. Also, he calls Rick Santorum a "pussy" before the whole thing becomes an ad for "The Dark Knight Rises." I would have no problem with Hader's Clint Eastwood being a part of every show for the rest of the season.
"Bein' Quirky With Zooey Deschanel" (Abby Elliott, Zooey Deschanel, Taran Killam, Kristen Wiig) Zooey Deschanel did herself a great service with this sketch because, now, for the rest of her career, whenever criticism is laid upon her, she can now just point at this sketch and say, "Yeah, I know. I get it. And I covered it much more thoroughly than you are." Also, I would like to see an entire sketch devoted to Taran Killam as Michael Cera. And as an aside, it's really nice to see Abby Elliott get some much needed airtime because, yeah, it had been a while.
"Weekend Update" (Seth Meyers, Nasim Pedrad, Andy Samberg, Nicolas Cage) First, Nasim Pedrad portrays Arianna Huffington. You know, it's always tricky when your boss's boss shows up as the subject of a parody. (Actually, I have no idea if it's "always" tricky because this is the first time that this has ever happened to me.) And, to be honest the impression was--oh hey, everybody, look, it's the real Nic Cage! To be honest, I had a feeling this might happen because Cage is in New York City promoting "Ghost Rider." But I wasn't 100 percent convinced that Cage has a sense of humor about himself. Thankfully, after he admits that the perfect "Nic Cage movie" involves dialogue that is either "whispered or screamed," it appears that he does. God bless you, Nic Cage.
"Verizon Ad" (Bill Hader, Fred Armisen) Bill Hader had quite the night as far as commercial parodies are concerned; though Armisen gets the best line with his reaction to the possibility of running a small business that he doesn't have from his mobile device.
"Newspaper" (Jason Sudeikis, Kristen Wiig, Zooey Deschanel, Bobby Moynihan, Taran Killam) I'm not one to complain about sketches having no ending or feeling unfinished because who cares? If it's funny, it's funny. But "Newspaper" -- which I can only assume spawned from "What would happen if we dropped a normal person into 'His Girl Friday' -- really was all concept, no payoff. Whatever, I still laughed. (Also: Bobby Moynihan reaction shot alert.)
"Patio Party" (Kristen Wiig, Zooey Deschanel, Jay Pharoah, Bobby Moynihan, Andy Samberg, Taran Killam, Abby Elliott) This may be an overly dramatic statement, but I don't think I've ever hated a sketch so much that, by the end, I was laughing. And then I got mad at myself for laughing. Perhaps it's just hearing the word "crab" so many times. And then there was no crab. They didn't even have any crab!!! (Ugh, I really have no excuse.)
"Zooey Deschanel Monologue" (Zooey Deschanel) I do appreciate the fact that an original song was attempted over the standard, "Take fake questions from the audience" or whatever. But, I get it: Zooey Deschanel is quirky and she wants to sing a quirky song about ... Wait, what's that? Look at what I wrote for "Bein' Quirky With Zooey Deschanel"? Ah, good point. (And, yes, I choose to believe that this was 100 percent a setup for the "Bein' Quirky" sketch.)
"Piers Morgan Tonight" (Taran Killam, Nasim Pedrad, Jason Sudeikis, Fred Armisen, Zooey Deschanel, Andy Samberg, Kristen Wiig) Samberg as the tightrope guy from the Super Bowl almost saves this, but (perhaps due to the news of the day) Madonna's halftime show seems like it happened a month ago. Though, Pedrad's M.I.A. is really great (and I did laugh at the reference to that horrible Doritos commercial).
"Cold Open: Mitt Romney Primaries" (Jason Sudeikis) I like Sudeikis' Romney. But, wow, this is really starting to feel like the same sketch over and over and over and over. Romney wants to be a human, but he isn't. And the premise of the sketch was how Romney is spinning the fact that his recent primary losses are proof that he didn't "peak too soon." Of course, as this sketch was being preformed, Romney had just won Maine. Anyway, the dog was awesome.
"Victorian Ladies" (Kristen Wiig, Zooey Deschanel, Fred Armisen, Jason Sudeikis, Bobby Moynihan, Andy Samberg, Jay Pharoah) Kristen Wiig and Zooey Deschanel write letters to each other about their respective love interests, who all happen to be buffoons. This went on one or two letters too long.
"Technology Hump" (Andy Samberg, Zooey Deschanel) I didn't care for this sketch the first time that they did it the week Emma Stone hosted. But at least then I could make the case that, hey, they're trying something different here. Now that it's back for a second go around, it can't even be defended as "something different."
Average Score for this Show: 6.08
Popular in the Community