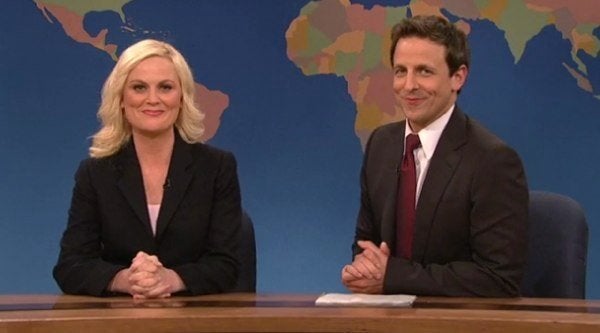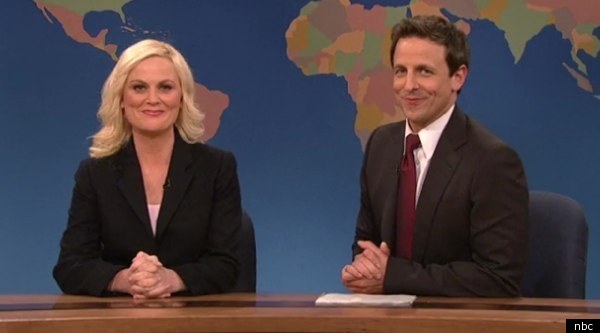 There really were not a lot of opportunities for quality airtime during Maya Rudolph's reign as SNL host. (A show, I should add, that I ranked as the third best of the season -- for everyone who commented and accused me of hating the show, for some reason.) First, there were only ten segments and three of them were full-fledged ensembles, everyone gets ten seconds, type sketches. Plus, "Weekend Update" featured no guests other than Amy Poehler. So, yeah, tough week -- unless your name was Kenan Thompson.

1. Kenan Thompson (Last Week: 13) It's almost as if last week, when Thompson was limited to one brief appearance, he was thinking, "Don't worry about me, I'll be in -- and star in -- pretty much every single sketch next week."

2. Seth Meyers (Last Week: 5) Meyers always gets bonus points for showing up in things that aren't "Update," which he should do more often. Also, let's play a game: If Meyers decided, "You know, it really is fun to have an 'Update' co-host," whom out of the current cast should he pick? Nasim Pedrad?

3. Jay Pharoah (Last Week: 11) I don't even recognize Jay Pharoah any longer. This is no longer the guy who shows up for ten seconds, then waves good-bye at the end of the show.

4. Fred Armisen (Last Week: 9) This is the most fun I've seen Armisen have with Obama in a long time. This is either good news because he's rejuvenated as we inch closer to the election, or this is bad news because he now needs to play Obama as Bill Cosby for it to be entertaining.

5. Jason Sudeikis. (Last Week: 6) When Sudeikis leaves SNL, I hope he decides to try to make a movie about his dancing red track suit character from "What's Up With That?"

6. Taran Killam (Last Week: 1) Killam's Brad Pitt -- though not quite as good this week as it was in "Tinyballs"-- does deserve more than a quick cameo.

7. Bill Hader (Last Week: 2) I still laugh every single time that Lindsey Buckingham lets Deandre Cole off the hook at the end of "What's Up With That?"

8. Kristen Wiig (Last Week: 8) Before this show aired, I really was expecting "The Kristen Wiig / Maya Rudolph Fun Time Show." Surprisingly, the two Bridesmaids stars spent very little time together on screen.

9. Nasim Pedrad (Last Week: 7) Pedrad is making quite the career these days by portraying eccentric personalities from the world of popular music.

10. Abby Elliott (Last Week: 3) The Zooey Deschanel hosted show was a great one for Elliott. But, for the season, I'm running out of ways to say, "Abby Elliott didn't have much to do this week."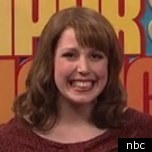 11. Vanessa Bayer (Last Week: 12) My gut feeling tells me that we are in store for a Miley Cyrus show the week that Lindsay Lohan hosts.

12. Andy Samberg (Last Week: 4) Once again, Samberg still has not produced a new Digital Short since January 7.

13. Bobby Moynihan: (Last Week: 10) You know, these days, an episode of Saturday Night Live isn't quite complete without a Bobby Moynihan reaction shot. Sadly, this was missing this past Saturday.


REAL LIFE. REAL NEWS. REAL VOICES.
Help us tell more of the stories that matter from voices that too often remain unheard.