 Is Bitch the New Black? If you believe Tina Fey on "Saturday Night Live" last night, then damn straight; if you don't, you may well be burning up the NBC message boards right now. Last night politics was center stage on SNL, with an epic cold open spoofing the latest CNN debate between Hillary Clinton and Barack Obama (over 8 minutes), a supersized "Weekend Update" (11 minutes), and about as close as SNL could come to a live, on-air endorsement of Hillary Clinton by host and returning alumna Tina Fey. In a segment on Update called "Women's News" ("It's a great time to be a lady in America!") Fey celebrated the news of a woman running for president — and then (after a bitty swipe at Oprah), proceeded to take aim at a number of Hillary-hating arguments: That if elected she wouldn't be able to "control" hubby Bill Clinton and there'd be "co-presidents" in the White House ("'Cause that would be terrible, having two intelligent, qualified people working together to solve problems — why would you let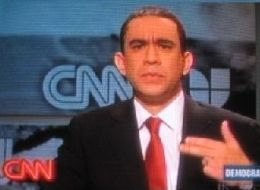 Starsky talk to Hutch?"); reassuring the audience that, even though they were married, they were having "about as much sex as George Bush and Jeb Bush are" and smacking down Rush Limbaugh for his comments that "America's not ready to watch their president turn into an old lady. "Really?" asked Fey. "'Cause they didn't seem to mind when Ronald Reagan did that." But what bugged her most, said Fey, was when people said that Clinton was a bitch. "Yeah, she is," said Fey. "And so am I — and so is this one over here," gesturing at Amy Poehler. "Yeah, deal with it," said Poehler. Fey's point: Bitches got things done, yo, and that's why Hillary would be a good president. "So I'm sayin, it's not too late, Texas and Ohio, get on board! Bitch is the new black!" An exhortation of voters to the polls to vote their bitch in? Bill Clinton probably couldn't have done it more effectively. Watch it here:


Commenters are already incensed (both on the NBC chat boards and in our comments sections, so far) but to be fair, it's about equal to the Lorne Michaels endorsement of Obama, who said Obama would be hard to mock because he was a "truly heroic figure." Also, it's worth noting that many Hillary supporters are chiming in with gratitude to Fey for articulating a sentiment that had made them feel marginalized in the face of Obamania.
Speaking of which, SNL also tapped Fred Armisen to play its Obama (details here), which he did with his brow furrowed the whole time, doing a nice rendering of Obama's from-30,000 feet speechifying and penchant for scribbling during debates. The CNN debate spoof greedily hit on it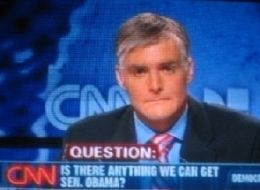 all around the central conceit that the media was "totally in the tank" with Obama. Kristen Wiig was a smitten Campbell Brown, Jason Sudeikis a drooling John King, and Will Forte a dashingly handsome Jorge Ramos, whose question to Obama was "Are you comfortable? Can we get you anything?" while all three panelists ignored and insulted Amy Poehler's Clinton (by far the best example of that was when Wiig's Brown smacked down Clinton for interrupting the "randomly selected" audience questioner, Obama Girl. "I think you owe Obama Girl and all the people of this nation an Obam-apology," she deadpanned. Classic). Props to Amber Lee Ettinger, aka Obama Girl, for hitting the big time — hearing Fey thank Mike Huckabee, Steve Martin, Carrie Underwood and Obama Girl at the end of the show was really a testament to how much the advent of viral vid has changed thing. Watch the whole great segment here:


Finally, there was the aforementioned Governor Huckabee, completing the late-night talk show circuit and spoofing himself in a segment that mirrored his campaign rather well — he was charming, funny and refused to leave. Watch it below:


As long as we're rocking the full SNL YouTube thing, here's Fey's opening monologue with a guest turn by Steve Martin, who always seems to monologue about how great, wonderful and what a big star he is. I'm just sayin'. Cogent writer's strike commentary in that, too. Chekkit here:


And finally: Tina Fey wished announcer Don Pardo a very happy birthday — his 90th! — during the goodnights last night — he doesn't look it by a long shot, nor sound it. Wow. Many more, Don Pardo!
Popular in the Community