The second entry in the new "Star Wars" trilogy doesn't hit theaters until December. But at Disney's annual shareholders meeting this week, a select few got a sneak peek at what happens moments after that "Force Awakens" cliffhanger.
According to Los Angeles Times reporter in attendance, Daniel Miller, "Star Wars: The Last Jedi" opens with Rey (Daisy Ridley) meeting Luke (Mark Hamill) on an otherwise deserted cliff after scouring the galaxy to find him.
"Who are you?" Luke asks Rey. The nascent Jedi then skillfully responds and hands him a lightsaber.
Miller also noted that the footage featured appearances by Chewbacca, Carrie Fisher's General Leia Organa and John Boyega's Finn, the former stormtrooper turned Resistance fighter, as well as peeks at "epic" "Star Wars" locales.
Before the screening, Disney CEO Bob Iger paid tribute to the late Fisher, who died in December.
"Carrie Fisher has been an iconic part in this franchise from the very beginning," Iger said. "We all miss her. She had great talent and wit. We're proud that this movie coming up is part of her legacy."
The actress reportedly has an expanded role in "The Last Jedi." After Fisher's death, rumors swirled that "Star Wars" would attempt to bring her back for future films using CGI effects, but Lucasfilm swiftly responded, explaining that they had no plans to digitally resurrect the actress.
Disney and Lucasfilm are famously guarded with spoilers surrounding the space-epic franchise, which was rebooted by director J.J. Abrams in 2015. Iger chose to buck tradition by showing the clip, stating, "We're making an exception today," according to The Guardian.
"Star Wars: The Last Jedi" hits theaters Dec. 15.
Before You Go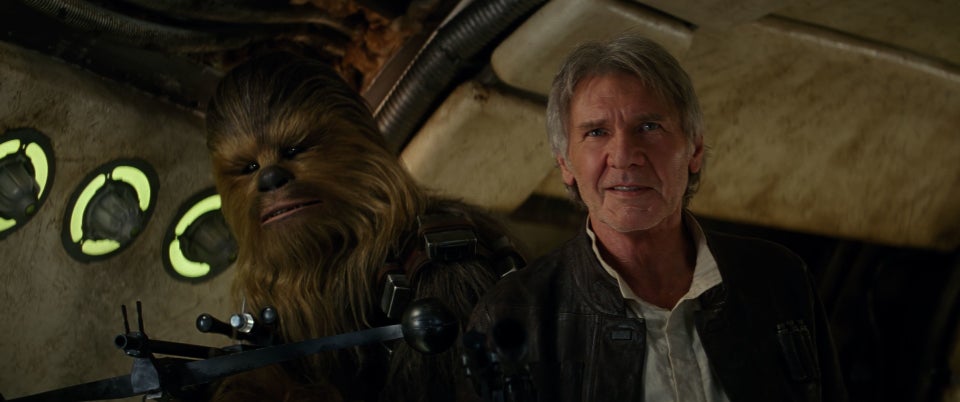 'Star Wars: The Force Awakens'
Popular in the Community