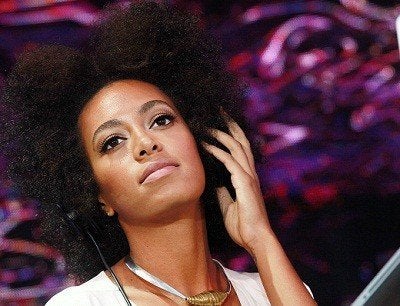 While Beyonce Knowles may have grabbed everyone's attention over the weekend with the announcement of her pregnancy, her younger sister, Solange, also made headlines over an altercation with the Miami Beach police department.
The confrontation came to light once Knowles took to her Twitter account on Sunday night following making a failed attempt to escort a five-foot inflatable banana into South Beach hot spot, Club Cameo, which reportedly resulted in an officer threatening to deflate Knowles' over-sized fruit. "I have literally had my last leg with discriminating police! Miami police department will be notified," she wrote. "A police officer just pulled a weapon on me.... I have done NOTHING illegal, against the law, or anything of the sort." Later adding, "I'm only tweeting this to raise awareness. I could have left quietly, but I am sick & tired of this scenario being played over & over again. It is time to do something about it. I am a mother raising a young black child in America. I'm going to die trying!"
Although the R&B singer turned DJ detailed Miami's finest wrong doing in drawing a weapon on her, a local official clarified that Sunday's run in "did not occur" according to her series of Tweets. "Over the weekend, the lion's share of the mainstream and entertainment media reported that the Miami Police Department had a confrontation with Solange Knowles, the sister of Beyonce Knowles of record and movie fame. We have investigated and found that this incident did not occur in our city," Miami Police Department spokesman and Commander, Delrish Moss said in a written statement obtained by the Miami Herald.
Another Miami official confirms that Knowles was indeed pulled to the side due to being disruptive and not being allowed entrance into the club."The whole entire incident was about the fact that she was not allowed in a club, Detective Juan Sanchez told E! News. "When she became abusive, she was pulled to the side. There was no mention of a gun. Considering it might be an internal investigation I can't tell you much other than that."
The Carol's daughter brand ambassador refuted Moss' and Sanchez's claims to E! News on Monday stating that; "Never once during the incident did I even raise my voice. I feel very strongly about standing up for myself when something is wrong, and am very disappointed in the way that the Miami [Beach] Police Department has handled this case."
According to her Rep, Solange is actively filing a police report and has not yet decided on further legal action.

Calling all HuffPost superfans!
Sign up for membership to become a founding member and help shape HuffPost's next chapter