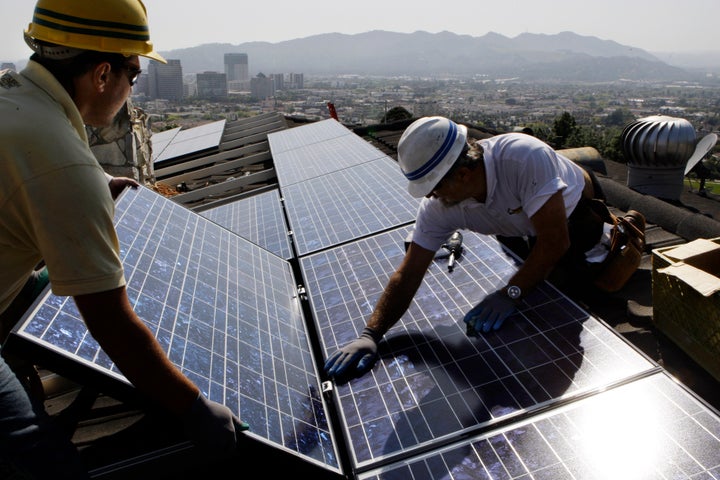 As a New York transplant, I have to admit that I don't totally understand the New York-New Jersey rivalry. It seems the animosity is focused more on cutthroat tax rate competition and a couple of hockey teams than anything truly juicy.
But a national ranking of state solar energy leaders might be generating a little interstate heat among the energy wonk set.
As of 2010, the Solar Energy Industries Association ranks New York seventh of all the states in terms of installed solar capacity.
Seventh is respectable, right? Not when New Jersey is number two. And not when New York's installed solar capacity is a meager 54 megawatts, or about half the amount of one very small fossil-fueled power plant. It's also incredibly weak when compared to California, the number one state, and its 971 megawatts of solar capacity -- nearly 18 times more than New York.
I like to imagine that it's eating away at New York officials each time the news of yet another large solar installation in New Jersey hits the press.
So if you can't beat your heated rival next door, why not copy them?
A bill introduced in the New York State Assembly this past March is intended to give the state's solar industry the big leg up it so badly needs. The New York Solar Industry and Jobs Act would establish a program to develop over 5,000 megawatts of solar power capacity in the New York State by the year 2025 -- a goal identical to that of New Jersey. That's equivalent to three percent of New York's electric utility load, or enough to power half a million households.
If this program is approved, solar electricity, whether generated by homeowners with a few rooftop panels or by larger commercial installations, would be given a value in the form of a Solar Renewable Energy Certificate -- a financing mechanism similar to one already in use in, you guessed it, New Jersey -- which can be sold to power suppliers, the public and private organizations that deliver electricity. The suppliers would be required to buy a certain number of these certificates each year through multi-year, fixed-price contracts with the solar energy producers. The number of certificates that the suppliers are required to purchase would increase over the years, meaning that more homes and businesses can install solar and anticipate a fair rate of return, lowering the cost of solar installations and creating a growing market for locally generated clean energy.
According to Vote Solar, one of many active proponents of the bill, the program would come at a low cost to ratepayers, generate an estimated $20 billion in economic output and could create upwards of 22,000 new local jobs.
Combine this creative new economic driver with the state's recently improved net metering rules and oh my... New York may suddenly turn itself into a national solar leader.
With about a month left before the end of the New York Assembly's current session, time is ticking for a vote on the bill. If it doesn't pass, that means yet another year of New Jersey, with 293 solar megawatts and counting, besting its neighbor for solar bragging rights. If the Empire State can get its solar act together, however, it will finally be able to make up some ground with New Jersey. But why stop there? Florida, Arizona and Nevada are currently ranked just above New York in the national solar rankings, so let's mix it up!
Okay, I'm really getting into this rivalry now. First New York beats those renowned sunshine states, then we set our solar sights on... New Jersey.
Calling all HuffPost superfans!
Sign up for membership to become a founding member and help shape HuffPost's next chapter