FORT LAUDERDALE, Fla. ― Hamilton de Toledo had finally made it to the checkout counter at Home Depot when a frantic employee approached the cashier with bad news: There's no more plywood.
Just outside the store's front door, the line that had formed for the sheets of plywood that would, hopefully, protect windows, doors and homes from the winds of the fast-approaching Hurricane Irma had finally drained Home Depot's supply. Wednesday alone, this location had gone through three truckloads of plywood ― with each truck carrying 20 bundles of 60 sheets apiece, one store employee said ― as the city and its residents scrambled to prepare for the arrival of Irma, the storm that has already devastated Caribbean islands and is expected to turn north toward Florida.
De Toledo's house has impact-resistant windows, so the wood wasn't for his home. Instead, he needed it for his niece, who lives a few blocks away. Irma, one of the largest and strongest storms to ever develop over the Atlantic Ocean, will be her first hurricane.
Now, with the cashier in the process of swiping his card, he worried he'd leave the store empty-handed. Instead, he was the last customer of the afternoon to get his hands on what had become one of South Florida's most precious commodities. Outside, after a nervous few minutes of waiting in line, he snagged the final five sheets of plywood Home Depot had, plus two broken pieces the store gave him for the price of one.
"I've never been this concerned," de Toledo said as he wheeled the sheets to his pickup truck. "I'm trying not to be, but it's hard."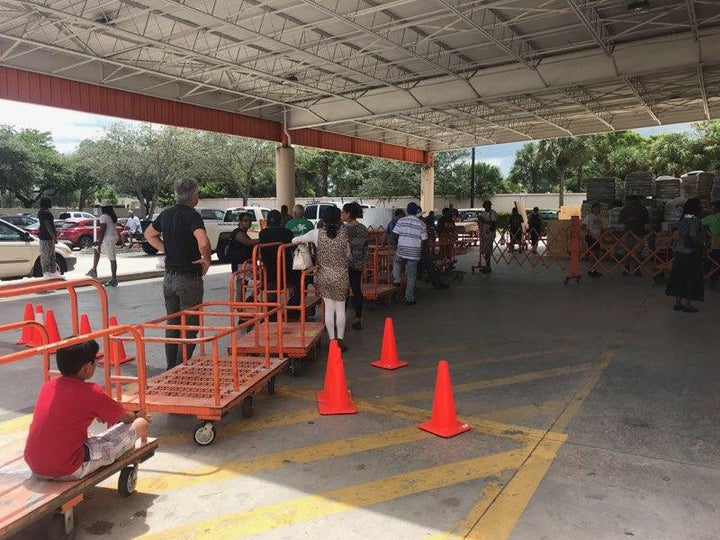 Florida Gov. Rick Scott (R) has warned that Hurricane Irma is "bigger, faster and stronger" than even Hurricane Andrew, the devastating storm that barreled into the Miami coast in 1992, causing 44 deaths and $25 billion worth of damage a quarter century ago last week. As of late Wednesday, Irma had had sustained winds of 185 miles per hour for more than 24 hours, and it remained a Category 5 storm capable of causing massive destruction across the Caribbean and into Florida.
Miami-Dade County Mayor Carlos Giménez began ordering evacuations Wednesday. The Florida Keys were under mandatory evacuation orders, and Miami Beach Mayor Philip Levine pushed residents of the barrier island to head toward the mainland.
It was an odd paradox, though, that their urgency also fostered a sense of calm as residents of Florida's Atlantic Coast communities prepared for Irma's wrath.
Home Depot wasn't the only store short on supplies. At a local Walmart, shelves that would normally hold pallets of bottled water, non-perishable food items and necessities such as gas cans and batteries were bare before noon Wednesday. Lines of cars stretched from gas station pumps into the streets, with wait times for the chance to fuel up lasting an hour or longer. Some stations have run out of gas.
But for the most part, there was little outward indication of fear or frenzy. Those in line behind de Toledo left Home Depot without fuss, vowing to return Thursday. Lines of patient Walmart shoppers waited with barely a word as employees fetched extra packages of water bottles from storage.
The dire warnings of Irma's strength, it seems, have succeeded in persuading Floridians to prepare for disaster well in advance of its prospective arrival, which in turn has succeeded in keeping everyone as tranquil as can be expected. If stores run out of water or gas today, it is early enough for new shipments to come in tomorrow, with at least some time to spare. It's as if everyone understands that freaking out will only make everyone's lives worse.
"People are getting ready [early]," de Toledo said. "So the gas stations, the stores, they have time to replenish for people to continue getting ready."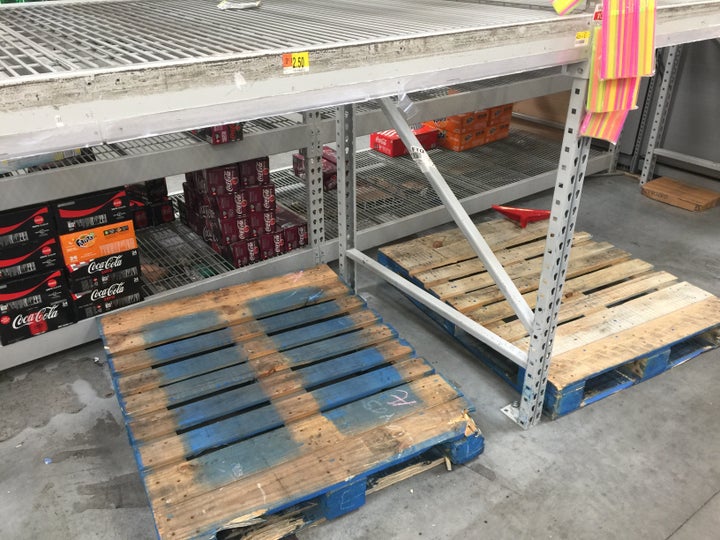 At times Wednesday, that sense of serenity and normality felt almost eerie.
On Fort Lauderdale Beach, tourists and locals alike still enjoyed a day of sun as lifeguard stands flew green flags to indicate that the ocean was calm, no matter what sort of storm loomed beyond the horizon.
Jim Green, who has lived here for four years, spent the early afternoon on the beach. Green rents a fourth-floor condo nearby and has a place on the Gulf Coast, too. There's still a chance Irma might swing out east into the Atlantic or turn westward toward the Gulf of Mexico. Green is waiting for Thursday's forecast to see which direction the storm might go. Only then will he decide which way he heads in response. His biggest worry is how his two cats will fare. Either way, they're going with him.
Kristal and Corey Davis sat a short walk down the beach, gazing out at an ocean dotted with a dozen yachts and catamarans sprinting across the water as if it were any other day. The couple vacations in Fort Lauderdale every year. They'll head home to Maryland on Saturday morning, a day earlier than planned.
The emptier-than-usual beaches and restaurants are "a little bit more relaxing," Kristal Davis said. "But it's still tense, because you know a hurricane is coming and people are going to be impacted. … For it to impact a place that we call a second home, it is concerning to us."
Across the beachfront boardwalk behind them, Freddy Bousquet opened The Drunken Taco for lunch, as he has most every day for the last three years. The lunchtime crowd was small, aside from a few barflies and a table of men and women in Army fatigues. But September is always the slowest time here. Bousquet, the restaurant's general manager, lost a few employees for the weekend as they evacuated or went home to prepare for Irma's arrival, and he's still trying to determine what course he and the restaurant will take.
"Thursday will be the right time to know where the storm will end up going," Bousquet said. "We'll have a better idea where we're going to be and what we'll need to do at that point. If Thursday they say it's coming here, we'll have to start shutting down the place."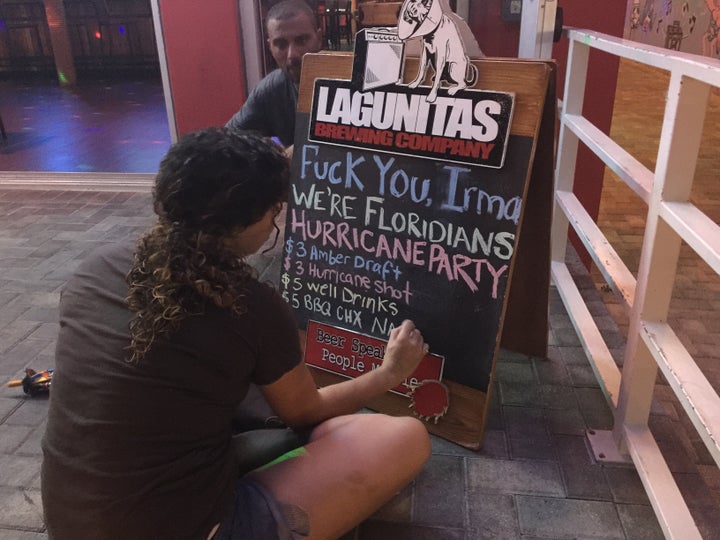 But Wednesday night, the situation began to feel more desperate. The National Hurricane Center updated its projections to show that Irma could slam directly into South Florida as a Category 4 hurricane, with tropical storm-force winds that could spread across the entire state. The NHC is expected to issue a hurricane watch for Florida on Thursday, and more evacuation orders could be coming for Fort Lauderdale and beyond.
Many local residents seem resolved to stay and ride out the storm. As if to hammer that point home, a bar just off the beach announced a Wednesday night hurricane party with a sign that read, bluntly, "Fuck you, Irma. We're Floridians."
Scott, however, urged them not to.
"This storm has the potential to devastate our state," the governor said at a Wednesday evening news conference. "We have to take this seriously. ... Please do not think you can ride this storm out. Again, you can rebuild your house, you can rebuild your possessions, but you cannot rebuild your life or family."
Many residents who spoke to HuffPost suggested that they would likely leave if ordered to, even if they weren't sure where they might go. Some pondered visits to far-off family. Others considered leaving almost everything behind. A waitress working overnight in a cafe near the ocean said she was considering a one-way flight out of town as soon as her shift ended.
At least for now, South Florida seemed as prepared as it could be for a storm that no one could quite predict ― and that no one could truly prepare for.
Support HuffPost
The Stakes Have Never Been Higher
Related
Before You Go

Preparations For Hurricane Irma
Popular in the Community