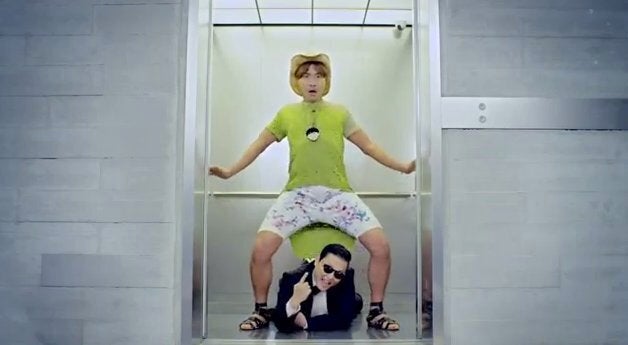 According to the video's YouTube description , this was all bound to happen. "The song is characterized by its strongly addictive beats and lyrics, and is thus certain to penetrate the foundations of modern philosophy." Quite a statement, but perhaps not too far-fetched, considering how obsessed we've found ourselves.
The video follows Park as he lives the "good life" in Gangnam, an affluent district in Seoul. But this is a life of satirical twists (ie. beachside chilling at a children's playground, group dances in a horse stable, and rapping while on the toilet). Such commentary is nothing new for Park. Billboard describes his music as on the "fringe due to what the authorities cite as 'inappropriate content.' His first album got him fined and his second was banned."
The bumping beats rival the likes of LMFAO's 'Party Rock Anthem' and Far East Movement's 'Like A G6.' What can we say, we're hooked!
CORRECTION: A previous version of this article mistook Sang to be Park Jae Sang's family name.
Related
Popular in the Community