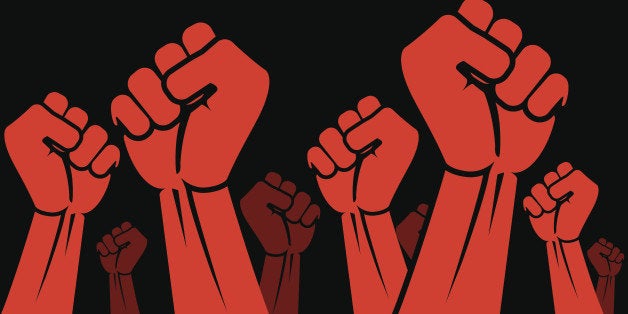 Speaking Truth to Power

Speaking
truth
to
power.

Those four little words comprise a powerful expression, one you've probably heard a lot this past year.

Coined by the Quakers in the 1950's, "speaking truth to power" is certainly not a new way of taking a stand and mobilizing society around change.

"It is a powerful nonviolent challenge to injustice and unbridled totalitarian forces, often perpetuated by government, sometimes not," says Judith Sherwin, Attorney at Law, Adjunct Professor, Loyola School of Law. "Sir Thomas More did it at the cost of his life when he spoke truth to power against King Henry VIII; Martin Luther King Jr. did it at the cost of his freedom when he ended up in the Birmingham jail and eventually at the cost of his life."

Fast forward to the eve before 2016, set against a backdrop of #SayHerName, #BlackLivesMatter, #LoveWins, #MuslimAmericanFaces and #codeofslience. In this year of uncloaked injustice and agitation, we've heard plenty of people being heralded as speaking truth to... and/or for .... power.

As we listen to Chicago's Mayor Rahm Emanuel address some aspects of the tragic police-killing of Laquan McDonald; as we listen to the divisive machinations of presidential candidate Donald Trump's policies towards Muslims, Hispanics and black people; as we read Supreme Court Justice Scalia's racist ideology about black youth's intelligence; as we hear the resounding call of the National Rifle Association above the silenced cries of fallen victims; As their supporters audibly, or in their silence, lift up these professed truths despite evidence to the contrary; We are left to dissect and wonder, does "speaking truth to power" mean the same thing to everybody?

There does seem to be at least one common denominator when it comes to speaking truth in the name of advancing power - and that is courage. The courage to stand upon one's own convictions -- or maybe, as we've seen these past few weeks across the country, the courage to throw conviction out the window for personal or political expediency.

After all, in more ways than one, a conviction does not always require truth.

Indeed, there's a reason the game "Two Truths and a Lie" is so popular. Very often it's hard to tell the difference.

I reached out to a few people from across the country to ask what speaking truth to power means to them. Their responses are both insightful and inspirational.

"Speaking truth to power means comforting the afflicted, and afflicting the comfortable. None of us has a monopoly on the truth. There is the truth, and there is the way to the truth. We must be humble enough to accept that we only know the truth that we know, at any given point on our life's journey. But the truth that we do know, we must speak it. We must have the courage to say what we see."
Tavis Smiley, host and managing editor of Tavis Smiley on PBS, and author of My Journey With Maya.
@tavissmiley

"Speaking truth to power means believing deeply in what you say and fighting every day to have that heard. It may not be popular; it means taking a risk, it means standing for something."
Shari Runner, Interim President & CEO, Chicago Urban League
@chiurbanleague

"Audre Lorde teaches us that our silence will not provide protection. Speaking our truths helps us imagine and create the world we want to live in, despite systems of oppression that tell us that we are not enough."
Charlene Carruthers, National Director at Black Youth Project 100
@CharleneCac @BYP_100

"The ability to lead without fear. Many think of the issues that matter. Very few actually have the courage to speak the truth."
Paul Porter, Founder, Rap Rehab and COO, New World Porter
@IndustryEars

"I'm struck by the need to focus on the receiving end of this notion: effectively speaking truth to power requires understanding that power isn't going to give up its advantage. But words and actions matter - used well, they compel the powerful to share their advantage for collective good. Used well, speaking truth to power changes 'me vs you' to 'us.' "
Kathy Tunheim, Principal + CEO, Tunheim
@teamtunheim

"It means the courage to stand up for your beliefs, when your instincts tell you have to ... even though sometimes there is a price to pay."
Dwain Doty, Community & Public Affairs Producer, WJSU-FM88.95, Jackson, MS
@DwainTDoty

"The #power of life and death is in the tongue. To speak truth is to speak life in a way that informs and encourages all who seek to preserve it. The inverse is too costly."
Dometi Pongo, News Anchor, WVON1690, Chicago, IL
@Dometi_

"The trick about speaking truth to power is to do it from your inner conviction of moral truth and not for a desire for approbation --- and not to be deterred by condemnation either - and to let your sense of the rightness of things overcome the fear of not speaking. While not all of us have the great causes of More and Dr. King we all have the obligation to speak truth to power in our lives to forces great and small - to defend the powerless, to stand for justice and to recognize the situations in which we are required to do so."
Judith Sherwin, Attorney at Law, Adjunct Professor, Loyola School of Law, Chicago

"I'll do one better...this is what 'speaking truth to power' looks like #ConcernStudent1950 #MUFootballTeam."
Lisa Fager, Social Entrepreneur
@LisaFager

YOUR TURN. What do you think it means to speak truth to power? Leave a comment or tweet me @ucjadeblog.com. Speaking truth to power is _______________________________.

May we all speak truth to power - and give power to the truth we speak -- so that all people may hear.
Popular in the Community