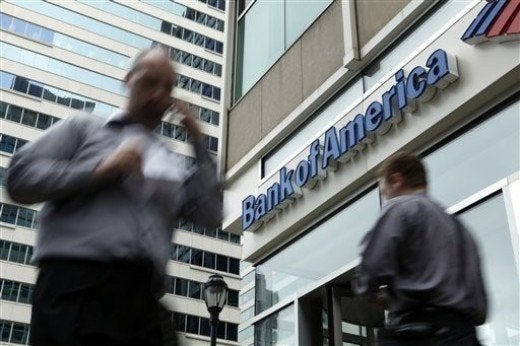 A St. Louis union dumped Bank of America on Friday morning, closing a $100,000 account to spank the bank for its bailouts, bonuses and foreclosures.
"This is a really unethical institution that we shouldn't be supporting or doing business with," said Bradley Harmon, president of the CWA Local 6355, which represents some 7,000 public sector workers in Missouri. "We shouldn't be supporting Bank of America with our dues money."
He said he was particularly appalled by the bank's performance modifying mortgages under the Obama administration's Making Home Affordable program.
"Instead of using the taxpayer bailout money to stabilize itself and help working families keep their homes, Bank of America has spent it rewarding its incompetent bosses and lobbying against legislation to help working families and reform our financial system," Harmon said.
Bank of America is not pleased.
"We regret their decision," said a spokeswoman. And BofA has a beef with union's accusation that the bank is doing nothing for the economy: "The bank is committed to supporting and stimulating the economic recovery. In the first quarter we extended almost $150 billion in credit across both the consumer and commercial sectors."
The bank also stood up for its mortgage mod efforts: "We completed more than 77,000 permanent modifications in the first quarter through all programs, and since the beginning of 2008, Bank of America -- and previously Countrywide -- has provided homeownership retention opportunities to approximately 819,000 customers."
Under the Home Affordable Modification Program, Bank of America has permanently modified mortgages for 26 percent of eligible delinquent homeowners -- the lowest conversion rate of the four biggest banks.
Harmon said he had not heard of the Move Your Money project, which encourages consumers to withdraw their money from Too Big To Fail institutions in favor of local banks.
Look for more union chapters to pull their money in the future: "We are starting to talk to other CWA locals and encouraging them to do the same," Harmon said.

Calling all HuffPost superfans!
Sign up for membership to become a founding member and help shape HuffPost's next chapter