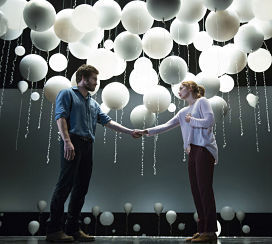 Broadway is loaded with movie and TV stars -- and the results are mixed. But in the chemistry department, Jake Gyllenhaal and Ruth Wilson deliver the goods in Constellations, now at the Samuel J. Friedman.
The show has its pretentious elements -- starting with its sparse set design, on-stage balloons and an odd opening about licking elbows -- but its meditations on time and the possibility of endless transformations in life are arresting.
An award-winning West End import, Constellations considers the relationship of two people: Roland (Jake Gyllenhall), a down-to-earth beekeeper who sees life defined by structured order, and Marianne (Ruth Wilson), currently starring in Showtime's The Affair, an articulate Cambridge physicist. There is no past or future, only the options of the present.
This is a modern love story that cycles through the stages of their union -- meeting, connecting, love, hurts -- with dazzling speed. At 70-minutes, the simplicity of the premise raises obvious questions: Just how many permutations do we actually get in life? Is it preordained? Or do we have the ability to nimbly pivot from emotions and circumstances?
It may be the rare, hyper-acute individual possessed with 180-degree visibility, but Constellations is also a reminder that if even we don't exercise all our options, there are ways to shade its nuances. That point is underscored by how well the actors utilize body language on stage. Michael Longhurt deftly directs, and both actors are riveting. The good-natured Gyllenhall nails the well-intentioned, working-class Brit, while Wilson's intensity is compelling.
True, this production would not be on Broadway without its stars and, given the intimacy of the premise, profit from a more intimate off-Broadway setting. Yet, playwright Nick Payne has rendered a thoughtful muse on the nature of every-day existence. Time may be an illusion in scientific terms. To mere mortals, it's all we've got.
Conversely, the lowbrow musical Honeymoon in Vegas at the Nederlander has a single comedic premise: Either bury the dead or resurrect them. Nebbish Jack (Rob McClure, Tony-nominated for Chaplin), is unable to commit to longtime girlfriend Betsy (Brynn O'Malley), due to a dying mother's curse: never get married. So potent is the wacky departed (Nancy Opel), she appears before her jittery son in an array of odd places -- from Tiffany jewelry cases to trash cans.
To ward off the hex, he and his fiancé head to Las Vegas -- captured in all its tacky wonder by Anna Louizos -- only to meet Tommy Korman (Tony Danza), a wealthy gambler who falls for Betsy, a ringer for his dead wife.
Based on the 1992 film, the musical throws in some zippy musical numbers by Jason Robert Brown, who nabbed the Tony for his Bridges of Madison County score, and an energetic toe-tapping ensemble that proves even cheesy productions can be fun.
As Jack and Tommy vie for Betsy, we're taken on a crazy ride from Las Vegas to Hawaii, complete with Flying Elvises, led by a terrific David Josefsberg, whose "Higher Love" airplane number is a hoot, and an amenable Danza, who isn't a singer, but pulls off his numbers with a certain charm.

However, in the hard-working department, it's McClure who shines. Vegas has some draggy sections; we're not dealt an inside straight. Rather, it's a cute, junk-food musical: It may not be filling, but this sweet morsel has its moments.
Calling all HuffPost superfans!
Sign up for membership to become a founding member and help shape HuffPost's next chapter