There may be no movie that better epitomizes the bond of female friendship than "Steel Magnolias." Released 25 years ago this week, it's become a touchstone ― mothers share the film with their daughters, teen girls turn to it as a sleepover staple and men of all ages find themselves taken with the tale of six brassy Southern ladies (Sally Field, Dolly Parton, Shirley MacLaine, Daryl Hannah, Olympia Dukakis and Julia Roberts) faced with one grave tragedy. Initial reviews were mixed, but it became 1989′s 14th highest-grossing film nonetheless. Today, you can't turn on a television set without finding it somewhere. We caught up with Robert Harling, who adapted the movie from his 1987 play, to learn just how much "Steel Magnolias" means to him.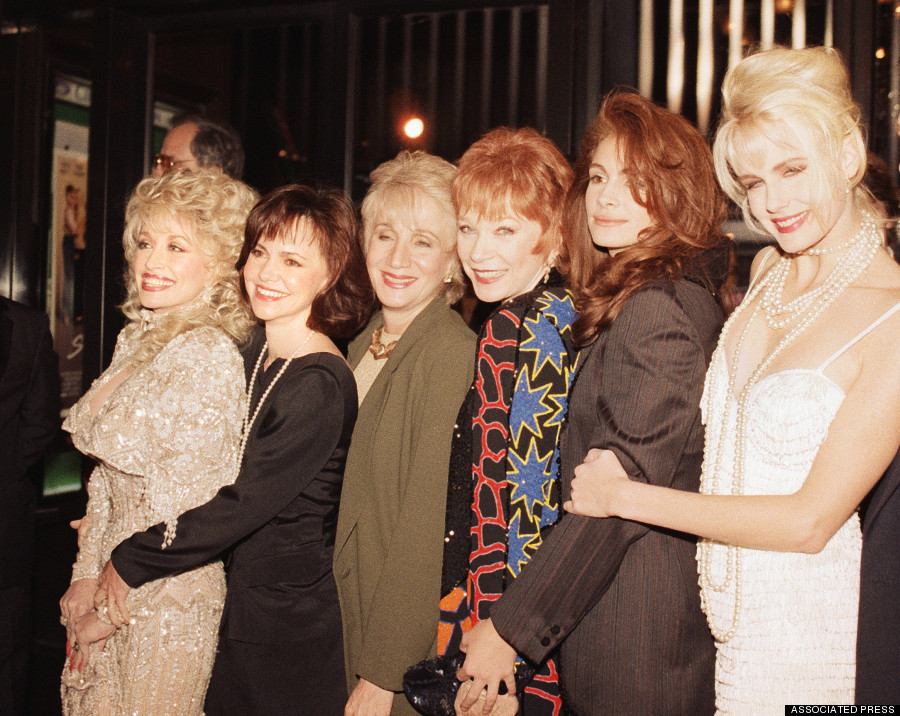 For Harling, it's all a true story.
Even though "Steel Magnolias" doesn't open with a "based on a true story" title card, Shelby's tale belonged to Harling's sister, Susan, before Julia Roberts brought it to the big screen. Harling's good friend Michael Weller, who wrote the play "Moonchildren" and adapted the movie "Hair," and his wife, Kathy, urged Harling to process his sister's death by writing something. He whipped up the stage version of "Steel Magnolias" in a quick 10 days. "I wrote it to somehow get this true story off my chest and to celebrate my sister in the process," Harling said. That means all of the characters are based on real people from his hometown of Natchitoches, Louisiana.
After opening off-Broadway, it was a seamless journey to the big screen.
Hollywood producer Ray Stark ("Funny Girl," "Smokey and the Bandit") saw the play and approached Harling about a potential movie. Stark wasn't the only one, but his offer to shoot in Harling's hometown ― and a guarantee that he'd "get the greatest cast you can imagine" ― became the winning bid. The deals were made in the fall of 1987, approximately six months after the play opened. "That's how it came to me and then Ray got Herbert Ross to direct it and then it was this domino effect of superstar after superstar," Harling recalled.
Harling created the role of Truvy, the beauty-shop owner, for Margo Martindale.
Two years before Dolly Parton played the part onscreen, Martindale originated Truvy in the off-Broadway debut. She and Harling were friends, and he wrote the part for her. Constance Shulman originated Annelle, and today you can see Shulman ― who voiced Patti Mayonnaise on Nickelodeon's "Doug" ― as Yoga Jones on "Orange is the New Black." The 2005 Broadway debut, directed by Jason Moore ("Pitch Perfect"), featured Delta Burke, Christine Ebersole, Rebecca Gayheart, Marsha Mason and Lily Rabe.
But back in 1987, no one expected it to be considered a comedy.
It wasn't until audiences found "Magnolias" that Harling and the others involved with the production realized it had the trappings of a comedy. "All the women I knew were really funny," Harling said of his approach to the setting that surrounds the tragedy at the story's center. "They all love one-liners and they talk in bumper stickers, and they're sharp, funny women." Martindale still regales him with memories of their surprised reactions to the audience's reception. "I just saw her not too long ago," he said. "She'll say, 'Remember when we just didn't realize we were gonna get all those laughs? We thought we were doin' a drama!'"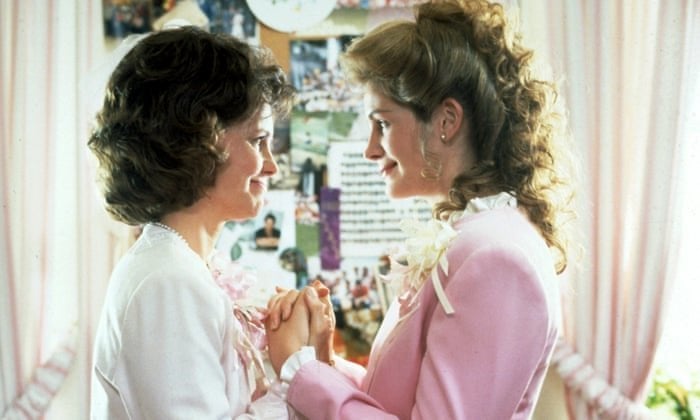 Once Herbert Ross signed on, the A-listers started rolling in.
Ross directed "Funny Lady," "The Sunshine Boys" and "Footloose" before "Steel Magnolias" entered his life. Ross sent around the script after it was done, and Harling recalls a dinner at Orso, a popular restaurant in New York City's Theater District, where the director told him he'd run in to Sally Field a few days prior. "I think she would be very good to play your mother, don't you think?" Ross asked. "Uh…yeah," Harling responded. A few days later: "Dolly. She should be Truvy, don't you think?" "Yeah." And so on, until Shirley MacLaine (Ouiser), Olympia Dukakis (Clairee), Darryl Hanah (Annelle), Tom Skerritt (Drum), Sam Shepard (Spud) and Dylan McDermott (Jackson) rounded out the cast.
But Harling, like most others, had no idea who this gal named Julia Roberts was when casting director Hank McCann said, "Oh, there's this great girl, but she's off doing some movie about a pizza or something," referring to 1988's "Mystic Pizza." "But you should see her, she's terrific." Indeed she was — "Steel Magnolias" was the last time Julia Roberts would appear in a movie without A-lister status, and, at 23, she became the source of the movie's sole Oscar nomination.

Bette Davis invited Harling to her hotel for tea to discuss playing Ouiser.
During the "avalanche" of the movie's development process, Harling answered the phone one day to the sounds of someone claiming to be Bette Davis. Thinking it was a friend playing a prank, he responded by saying he did not have time at the moment. The caller repeated her introduction, because she was Bette Davis. The 80-year-old actress wanted to invite Harling for tea at her hotel near Columbus Circle. Davis hadn't yet seen the play, but Elizabeth Taylor had. (Police were forced to shut down the street outside the theater because so many people were rubbernecking Taylor's arrival.) Davis wanted to play Ouiser, and she suggested Taylor for M'Lynn and Katharine Hepburn for Clairee. "It was fantastic, "Harling recalled. "If I ever write a book, it's a complete, incredible chapter. She basically, bless her heart, wanted to show that she was up and at 'em and doing it. There was nobody else and she was looking fabulous." Luckily for Harling, it was in someone else's hands to break the news to Davis that the movie would be casting younger women.
Harling played the minister who serves at Shelby's wedding and funeral.
Harling was on the set for the shoot, and Ross suggested he appear in the movie. He agreed, as long as he only had one line to say. "People have said, 'Well, you're an idiot, you just have one line, what's the matter with you?'" Harling, who originally moved to New York to become an actor, said. "But that's not what it was for. The movie had very little to do with me."
The medical staff who attended to Harling's sister also attended to Shelby in the movie.
The nurse who turned off Susan's life-support equipment turned off Shelby's machines after her body rejects the kidney M'Lynn has given her, which Harling said "added a sense of real gravity and reality to it all." The day that scene was filmed, Harling's mother, who'd also grown close with Roberts and the rest of the cast during the shoot, insisted on sticking around to watch the scene. Harling discouraged her, thinking it would be too traumatic — but then he realized he "wrote a play about steel magnolias and she's going to do whatever she wants to do." After the scene was done, Roberts rose from the bed and Harling went over to check on his mother. Her eyes were still dry. "I said, 'I can't believe you put yourself through that.' She said, 'No, I wanted to see Julia get up and walk away.' The things we impose on situations, but Julia had become so special to my parents. She took some peace with that."
Shelby leans in, years before that was part of anyone's vernacular.
Shelby states, plain and simple, that she plans to keep her job as a nurse once she's married and pregnant. Harling didn't set out to craft an overt feminist message because to him that wasn't even a consideration. "Whether you say that in 1988 or now, these women got it done," he said. "We've managed to encompass that in our vocabulary, but it's always been, where I'm from, about getting it done. Now there's a lot more Internet involved with it. But its basic force is: 'I am woman, hear my roar.' That's been with us for decades."
Yes, there were some heated moments on the set.
When Field and MacLaine presented "Steel Magnolias" at AFI's Night at the Movies in 2013, they recounted memories of Ross, who died in 2001, clashing with the actresses on the set. The ladies recalled Ross telling Roberts and Parton they "couldn't act." Harling corroborated that tense energy, saying "it happens on every set." "The women as a unit were completely impenetrable," he said. "They were so exactly what this movie was about — they were totally, totally supportive of each other. And yes, Herbert had some strong moments and there were some disagreements. It happens on every set. But what I take away from that is all the other women coming to Julia's defense. That was the most moving thing to me. I tell the truth: There were some clashes, but it was never that he hated any of the women. It was Herbert pushing everybody. Herbert pushed. He pushed really hard. It was really hard and when you're working with Sally Field or Dolly Parton — they had been around for a while and they kind of know how to deal with that. That's what happens in the business. Julia was new, and I just thought it was incredibly moving the way they rallied around Julia. And hey, she was the one who was nominated for an Oscar. She wins."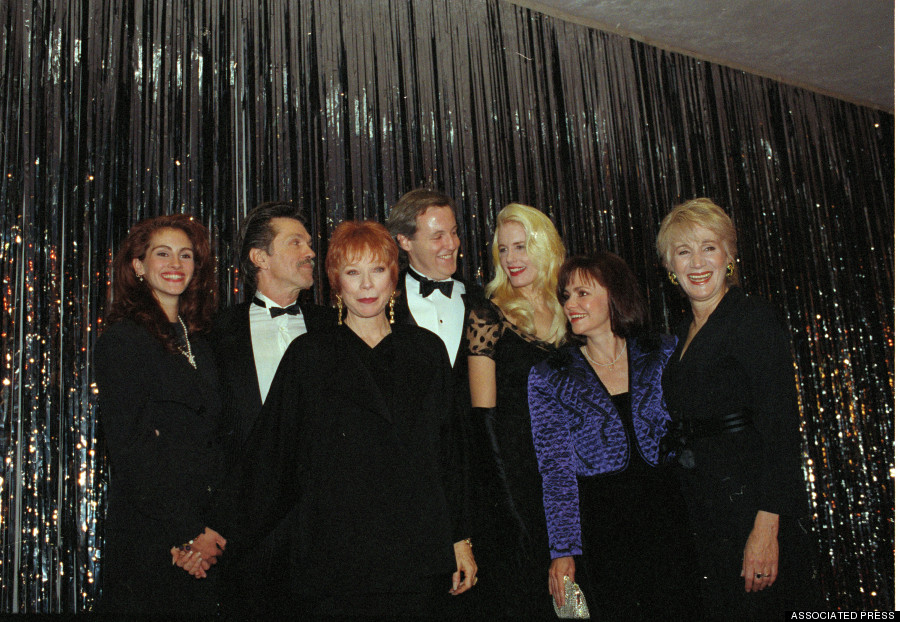 After shooting would wrap each day, the cast would get together to eat and play games — and that's how "Soapdish" was born.
There weren't many nightlife options in Natchitoches, which today has a population of about 18,000, so the cast would play games like Pictionary and charades in the evenings. One night, after they'd exhausted most of their typical options, the group took to posing questions for everyone to answer. Harling asked each actress to name the role she'd most like to play. Dolly Parton's was Medea. Shirley MacLaine said she'd never portrayed an alcoholic (that changed the following year when "Postcards From the Edge" came out). Julia Roberts reminded everyone she still "just wanted to work." And Sally Field, after pondering it, said she always played "really noble, earnest women that wear crummy clothes. For once I'd like to play a bitch that gets to wear nice clothes." And that was how "Sopadish" came about. Harling found himself thinking about the idea of America's sweetheart actually being someone who "really destroyed the lives of everyone around her." He put the concept to use in the 1991 comedy, which starred Field as an aging soap-opera actress who conspires to ruin the career of her co-star. ("Soapdish" will soon become a Broadway musical starring Kristin Chenoweth.)
Harling isn't a big fan of Lifetime's remake.
"It was unnecessary," he said of the 2012 update starring Queen Latifah, Alfre Woodard, Jill Scott and Phylicia Rashād. He was familiar with African-American reboots and the smorgasbord of alternate versions performed across all ethnicities, and thinks it's "thrilling" that so many different groups have found universality in the play. The Lifetime version had "remarkable" actresses, Harling said, but he wasn't fond of the "hacked-up, copy-and-paste job" the script received. "It is the story of my sister," he said. "It did not need to be cut up so the commercials can fit. I have stronger words for that, but I just thought it was exploitation. Thank you for that question because I like going on record saying it does not have my blessing."
Calling all HuffPost superfans!
Sign up for membership to become a founding member and help shape HuffPost's next chapter
BEFORE YOU GO
PHOTO GALLERY
Best Female Duos In Movies