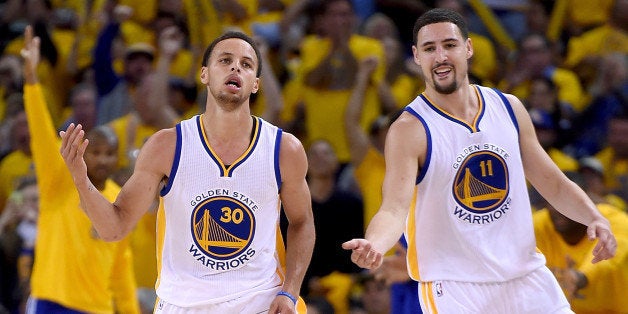 Stephen Curry. Klay Thompson. Raining 3-pointers. The best, most efficient high-octane offense in the NBA. That's probably the first thing that comes to mind when you think of Golden State. Or maybe it's the throwback uniform showing the eastern span of the Bay Bridge? Either way, what probably doesn't come to mind is the swarming defense that ranked first in the league this season in opponent field goal percentage and defensive efficiency. Everyone in the NBA can score, which is why effective half-court defense reigns supreme during the playoffs. The Warriors are a sensational offensive bunch, but they're title contenders because of their dramatic improvement on the other side of the floor.
Team defense at this level is based on two simple factors: how many guys you have to hide, and how much help you have to give. Under former head coach Mark Jackson -- who was replaced with Steve Kerr this season -- the Warriors started out every defensive possession behind, because they were consistently forced to hide Curry, who couldn't guard opposing point guards. That all changed this season, when Curry made it a priority to no longer be a defensive liability.
"I used to get into trouble," Curry told ESPN earlier this month, "being so antsy to get a steal as opposed to just playing defense and forcing a tough shot."
"I'm fighting over the screen, and I'm watching. As soon as he picks the ball up, I still have time to react, get a hand up," Curry said in that interview. "That's what they used to do with me when I used to turn it over all the time. So, I figure why not do it to them too?"
Kerr has noticed the difference as well. "[Curry] wants to be the best," he told ESPN. "He knew that to be the best he had to be better at that end."
Curry's monumental growth is evident in that he ranks fifth in point guard real defensive plus-minus, and fourth in steals, ahead of theft artists Chris Paul, Trevor Ariza and John Wall. Curry has given a tremendous amount of credit to assistant coach Ron Adams, a defensive guru formerly on Tom Thibodeau's staff who has taught equal parts accountability and technique.
"[Curry] has these natural abilities on the ball and away from the ball and in guarding catch-shoot players coming off pins," Adams told ESPN. "He's good at all of that stuff. Now if you can add that aspect of just understanding what every team is trying to do, and the times he does that, he breaks plays up inside of himself."
The Warriors' perimeter defense is astounding, thanks also to Thompson, Andre Iguodala, former D-Leaguer Justin Holiday and Shaun Livingston. Still, perimeter defense is only as good as front-court protection, and this team has it in spades with 7-footer Andrew Bogut and the highly versatile Draymond Green.
Green, generously listed at 6-foot-7, is hardly a shot-blocker, but that's OK -- especially in this system, where Kerr so deeply values his presence. What Green has become, in his third season as a former second-round pick, is one of the premier hedge and switch defenders in the league. While not blessed with elite foot speed, Green understands positioning perhaps as well as anyone. He squares up his body, doesn't reach or bail out the offense and funnels guys to Bogut, the former No. 1 overall pick who, at 30 years old, is finally healthy after missing last year's postseason with a broken rib.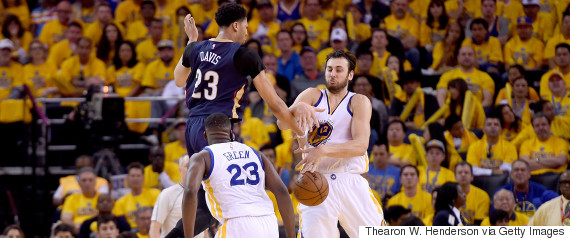 "He's one of the most valuable players on the court," Green said of Bogut this week following the top-seeded Warriors' 106-99 Game 1 victory over New Orleans. "He brings a different dimension to this team. He's one of the top centers in the league."
Perhaps Bogut's best contribution comes in his role as a rim protector, a term thrown out far too often in a league devoid of elite ones. Bogut ranks third among all bigs (behind Rudy Gobert and Serge Ibaka) in opponent field goal percentage at the rim, allowing a measly 41.4 percent, according to NBA.com.
"The fun thing," Adams said earlier this year to ESPN, "the real fun thing is watching a group defensively become connected and work in concert. That's kind of the poetry of it." That poetry happened Monday during the second half of Golden State's Game 2 victory over the Pels: Suffocating half-court defense led to New Orleans shooting just 25 percent from the floor, its worst shooting half all season.
The Warriors won a league-best 67 games this season (seven more than Atlanta), and maintained the best point differential since Michael Jordan played for the Chicago Bulls. They've accomplished this for a multitude of reasons. While we tend to gravitate toward Curry's offensive highlight reels or Thompson's record-setting performances, the X-factor for sustained success has been their ability to limit easy opportunities both in transition and in the half-court. As a general rule, shooting and scoring comes and goes, but great team defense never wavers. Golden State has both, and as a result, the rest of the NBA is on notice.
CORRECTION: An earlier version of this article misidentified the bridge depicted in the Golden State Warriors logo. It is a silhouette of the eastern span of the San Francisco-Oakland Bay Bridge.
Email me at jordan.schultz@huffingtonpost.com or ask me questions about anything sports-related at @Schultz_Report, and follow me on Instagram @Schultz_Report. Also, be sure to catch my NBC Sports Radio show "Kup and Schultz," which airs Sunday mornings from 9 to 12 EST, right here.
Calling all HuffPost superfans!
Sign up for membership to become a founding member and help shape HuffPost's next chapter