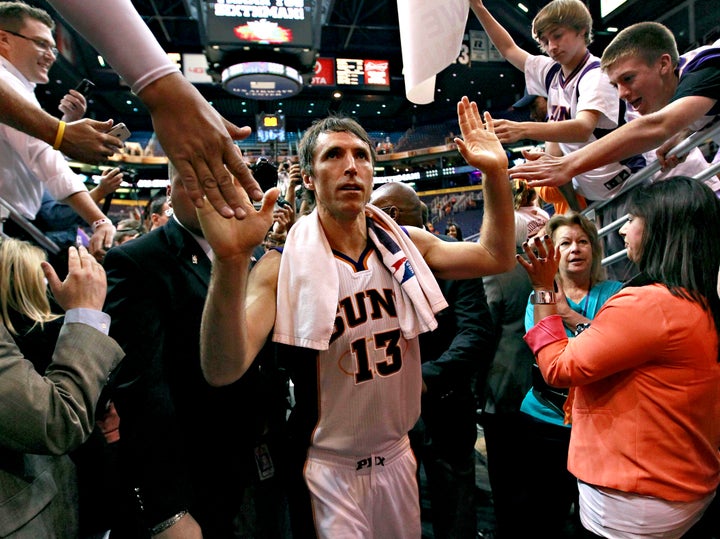 Is there room for two MVPs on the Lakers team?
In his first interview since becoming a Laker Wednesday evening, Steve Nash revealed that he spoke to Kobe Bryant before agreeing to sign with the team -- and the two discussed their "complementary" leadership styles.
"I'm more on the positive side," said Nash to ESPN. "As [Kobe] said it, he cracked the whip ... I think it's a good fit."
Officially, Nash's decision to play for the LA Lakers was a family one, and Nash emphasized the point repeatedly during the ESPN interview. The recently divorced player wanted to stay close to his children, who live in Phoenix.
That may explain why the all-star point guard, who said just a few weeks ago that it would "be hard" to don a Lakers jersey, is now suiting up in purple and gold.
NBA fan reactions to the news have been mixed. Phoenix Suns fans are seething at giving up their star player to a division rival. The Toronto Raptors' hopes to lure their native son back home have been dashed. Lakers fans are both wary of what will now be one of the oldest lineups in the league and ecstatic at the possibility of a super team ready to take on the Miami Heat's Lebron James and Kevin Durant.
But long-time Lakers fans know that the team never stays quiet after a losing season. Huge deals like signing Karl Malone and Gary Payton in 2003, trading for Pau Gasol in 2008 and the vetoed Chris Paul trade in 2011 all followed seasons when the Lakers seemed to have lost their luster, and the Nash deal fits the team's pattern perfectly.
Here's how other fans reacted to the deal:
Popular in the Community