Welcome to HuffPost's Keeping It 100. From infusing our culture with data to figuring out how to reach Gen Z and cultivate niche distributed communities, we'll give you an inside look at the hits and misses of HuffPost's biggest bets.
Publishers have been longtime purveyors of the "newsletter," and for good reason. Newsletters give publishers the opportunity to connect with their audience sans platform algorithms to game.
At one point HuffPost had almost as many newsletters as verticals (and that was pushing 90 before we consolidated into larger offerings). Those newsletters largely consisted of daily debriefs of newsy or trending items coming from that topic area in a headline, photo and summary format.
But say "newsletter," and what words come to mind? Impersonal? Lengthy? One-dimensional? This format wasn't living up to the interactive and intimate opportunity that was just one send away (an invitation into someone's inbox is like an invitation into their living room). At that point, we decided to stop sending newsletters and start sending emails.
In the past year, we've totally reworked what it means to send ... an email. Seems simple, but in dissecting our practices, we realized we weren't sending emails. We thought about our own inboxes and what we open. That came down to two criteria: immense utility or personal communication. So we set out to capture those two fundamental requirements in our existing offerings.
For our legacy products, that resulted in splitting our HuffPost Women's newsletter into two distinct email offerings. 1) In(formation): a weekly feminist-related statistic meant to arm women with the numbers they need for the conversations they have. 2) Funniest Tweets From Women: a weekly and necessary rundown of just that.
We also transformed our HuffPost Parents newsletter into a personal weekly email from our Parents Editor, Emily McCombs. We named the email "So you want to raise a feminist" (spawned from our private Facebook group that carries the same name). Since the switch, subscribers have organically grown by 13 percent (our average organic month-over-month growth rate is around 5 percent).
With the success of these email products, we decided to push it one step further and put our email tools in the hands of our editors. We had six editors pilot the program (including yours truly ― sign up for my Instagram tips and tricks newsletter here!) and set up a framework to help them grow. We had each editor choose a topic they could speak about in a personal way or in a way that provided great utility for their subscribers. We had emails ranging from an editor's personal account of trying to give up sugar to a weekly look at why life is unfair for women through gender economics.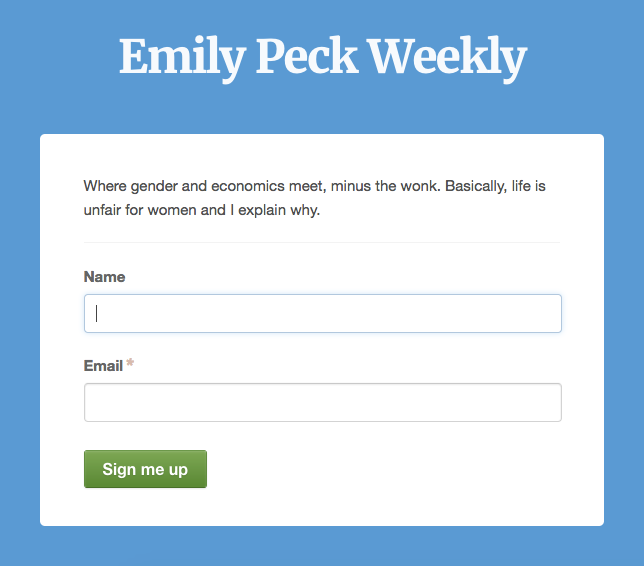 Across these products we saw a consistent open rate of around 59 percent (and for some products as high as 86 percent). We saw these lists grow at an exponential rate and sustain that momentum. We saw click-through rates on products that were meant to be native experiences hover around 18 percent (industry average is around 13 percent). These experience were also interactive ― in total, there were more emails coming in (asking for more information or suggesting topics for future emails) than going out.
So if you've got a lineup of newsletters, find ways to tweak them to transition them to genuine emails. And if you're not sure if you've got newsletters or emails on your hands, check out the below to find out which camp you're in.
Emails ARE:
Personal: They provide a lens through which to look at a topic or community.
Interactive: There's more coming in than there is going out.
Actionable: They provide a meaningful utility to a niche audience.
Generic: They do not provide a unique value.
One-sided: There's more going out than there is coming in.
Voiceless: There is no lens through which to view a topic or community.
Popular in the Community